Need To Just Get Away For A Bit? A Psychologist's Guide To Healthy Escapism
Clinical Psychologist
By Carla Marie Manly, Ph.D.
Clinical Psychologist
Carla Marie Manly, Ph.D., is a clinical psychologist based in Sonoma County, California. She has a doctorate in clinical psychology from Pacifica Graduate Institute and a master's in counseling from Sonoma State University.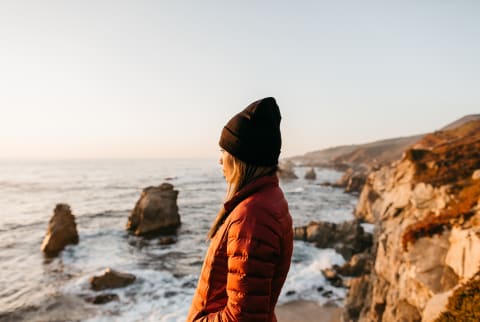 Image by Kristen Curette & Daemaine Hines / Stocksy
November 8, 2020
Many people are wishing and wanting to get out of town—a sheer need to get away from it all.
Although some people think that traveling for escapist purposes isn't the wisest solution to one's problems, I see escapism as a potentially powerful coping strategy when real life feels like a bit too much.
The benefits of escapism.
Interestingly, there's a psychological benefit to escapism. Escaping into the calming recesses of one's mind can be an effective natural defense strategy when faced with overwhelming traumatic experiences. When a situation is too stressful, the psyche can "escape" the situation mentally and emotionally in order to avoid further distress and psychological harm.
As we all navigate life's ever-changing demands and chaotic trends, a bit of travel escapism can do you a world of good. When we travel, we may be evading reality or simply taking a temporary hiatus to relax and rejuvenate.
Even if you don't plan to actually leave town—we are living in a pandemic after all, and travel can involve exposing ourselves and others to risk—a virtual or stay-at-home vacation can also do the trick. But the escapism will only work if you actually take time off to rest, rejuvenate, and fall into the escapist traveler's blissful state of mind. You need to make it real by letting your boss and family know you'll be gone. It could even sound like: Hey, I'm leaving for blue waters of Bimini to swim with the dolphins. Although my body will still be in NYC, my brain will be gone for a week. I'll see you when I return.
A healthy approach to escapist travel:
Step 1: Take a look at your escapist goals.
This first step will allow you to objectively look at your wants and needs. Do you want to escape from the four walls of your home? Is your relationship driving you crazy? Do you need a break from your work life (or lack of work life)? Or perhaps you simply want a change of scenery.
Whatever it is, be honest with yourself about the various aspects of life that are driving you to escape. Whether you are escaping to avoid, recharge, reset, or celebrate, it's important to understand and appreciate your personal wants and needs.
Step 2: Face your escapist truth.
Take a timeout to decide if escaping will really do you good in the long run. It's truly important to be conscious and intentional about your escapism goals to avoid the downsides of an escapist mentality.
For example, if you want to escape to find temporary ease from a toxic relationship, it's likely that the same challenges will be waiting for you once you return. But if you're wanting to escape to figure out how to get out of the relationship and create a new life, the time away could be incredibly valuable.
The key is to determine, without judgment, if the travel escape will reap positive rewards or if you'll feel more anxious and stressed in the long run by returning to a personal or work situation that you're striving to avoid. Simply put, the most beneficial escapist travel tends to be mindful and positive rather than avoidant in nature.
Step 3: Do the map and the math.
Now the fun begins. Wherever you're going, now's the time to create a dreamy itinerary. Let your imagination run wild as you open your mind up to all the places you'd like to go. Stretch yourself by pondering the plains of Africa, the fields of Tuscany, and the down-home glories of Route 66. Then, let reality set it—especially if you're actually going to leave town—and enjoy the fun of making a final selection based on the realities of your budget, timing, and the state of the world.
(Make sure to consider how safe it is to physically travel by reading up on health officials' latest coronavirus travel guidelines1, for both where you are and where you're going.)
Step 4: Consider your entourage.
Escapist traveling can be done solo, with friends, or with your significant other. More gregarious spirits sometimes prefer escaping with groups of unknown souls who become friends along the way.
As you decide, imagine what the trip would be like with a variety of people or with yourself. Also make sure your travel companions are people who are willing to take the necessary COVID precautions to keep everyone safe throughout your trip, including the people in your group and the people living and working in the places you visit.
After considering your goals, your needs, your personal situation, and safety issues, you can then decide whom (if anyone) you'd like to have along for the ride. And sometimes, the very best companion is that lovely person staring at you in the mirror.
Step 5: Tune into your goals.
As you prepare for your escape, tune in once again to your travel goals. You'll make the most of your much-needed adventure by affirming what you want from your escape.
For example, let's say you've just broken up with your longtime partner and need to get away. You decide you want a respite that is filled with a combination of rest, play, and gentle self-work. You ask your therapist to give you a bit of insight-oriented "homework," and she gives you prompts for journaling. Even though your vacation hasn't started, you already feel better knowing you'll have space to rest, relax, and process.
No matter your situation, it's likely that you want your escapist journey to leave you feeling enlivened and rejuvenated.
The bottom line.
Whether your travel adventure leads you only as far as your closet or to an azure ocean thousands of miles away, all you need is a creative mind and a willingness to play. Whether you bring the colors, scents, and flavors of Paris into your apartment or create an island retreat on your back deck, you're only limited by the confines of your imagination. When it comes to escapist travel, it doesn't matter if your bank balance is extravagantly high or barely there. In this sphere, it's all a matter of the mind.
All you need is desire, a big imagination, and a sense of curiosity for whatever waits around the corner. And all this can be yours without leaving the comfort of your couch.
Carla Marie Manly, Ph.D.
Clinical Psychologist
Carla Marie Manly, Ph.D., is a clinical psychologist based in Sonoma County, California. With a holistic, body-mind-spirit approach, Manly specializes in the treatment of anxiety, depression, trauma, and relationship issues. She has a doctorate in clinical psychology from Pacifica Graduate Institute and a master's in counseling from Sonoma State University. Manly is also the author of several books, including Joy From Fear, Aging Joyfully, and her latest book Date Smart: Transform Your Relationships & Love Fearlessly.
Blending traditional psychotherapy with alternative mindfulness practices, Manly knows the importance of creating healthy balance, awareness, and positivity in life. Recognizing the need for greater somatic awareness in society, Dr. Manly has integrated components of mindfulness, meditation, and yoga into her private psychotherapy practice and public course offerings. Her psychotherapeutic model offers a highly personalized approach that focuses on discovering and understanding each individual's unique needs and life-path goals.