This Black & Orange Oatmeal Is The Best Way To Kick Off A Healthy Halloween
Contributing Food Editor
By Liz Moody
Contributing Food Editor
Liz Moody is a food editor, recipe developer and green smoothie enthusiast. She received her creative writing and psychology degree from The University of California, Berkeley. Moody is the author of two cookbooks: Healthier Together and Glow Pops and the host of the Healthier Together podcast.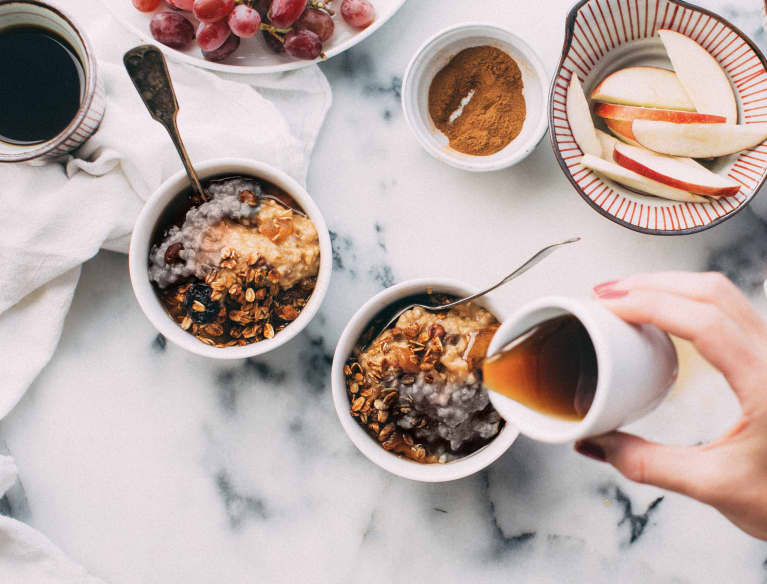 Our editors have independently chosen the products listed on this page. If you purchase something mentioned in this article, we may
earn a small commission
.
We prefer our spooky treats with a side of nourishment here at mbg, and what better way to kick off a festive day than with a bowl of warming, fiber-filled oatmeal? This version is gloriously orange and black and can be layered to make a gorgeous Halloween-colored parfait. Let's talk about the individual layers and how you get those eye-catching colors, along with plenty of health benefits.
Meet the orange layer: pumpkin.
Of course, it wouldn't be a perfect Halloween treat without the inclusion of pumpkin, the ultimate seasonal piece of produce (although there are plenty of other gourds that shouldn't be forgotten!). Mixing in a small amount of canned pumpkin purée gives this oatmeal a glorious orange hue, along with plenty of vitamin A and additional fiber. We love adding some pumpkin pie seasoning, fine-grain sea salt, and maple syrup as well, to get that perfect pumpkin-pie-like flavor.
Meet the black layer: black cocoa.
You may have never heard of black cocoa, but you've almost certainly experienced it if you've ever eaten an Oreo cookie. The baker's secret is an ultra-Dutch-processed cocoa, which has been processed with potassium to reduce its acidity, neutralizing its pH and giving it a deep black color. It still contains the many benefits of cocoa powder, but its inky color makes it a perfect way to tint foods black, no artificial dyes required.
You can find black cocoa at many baking stores or order it online for a reasonable price, but if you'd rather, you can also use normal Dutch cocoa, which you can find at most grocery stores. Because black cocoa doesn't taste as chocolaty as traditional cocoa (think of a subtle Oreo-like flavor), this recipe mixes raw cacao and black cocoa for the ultimate flavor.
How to make your black and orange oatmeal.
1 cup rolled oats
2 cups nondairy milk of choice (we love the So Delicious Unsweetened Organic Almondmilk with Cashew, which is super creamy, has only six simple ingredients, and even comes in a plant-based bottle)
Pinch of fine-grain sea salt
3 tablespoons maple syrup
⅓ cup canned pumpkin purée
½ teaspoon pumpkin pie spice
2 teaspoons black cocoa powder
2 teaspoons raw cacao powder
Combine the oats, milk, and sea salt in a small saucepan, then bring to boil over medium heat.
Reduce heat to simmer, then cook, stirring occasionally, until the oatmeal is thickened, about three to five minutes. Stir in the maple syrup and then divide the oatmeal evenly between two bowls.
Stir the pumpkin purée and pumpkin pie spice into one bowl; mix until well combined, then set aside. Stir the black cocoa powder and raw cacao powder into the remaining oatmeal until well combined. Layer your oatmeal in a clear jar, like a parfait, or serve it half and half in a bowl. Serves 2.