3 Healthy Slushies To Keep You Hydrated & Refreshed Even On The Hottest Days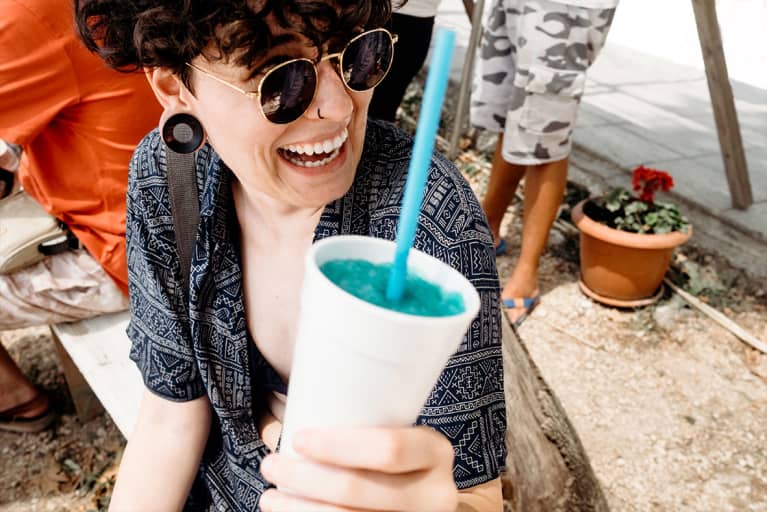 For those craving some childhood nostalgia and perhaps a brain freeze, might we suggest you snag a slushie before braving the summer sweat? The icy beverage is a fun way to stay hydrated in the heat; as a child, I remember my mouth permanently tinged cherry-red for a significant chunk of the season. Although, most fruit slushies contain artificial colors and sweeteners, in case you couldn't tell from the fluorescent flavors.
No fear: Here are three healthy slushies you can easily make at home. Not only do they have less sugar than traditional blends, but they also come packed with antioxidants to help supercharge your skin and gut health.* And just like the neon Slurpees of your youth, they're great for staying cool in the summer heat:
1.
Watermelon Berry Collagen Slushie
Technically, this is a margarita recipe discovered by registered dietitian Jessica Cording, M.S., R.D., CDN—but simply remove the alcohol and you've got yourself a refreshing summer sip. Add a scoop of mbg's beauty & gut collagen+ and you can even enhance your summer glow.*
In addition to 17.7 grams of grass-fed hydrolyzed collagen peptides, the powder contains hyaluronic acid to enhance your skin's natural hydration levels so you and your skin can feel refreshed as you sip.* You'd be hard-pressed to find a person who doesn't crave watermelon during the summer, and this watermelon-berry collagen slushie is equal parts tart and juicy.
4 cups watermelon cubes
1 cup frozen mixed berries
2 to 4 tablespoons lime juice
4 scoops mbg's beauty & gut collagen+
2 cups ice
4 slices lime wedges, for garnish
Layer ingredients in a blender, and blend until smooth.
Divide among 4 glasses, and garnish each with a lime wedge. Serve immediately.
Looking for a fun and convenient way to sneak veggies into your daily diet? Try turning your favorite green smoothie into a playful slushie. By adding a scoop of mbg's organic veggies+ powder, you're getting hard-to-find sea vegetables like kelp, chlorella, and spirulina, as well as dark leafy greens and vitamins and minerals, like iron and potassium. Plus, it's a good source of fiber while also being low in sugar (2 grams per serving, and naturally derived from the fruits and vegetables!).*
Pour cold liquid and greens powder into a mixer.
Shake together until well mixed.
Pour into ice cube trays, freeze until semisolid (this will help with that slushie-like texture).
Blend until it reaches desired consistency.
3.
Tropical Turmeric Slushie
This yummy and refreshing sip, inspired by Erewhon's Turmeric Crush smoothie, tastes just like a poolside treat. Created by registered dietitian Mia Swinehart, R.D., LDN, the blend also yields a bright orange hue that practically screams summer. Better yet, Swinehart layers in some beet juice for even more of an antioxidant punch and a gorgeous tie-dye aesthetic.
¾ cup frozen pineapple
½ cup frozen mango
2 carrots, peeled
½ an orange, peeled
⅓ cup frozen cauliflower rice
1 tsp fresh ginger
½ tsp turmeric
Handful of ice
Water, as needed (start with ½ cup)
Beet juice (for the red layer)
Optional: 2 scoops of unflavored collagen powder
Optional: honey to taste for extra sweetness
Blend all ingredients into a slushie, adding more water as needed.
Layer the slushie with your beet juice and enjoy!
Slushies are the ultimate summer crowd-pleasers, but that doesn't mean you have to load them up with sugar. If you're craving a cool and refreshing treat, these three healthy recipes have you covered.