Must Try: This RD's Watermelon-Berry Collagen Margarita Recipe

Registered Dietitian
By Jessica Cording, M.S., R.D., CDN
Registered Dietitian
Jessica Cording, MS, RD, CDN, INHC is a registered dietitian, health coach, and author with a passion for helping people simplify their wellness routine and build sustainable healthy habits.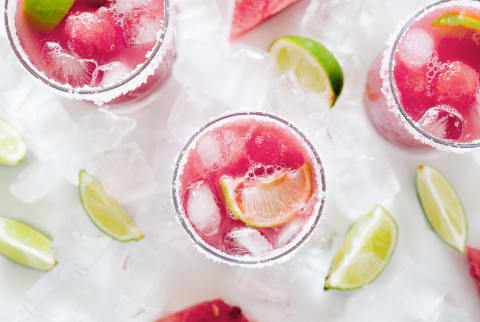 Image by Pixel Stories / Stocksy
June 20, 2022
When registered dietitian Jessica Cording, M.S., R.D., CDN, told us about her frozen watermelon-berry collagen margarita recipe, we were practically buzzing with excitement to share (and try it!). Below, we explain just what gives this summer marg its healthy, beauty-enhancing twist,* followed by Cording's easy-to-make recipe.
Bright and acidic, this frozen watermelon-berry margarita practically screams summer. Watermelon is such a refreshing treat, and the frozen berries add a nice flavor, texture, and gorgeous color (plus more antioxidants and fiber—who doesn't want that?). But what really makes this summer marg sing is mindbodygreen's beauty & gut collagen+. A few scoops of the skin-supporting supplement can enhance your long-weekend glow.*
Additionally, mbg's formula is packed with antioxidants. If you really want to protect skin from oxidative damage and free radicals as you lounge over the long weekend, you must provide your skin cells with antioxidants internally.* Good news is, beauty and gut collagen+ contains all the key players: vitamin C, vitamin E, turmeric, and SGS.* Finally, the powder contains hyaluronic acid to enhance your skin's natural hydration levels so you and your skin can feel refreshed as you sip.*
The result? A frothy, subtly sweet cocktail that's bound to become a fan favorite. (Here's a hack: Remove the alcohol, and you've got yourself an equally yummy summer-inspired smoothie.)
Cording's Frozen Watermelon-Berry Collagen Margarita
Ingredients
½ cup tequila
¼ cup triple sec or Cointreau
4 cups watermelon cubes
1 cup frozen mixed berries
2 to 4 tablespoons lime juice
4 scoops mbg's beauty & gut collagen+
2 cups ice
4 slices lime wedges, for garnish
Method
Layer ingredients in a blender, and blend until smooth.
Divide among 4 glasses, and garnish each with a lime wedge. Serve immediately.
If you are pregnant, breastfeeding, or taking medications, consult with your doctor before starting a supplement routine. It is always optimal to consult with a health care provider when considering what supplements are right for you.