This Green Smoothie Recipe Is As Hydrating As 3 Cups Of Water, Says An MD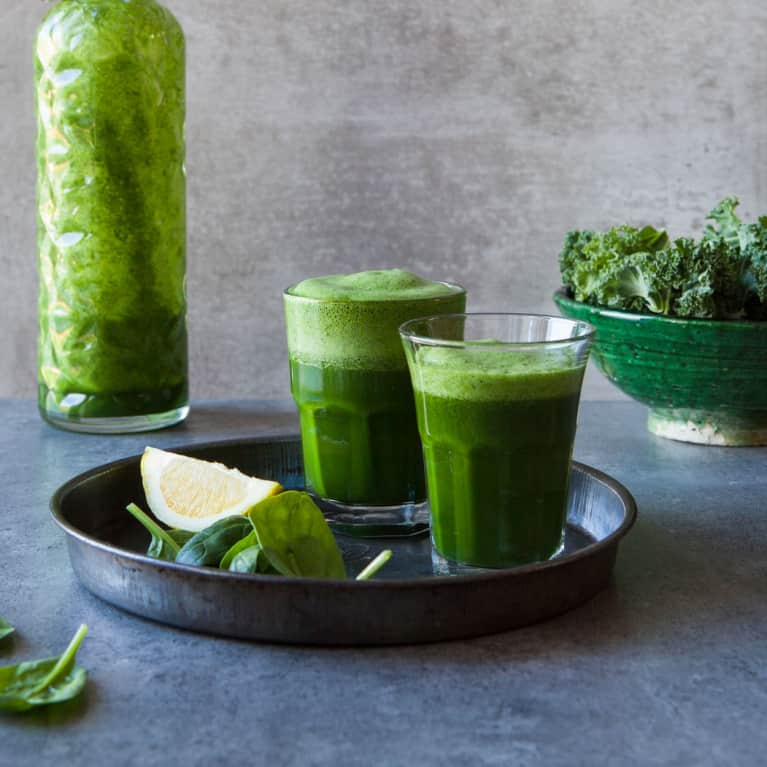 Our editors have independently chosen the products listed on this page. If you purchase something mentioned in this article, we may
earn a small commission
.
You heard it here first: "One green smoothie is probably more hydrating than three glasses at the same amount of water," says Dana Cohen, M.D., integrative medicine physician and co-author of Quench, on the mindbodygreen podcast.
There's no scientific evidence to back up the claim (yet), but Cohen has seen the effects firsthand: When her dehydrated patients chug water all day to no avail, she suggests they "add a green smoothie or two a day, and it changes everything."
How to make Cohen's green smoothie recipe.
While you can chuck any hydrating foods you like into a blender, she does highlight a few star ingredients. We'll start with the obvious: greens. Whether you're partial to kale or spinach, blending up greens helps the smoothie become extra hydrating (also what helps give the drink its gorgeous color). Leafy greens contain tons of fiber, which research has shown helps you hold on to water much better. "The fiber is what really acts as a sponge," Cohen adds.
Next, we have cucumber and chia seeds: These contain "structured" or "gel" water, says Cohen. "When you look at a cucumber seed, you can literally see the gel around it," she explains. Same goes for chia seeds—they have a goopy, jelly texture when you submerge them in water. In both cases, the H2O molecules layer upon one another to form a gel-like substance, and it's incredibly hydrating for your body. "It is in that form that's found in nature, and it's also in that form that's found within our cells," Cohen says.
She also throws a juicy apple into the blend. You might not regard apples as the most hydrating fruit (watermelon surely earns the title, no?), but apples actually contain up to 86% water. Perhaps that's why Cohen says, "An apple and a bottle of water is more hydrating than two bottles of water."
Here's exactly what you'll need to quench your thirst:
½ an apple
½ a cucumber
2 tablespoons chia seeds
Juice of ½ lemon
1 knob ginger
1 cup greens of your choice (spinach, kale, etc.)
2 to 3 cups water (depending on how thick you like your smoothies)
Simply throw all the ingredients into a high-speed blender and whir until smooth (you may want to pop in a few ice cubes or freeze your fruit, if you like your smoothies chilled). Sip, and say ahhh.
If there's one to-do for dehydration, Cohen suggests incorporating a green smoothie into your daily regimen. The thirst-quenching fruits and veggies can help your body hold on to water, which makes the whole ordeal much more efficient. If you find yourself chugging gallons, without quenching your thirst, a simple snack may be just what you need.