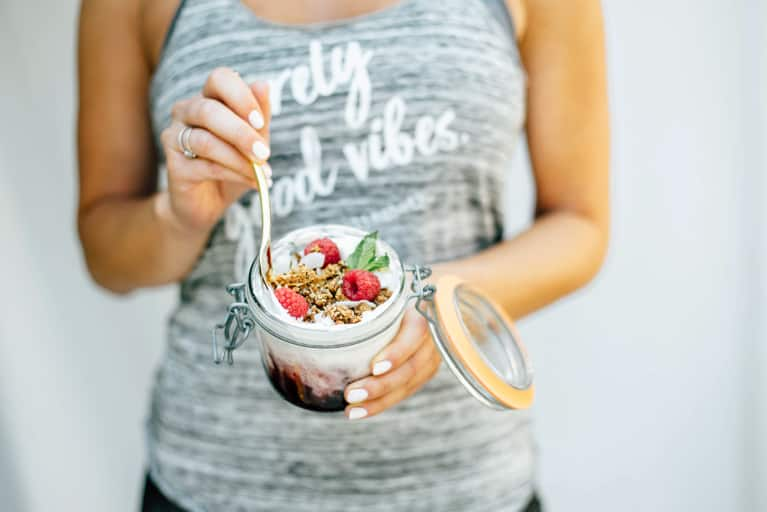 Granola will go down in the books as one of the great go-to breakfast staples. It's quick and easy—a necessity for anyone with kids running around—but since granola can often be high on sugar and low on nutrients, it's super important to check the label and make sure you're not eating candy for breakfast.
Look for granola with less than 8 grams of sugar per serving, whole ingredients, and healthy fats like coconut oil or nuts. Also worth getting on your radar: Granolas that have superfood add-ins like hemp, chia, and adaptogens. The decadently flavored granolas from Purely Elizabeth stocked at Whole Foods and Target are beloved for checking all these boxes, and that won't change anytime soon: The brand is releasing two new flavors this fall that help aid the body's response to stress and help support healthy immune function: Ancient Grain Dark Chocolate Strawberry with Reishi and Grain-Free Pumpkin Spice with Ashwagandha.
In a rut, it's easy to rely on the old faithful: granola, milk, and a sliced banana or a sprinkle of berries. But that can get boring—fast! Below, check out a few delicious ways to pair up your morning granola with something new and exciting in a matter of minutes.
Granola + Nut Butters: 2 minutes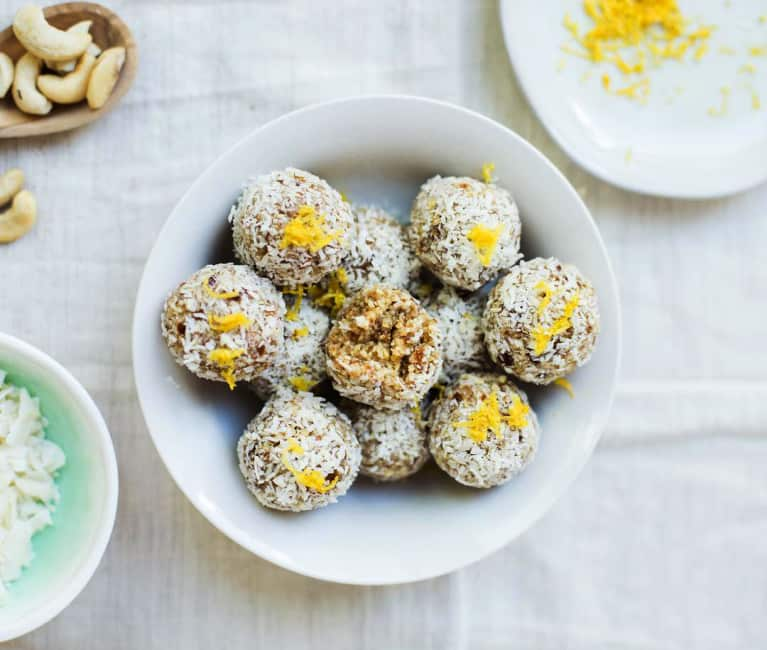 Simply slice up an apple or cut a banana in half, top with almond, cashew, or sunflower butter, and sprinkle with granola. If you have a few extra minutes you can make a nut butter power ball by warming up any nut butter with a touch of natural sweetener like honey or maple syrup and a little bit of milk until it forms a soft paste. Stir in some granola, roll into balls, and refrigerate.
Granola + Oatmeal: 10 minutes
Oatmeal is one of the best (and most affordable) ways to have a full, satisfying breakfast. Add a scoop of granola along with some fresh fruit to add protein and a nice, sweet crunch. You can do this with hot oatmeal, or, if you know you're going to be in a rush, whip up some overnight oats the night before and top with granola as you rush out the door.
Granola + Breakfast Salad: 10 minutes
A salad for breakfast might seem crazy, but it's an easy way to get in a big dose of healthy greens—especially if you prefer savory over sweet for breakfast. Use spinach or baby kale, any leftover cooked veggies you've got, half an avocado, and then sprinkle on granola. Toss everything together with a splash of avocado oil and a squeeze of lemon, and top with either over-easy or soft-boiled eggs. If the yolk is cooked just right, it will mix in with the oil to make a super creamy dressing, and the granola adds the perfect, just barely sweet crunch.
Granola + Smoothie Bowl: 5 minutes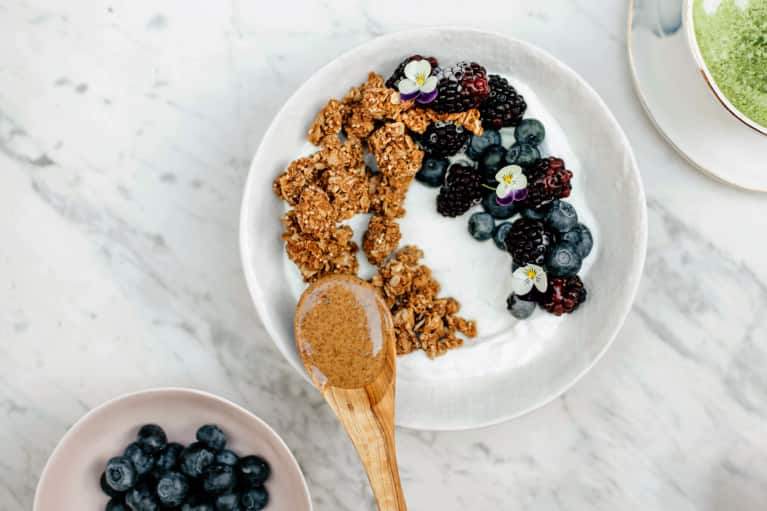 Smoothies are amazing because you can put in whatever you like, whiz it all together at the push of a button, and have a quick and delicious breakfast ASAP. But perhaps you never quite feel as full or satisfied when you drink a meal—there's something to be said about the mind/stomach connection and the need to chew. So instead of drinking a smoothie, try a smoothie bowl with your favorite granola as one of the toppings. (It's like granola and yogurt, but better!) Our suggestion for a fall smoothie: spinach, apples, cinnamon, and your favorite milk topped with Purely Elizabeth's Pumpkin Spice Grain-Free Granola with Ashwagandha. The added adaptogen is a great way to balance your system when you're feeling stressed, tired, or trying to beat a bug.
Granola + Nothing: Instant breakfast!
This isn't a pairing per se, but munching on granola straight out of the bag can help keep anyone going if they're in a pinch on a busy morning. When this is the case, just try to stick to a granola with a healthful serving of protein, low sugar, and great flavor like Purely Elizabeth's Dark Chocolate Strawberry with Reishi. Anyone with a soft spot for chocolate will have their sweet tooth satisfied—without the jittery effects or midmorning crash from the typical sugary breakfast.