Close Banner
Advertisement
This ad is displayed using third party content and we do not control its accessibility features.
A Mouthwatering Pear + Berry Crisp (That's Totally Grain-Free)

New York Times Best Selling Author
By Danielle Walker
New York Times Best Selling Author
Danielle Walker is a two-time New York Times Best Selling author and photographer of cookbooks "Against all Grain" and "Meals Made Simple."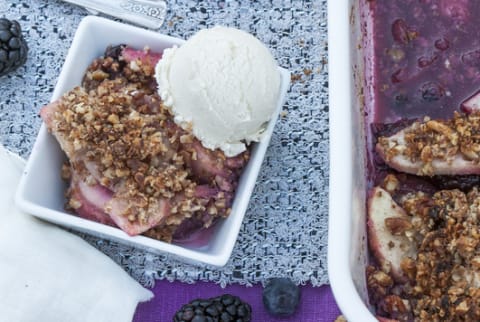 A grain- and gluten-free fruit-based dessert perfect for springtime. Use either grass-fed butter or coconut oil to get those good-quality fats and add flavor.
Pear Berry Crisp
1 teaspoon butter or coconut oil
1 cup blueberries
4 apples, peeled and cored and cut into thin wedges
4 pears, peeled and cored and cut into thin wedges
1 tablespoon lemon or orange juice
¼ cup honey (or maple for a vegan version)
¼ teaspoon salt
½ tablespoon coconut flour
¼ teaspoon cinnamon
1 cup grain-free granola (without raisins—like this one)
1 tablespoon butter or coconut oil, melted
1. Preheat oven to 375°F. Grease individual ramekins or 1 large baking dish with the 1 teaspoon butter.
2. Combine the blueberries, apples, pears, lemon juice, honey, salt, coconut flour, and cinnamon in a bowl. Combine the granola and the 1 tablespoon butter in a small bowl.
3. Pour the fruit mixture into the baking dishes and bake for 40 minutes or until bubbling.
4. Reduce the oven to 325°F. Spread the granola mixture over the top of the fruit, then bake for 15 minutes until browned.
Want more dessert? Check out: