paid content
 for

Give Your Home Office A Sustainability Makeover With These Irresistible Designs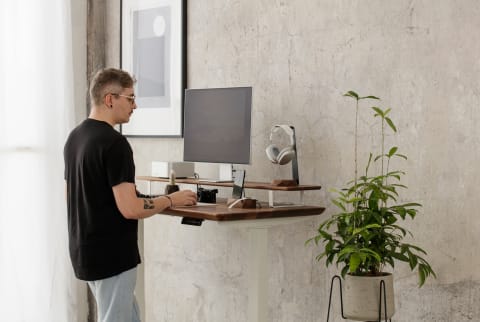 Image by Oakywood / Contributor
April 25, 2023
The home office. Over the last few years, it has become one of the most highly trafficked spaces in the house. It doesn't matter whether yours is more like a corner or you've scored a room with a door—we spend hours and hours in this space fueling creativity, ideas, and success. So shouldn't it feel inspiring?
Think about what a standing desk could do for your workspace (and posture). Or even a few innovative accessories to make your life easier, like a natural desk mat or magnetic iPhone stand. If your office needs a little TLC, Oakywood is here for the makeover. Born from a love of wood and technology, their designs are inspiring and comforting. But even better—they're sustainable. And for a limited time, mindbodygreen readers can save 10% on their entire collection using code MBG10.
Advertisement
This ad is displayed using third party content and we do not control its accessibility features.
The benefits of a sustainable workspace
Your home office should be a vortex of focus, creativity, and productivity—and that often starts with design. But a workspace should also feel as good as it looks. Using the simplicity of wood, Oakywood designs infuse your space with a natural and minimalist aesthetic. But the good feels come from their sustainability story.
Sustainability and environmental consciousness are at the heart of Oakywood. From desks to shelves to accessories, they make their products sustainably from responsible sources—and mostly solid wood. Because of that, the company gives back to nature by planting trees with partnered organizations like One Tree Planted and Forever Forest. Oakywood products also land on your doorstep with carbon-neutral shipping and eco-friendly packaging. Through sustainable design, your office can become a reflection of your care for the environment and planet. And you bet that inspires workflow.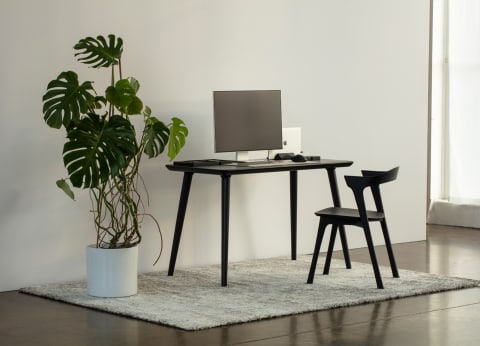 Image by Oakywood / Contributor
Advertisement
This ad is displayed using third party content and we do not control its accessibility features.
Top picks for your sustainability makeover
So, it's time to enliven your workspace—where to begin? Timeless and stylish, Oakywood's designs are easy on the eyes (and planet). Their Standing Desk is our No. 1 pick for reinventing your workspace, and not just because it's pretty. This ergonomic piece features solid wood and smart height adjustment for maximum functionality and comfort—the perfect synthesis of nature and tech for your workspace.
But what about when your desk is covered in papers, pens, and charging cords, and your mind is just as cluttered? If you're often surrounded by piles and miscellaneous notes, Oakywood's Desk Shelf and ergonomic Laptop Stand would be a good place to start. These simple organizational solutions add levels and functionality to your space (in style). And for the stray paper clips—everyone needs a Catchall Tray in their life.
Advertisement
This ad is displayed using third party content and we do not control its accessibility features.
The art of accessorizing
Every item in your workspace should support a clear and focused mind but also cater to function. If you need guidance, Oakywood lives and breathes this minimalist approach. Their Felt&Cork Desk Mat is made with high-grade felt content to provide padding for your mouse, keyboard, and other accessories. But it also looks clean. The key to an inspiring home office? Nail the balance between form and function.
The more functional our office design, the less we have to worry about clutter, mess, and tangled cords for our suite of gadgets. To answer the needs of charger users everywhere, Oakywood created their MagSafe line. Their beautiful and minimalist iPhone Stand, Apple Watch Stand, and Wall Mounts are a quick way to elevate your workspace (and keep your smart tech from dying).
Design that stands the test of time
Imagine… You walk into your transformed workspace, and it's full of sophisticated wooden designs—reminiscent of nature and optimized with technology. Between magnetic chargers, sturdy shelves, and felt keypads, your desk has never been so organized. Your mind has never felt so clear. The truth is: Oakywood's sustainable designs make it easy for us to reinvent our workspace in a way we can feel good about. The home office is where the magic happens… Just a simple makeover can create a better space, better work, and a better planet.
Advertisement
This ad is displayed using third party content and we do not control its accessibility features.
Devon Barrow
Branded Content Editor
Devon Barrow is a Branded Content Editor at mindbodygreen. She received her degree from the University of Colorado. When she's away from her desk, Devon is teaching yoga, writing poetry, meditating, and traveling the world. She's based in Boulder, Colorado.
Devon's first book, Earth Women, is coming soon. To learn more, join the mailing list, and receive updates, head to www.devonbarrowwriting.com.