The Gillette Venus Gentle Trimmer Replaced My Bikini Wax — Here's Why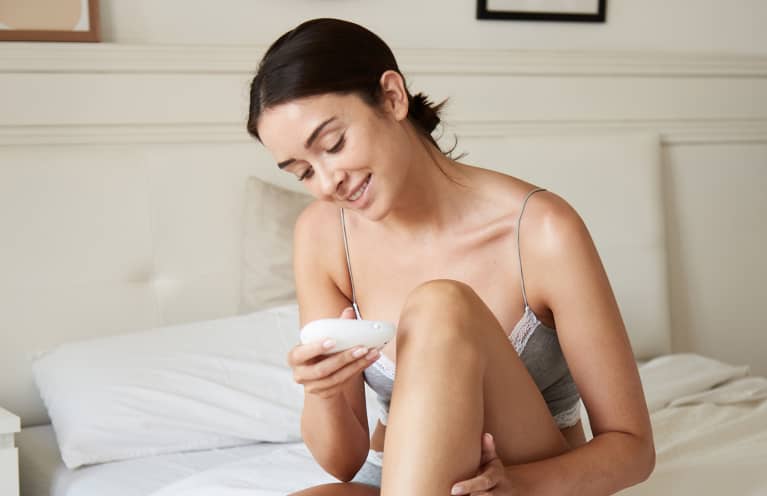 Our editors have independently chosen the products listed on this page. If you purchase something mentioned in this article, we may
earn a small commission
.
It's impossible to forget your first bikini wax. Between a stranger staring down your nether regions and warm wax entering uncharted territory, the hair removal service is often a memorable experience even before the pain begins. Despite the discomfort of waxing, it's been my go-to way to remove pubic hair for years. The results last longer than shaving, and I don't have to deal with razor burn.
Of course, waxing has a few downsides beyond the pain. It's expensive and often leads to ingrown hairs during the regrowth phase. I also have to take special precautions post-wax to reduce irritation, which includes avoiding tight clothing and exercise for at least 48 hours. So when I started to rethink the best way to deal with unwanted hair ahead of the summer, I decided to finally try a bikini trimmer: the Gillette Venus Gentle Trimmer.
The benefits of a bikini trimmer.
Unlike razors, bikini trimmers cut the hair follicle to a preset length. You won't get a close shave but rather a precise trim. The final groomed look leaves hair visible but it's all a uniform length, and you can always use a razor in select areas to remove any signs of your pubes (if that's your personal preference).
Personally, I like that it leaves a little bit of growth behind. Although I don't necessarily have strong opinions on the appearance, the extra length ensures I'm not dealing with ingrown hairs because the hair doesn't need to break through the epidermis again, as it does with waxing or shaving.
How to pick a bikini trimmer.
As someone who grooms in the shower, I needed a waterproof design. It was also important to me that any trimmer used in my bikini area was specifically created with the sensitive area in mind. The Gillette Venus Gentle Trimmer met both criteria and was less than $30, making it my ideal choice.
Already trusted by more than 8,800 shoppers, the battery-operated device keeps it simple with a single on and off switch. When you're ready to use it, you simply turn the base of the bikini trimmer counterclockwise to kick-start the device. You can opt to trim with or without the plastic trimming guard depending on your desired length.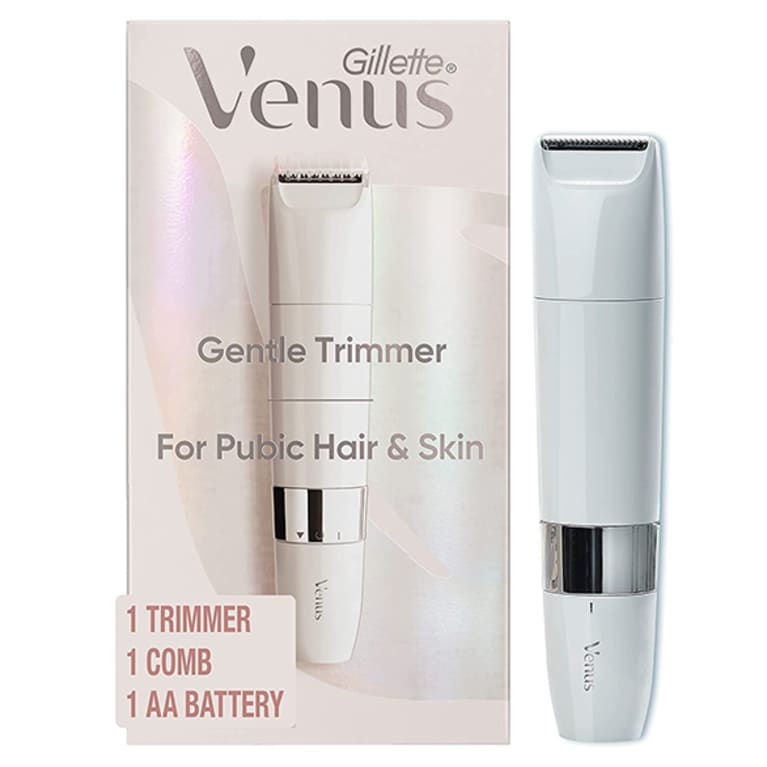 Gillette Venus Gentle Trimmer
$21
My experience with the bikini trimmer.
I first tested the trimmer about 45 days ago ahead of a trip to Florida (and a bathing suit). I opted to use the device without the plastic comb for a closer trim. Although I was worried about an increased risk of nicks from the blades without the guard, I quickly discovered the slim shape was easy to manipulate into every nook and cranny—and there was nothing to fear. In fact, I've yet to cut myself even after more than a month of use.
Once in place, the automatic blades easily snipped away excess length without tugging strands or pinching the skin. While I was initially alarmed by a spout of water squirting out the edge of the blades, I quickly realized it was the device removing excess water to stay operational. When I was done, the leftover pubes looked groomed and uniform. The entire process including the bum took less than three minutes and lasted a few days.
Luckily, cleaning the bikini trimmer was just as simple as using it. The head fully opens, which allows you to remove any stuck hairs or dump out any trapped water. When cleaned, the device's flat base and minimal footprint make it easy to store in a medicine cabinet or similarly compact space—although I'd also argue it's aesthetic enough to leave on your bathroom counter.
Personally, I plan to completely replace my bikini waxes this summer with the trimmer. It's not only small enough to pack in my suitcase for an on-the-go touch-up during trips but versatile enough to use on other body parts when needed. It can also be used on dry hair for an even faster (albeit messier) last-minute grooming session. My only complaint is that it's battery-operated. However, I plan to swap to reusable batteries when the included one dies.
If you want to skip the bikini wax this summer, opting for a bikini trimmer is a great way to save money and minimize pain. Gillette Venus' Gentle Trimmer is my pick for a waterproof device that safely and efficiently trims hair—and it's currently on sale for 30% off. Ingrown hairs not included.