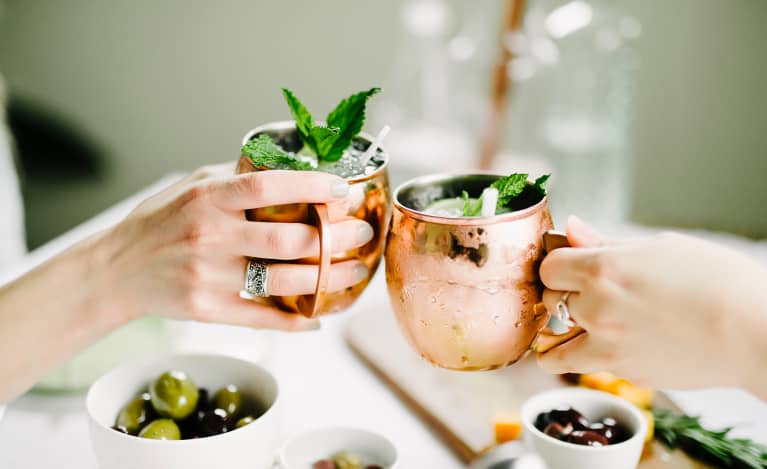 Long and laid-back Saturday afternoons, with not a plan in sight, are the key to a weekend well spent. Long before social distancing was a thing, we made a sport out of avoiding crowded brunch patios and opting instead for the relaxing sanctuary of our home. Because for us, "chilling out" isn't lazy or unproductive — in this busy world, doing less is an accomplishment.
Whatever your idea of a perfect Saturday looks like—we support it (especially if it involves sweatpants). And although that cozy Saturday afternoon looks a little different for everyone, we're firm believers that it all starts with the menu. Below we gathered some of our all-time favorite snacks and sips, all of which are mbg-approved (i.e., minimal prep, maximum benefits). Whether you're after a cocktail, pre-dinner bite, full-on meal, or dessert, we've got the answer for you.
Drink: Elderflower Lemon Drop Martini
Nothing beats a warm afternoon on the patio furniture with a refreshingly light beverage in hand. We put a summer-spin on this classic citrusy concoction—made with no sugar, but all the flavor. The floral notes of this sip are best enjoyed over relaxed conversation, or a page-turner.
Ingredients:
2 ounces Smirnoff Zero Sugar Infusion Lemon & Elderflower Vodka
½ ounce triple sec
½ ounce fresh lemon juice
Lemon slice for rimming glass
Lemon peel twist
Method:
1. Prepare your glass (ideally a martini glass) by coating the rim with your lemon slice.
2. Combine the Smirnoff Zero Sugar Infusion Lemon & Elderflower vodka, triple sec, and lemon juice in a shaker, about half full of ice. Shake it (like you mean it) for 30 seconds.
3. Strain into your prepared glass. Throw in your lemon twist and pinkies up!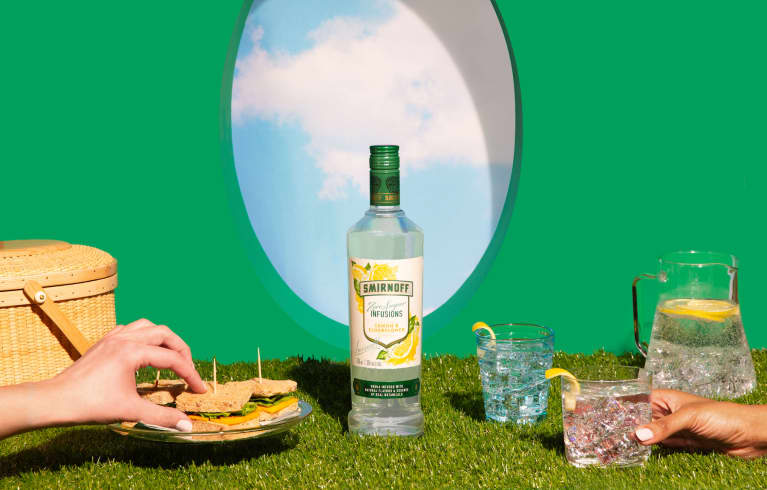 Eat: Immunity-Boosting Guac
Everybody's favorite dip gets an mbg makeover with this version that has a healthy dose of greens. Pairs well with any veggies you have on hand, your favorite grain-free chips, or, ya know, just a spoon (we won't judge).
Ingredients:
2 medium ripe avocados
2 cloves garlic, minced
¼ teaspoon Himalayan sea salt
¼ teaspoon black pepper
2 tablespoons organic veggies+
Method:
1. Mash the avocados in a deep bowl.
2. Mix in garlic, salt, pepper, and greens powder.
3. That's it, what more do you need?
Drink: Matcha Mint Gimlet
We've been on the matcha train for so long, by now we're essentially the conductor. This new take on the traditional gimlet takes matcha to bold new places. Hop aboard!
Ingredients:
1 ounce coconut water
1 ounce lime juice (1 lime)
½ teaspoon matcha powder
2 to 4 fresh mint leaves
Method:
1. Add coconut water, lime juice, matcha powder, and Smirnoff Zero Sugar Infusion Watermelon & Mint Vodka to a cocktail shaker.
2. Fill with ice and shake vigorously for 30 seconds.
3. Strain and pour into a glass, and garnish with mint.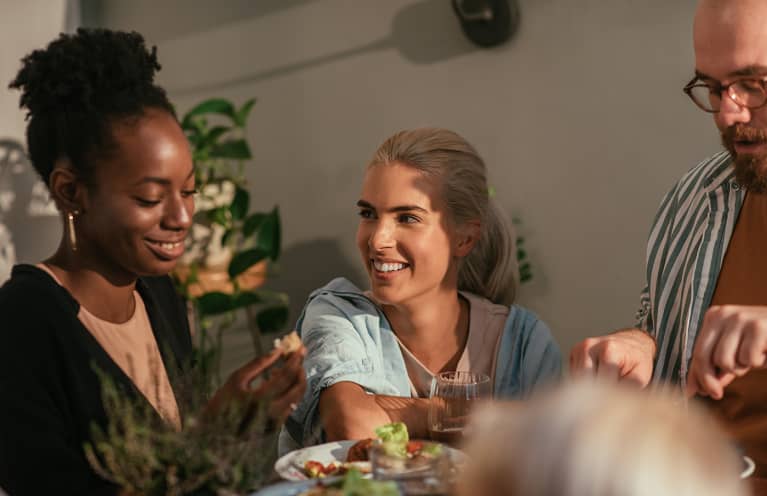 There are few certainties in this world we live in today, but among them is this: Pizza is always the correct choice. Here's how to do it just a little bit healthier (inspired by this version from our friend Rachel Mansfield).
Ingredients:
1 medium sweet potato, scrubbed
½ tablespoon avocado oil or extra-virgin olive oil
Pesto (DIY or store-bought)
3 tablespoons grated cheese or nondairy cheese of choice
Sea salt, to taste
Method:
1. Preheat the oven to 425°F and line a baking sheet with parchment paper.
2. Slice the sweet potato lengthwise into ¼-inch-thick planks. Toss with ½ tablespoon of oil, and spread pieces out so they are not touching. Bake for 10 minutes.
3. Take the sweet potato pieces out of the oven and spread your pesto on top. Sprinkle with your cheese of choice, and place back into the oven. Bake until the cheese is melted, usually around 5 to 10 minutes.
4. Get your sweet potato pizzas out of the oven, and serve warm!
* Note: Feel free to get creative and add extra toppings! For example, thinly sliced grape tomatoes, or lightly sautéed zucchini ribbons.
Drink: Zero-Sugar Moscow Mule
Trying to beat the heat? We've got you covered with our take on the copper mug classic. Low in both sugar and ABV, this version is a great option for those watching their sugar intake.
Ingredients:
1 ounce lime juice (1 lime)
1 tablespoon fresh ginger, shredded
5 to 6 fresh mint leaves (plus more for garnish)
6 ounces sugar-free ginger beer (we like Zevia)
Method:
1. Mash mint leaves and ginger into a glass.
2. Add lime juice and Smirnoff Zero Sugar Infusions Cucumber & Lime Vodka
3. Stir until combined, and strain into another glass (or copper mug if you're feeling fancy).
4. Add ice and top off with ginger beer.
5. Garnish with mint.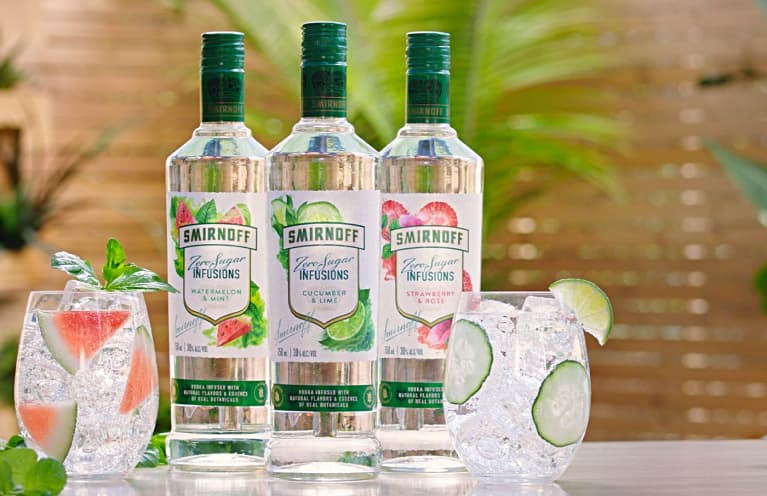 Eat: Salty-Sweet Trail Mix
Did you know salt (at low concentrations) is a universal flavor enhancer? When it comes to sweets, adding salt helps suppress any bitter tastes, meaning the sweetness we're seeking hits our taste buds harder. That's why we're all so in love with salted chocolate! This simple trail mix recipe taps into that, making it super satisfying—the perfect end to your night.
Ingredients:
2 cups mixed raw nuts of your choice
¼ tsp. salt
½ tsp. cinnamon
1 tsp. coconut oil
1 cup coconut chips, unsweetened
½ cup sugar-free chocolate chips (we love Lily's)
½ cup unsweetened, unsulfured dried cranberries
½ cup unsweetened, unsulfured raisins
1 cup popped popcorn or mini pretzels
Method:
1. Preheat oven to 350°F.
2. Take your raw nuts and coat in the salt, cinnamon, and coconut oil.
3. Spread nuts across a tray and toast in the oven for around 10 minutes, or until they look nice and toasty!
4. Remove nuts from oven and place aside to cool. Meanwhile, combine coconut chips, chocolate chips, dried fruit, and popcorn or pretzels in a bowl.
5. Add nuts once cooled, mix well, and serve!
*Note: For nut allergies, swap nuts for seeds and play around with the ratios of your popcorn and pretzels to find your perfect mix.
Drink: The Ultimate Warm Weather Strawberry Smash
Basically summer in a glass. This is probably the best possible use of those strawberries you've been wondering what to do with.
Ingredients:
5 strawberries, ends removed
4 to 5 fresh basil leaves
2 ounces lemon juice (1 medium)
club soda
Method:
1. In a mixing glass, thoroughly muddle strawberries with the basil.
2. Squeeze in lemon juice.
3. Stir in the Smirnoff Zero Sugar Infusions Strawberry & Rose Vodka
4. Fill another glass with ice and pour everything in.
5. Top it off with club soda and stir until combined.
6. Garnish with lemon round and a strawberry.