4 Ways Your Environment Affects Your Microbiome, From An MD

mbg Nutrition & Health Writer
By Abby Moore
mbg Nutrition & Health Writer
Abby Moore is an editorial operations manager at mindbodygreen. She earned a B.A. in Journalism from The University of Texas at Austin and has previously written for Tribeza magazine.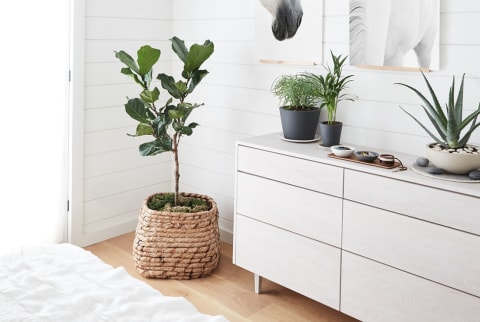 Image by Trinette Reed / Stocksy
February 29, 2020
We carefully vet all products and services featured on mindbodygreen using our
commerce guidelines.
Our selections are never influenced by the commissions earned from our links.
At this point, we're well versed in the importance of the gut microbiome, but integrative medicine doctor Amy Shah, M.D., said it's important to remember that the microbiome extends beyond the gut. "It's in our skin, in our mouths, and it's even in the environment we live in."
During a panel sponsored by Tom's of Maine for their new Prebiotic Personal Care line, Shah asked us four questions about our living environments. The answers can help determine just how healthy your microbiome is (or isn't).
1.
Do you live with animals or multiple people outside of your nuclear family?
Roommate situations aren't always ideal (especially if you're sharing a bathroom), but according to Shah, living with people outside of your immediate family helps create a healthier microbiome. Pets and young children, who tend to track in dirt, can have the same effect.
"The more people or animals you have in your home, the more you're intentionally or unintentionally sharing bacteria," Shah said, "and that's a good thing."
2.
Do you avoid antibacterial or harsh cleaning products in your home?
Using antibacterial products kills both good and bad bacteria, so it's important to avoid harsh chemicals and antibacterials while cleaning. If you already know this, then you likely have a healthy microbiome, but this is where living with roommates might not be as beneficial.
If your spouse or roommates don't share a similar mindset about gentle cleaning products—or simply don't want to invest in natural alternatives—Shah suggests compromising. "At least talk to them about getting rid of antibacterials and not over-sanitizing."
3.
Do you eat at least 5 servings of fruits and vegetables per day?
Although they get less attention, "prebiotics may be just as important...as probiotics for gut health," Vincent Pedre, M.D., wrote for mbg. "This is because they feed our friendly flora." Without prebiotic nutrients, the healthy bacteria in probiotics would have nothing to attach to and therefore wouldn't flourish.
Translated into food, the nutrients become fiber, which helps promote bowel regularity and an overall healthier gut. When it comes to consuming fruits and vegetables, Shah said at least five servings a day is the marker for a healthy microbiome.
Vegetables rich in prebiotics include chicory root, garlic, onions, and legumes, while fruits high in prebiotics include apples and bananas.
4.
Do you have plants or foliage at home?
Interacting with bacteria that live in and on plants can increase your own bacterial diversity. If you live in an urban area, houseplants or a terrace herb garden will do the trick. If you live in the countryside, a backyard garden is the way to go.
When not properly maintained, home plants or the floor beneath them can become breeding grounds for mold. But when taken care of, "there are so many health advantages to houseplants" Shah said, "even for stress relief but also for the microbiome."
If you are gardening, be sure to swap chemical fertilizers for organic alternatives. This will help increase biodiversity of the plot, which allows more animals (including you) to benefit from the robust nutrients in the soil.
The bottom line:
Want to turn your passion for wellbeing into a fulfilling career? Become a Certified Health Coach! Learn more here.

Abby Moore
mbg Nutrition & Health Writer
Abby Moore is an editorial operations manager at mindbodygreen. She earned a B.A. in Journalism from The University of Texas at Austin and has previously written for Tribeza magazine. She has covered topics ranging from regenerative agriculture to celebrity entrepreneurship. Moore worked on the copywriting and marketing team at Siete Family Foods before moving to New York.