For A Special Easter Treat, Try These 3-Ingredient Chocolate Truffles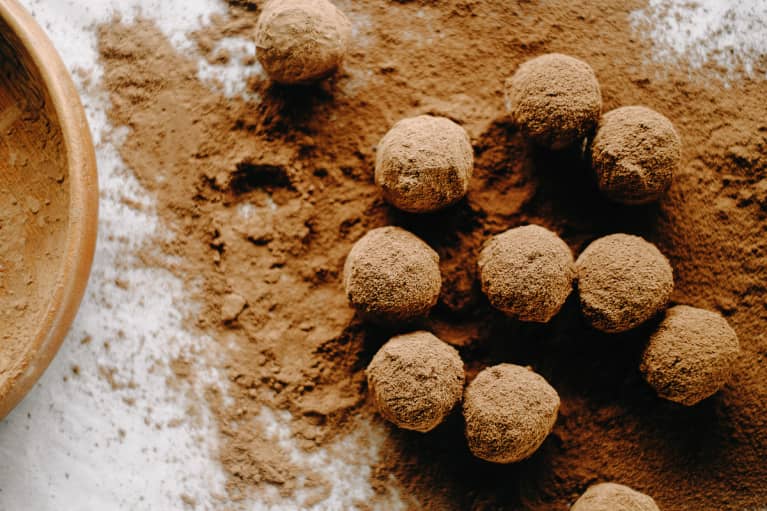 Spring holidays, like Easter, are looking a bit different this year. While the egg hunting must remain indoors and friends or extended families may not be able to gather for brunch, there are plenty of other ways you can participate in some seasonal fun. For a delicious no-bake recipe, try these three-ingredient chocolate truffles. They're so easy to prepare (just 10 minutes!), making them a delightful, if last-minute, weekend project.
But they aren't just a beautiful sweet treat to indulge in on Easter Sunday; they're also packed with protein and healthy fats. Plus, the star ingredient: mindbodygreen's grass-fed collagen+, a hydrolyzed collagen powder that supports strong hair and nails.* Studies have also shown that collagen supplements can support skin elasticity and overall hydration, meaning fewer fine lines with firmer, more supple skin.* This also contains vitamin C and vitamin E, meaning there's extra antioxidant support for your whole body.*
This oh-so-simple recipe yields a rich, decadent dessert with a beauty-enhancing twist—what more could you want?*
3-Ingredient Chocolate Truffles
½ cup dark chocolate (80% is ideal, but use whatever you have in the home), melted
½ avocado
2 scoops mbg grass-fed collagen+
Optional: ⅓ cup cocoa (for dusting)
Optional toppings: crushed peppermint bark, sea salt, coconut shreds, cacao nibs, walnut pieces
Melt the dark chocolate over a double boiler or in the microwave (about 30 seconds or so); set aside.
In your food processor, process the avocado (without the skin) until smooth.
Add the melted chocolate to the food processor, add mbg grass-fed collagen+, and continue to process for 30 to 45 seconds or until homogenous.
Remove the chocolate-avocado mixture from the food processor and place in the fridge for 30 seconds to form a harder mixture.
Once 30 minutes has passed, remove the mixture from the fridge and using about ½ to ¾ tsp. each, form balls from the avocado-chocolate mixture.
Roll the balls in the cocoa dusting and add your toppings as desired.
Store in the fridge until you want to enjoy!