These Are The Ingredients Experts Swear By In An Ultra-Hydrating Body Lotion

mbg Beauty Director
By Alexandra Engler
mbg Beauty Director
Alexandra Engler is the Beauty Director. Previously she worked at Harper's Bazaar, Marie Claire, SELF, and Cosmopolitan; her byline has appeared in Esquire, Sports Illustrated, and Allure.com.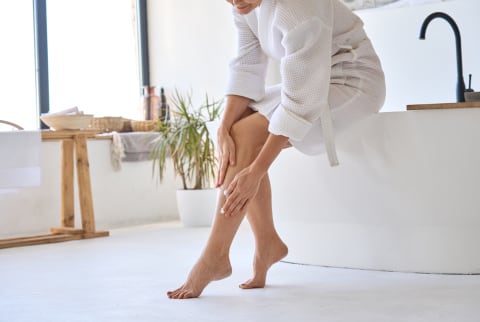 Image by insta_photos / iStock
March 11, 2022
Taking care of the skin on your body is just as crucial as taking care of the skin on your face. Of course, the face comes with its unique set of challenges and needs—not only is it delicate skin, but it's often the most exposed. It rightfully deserves the attention it gets. But that doesn't mean the skin from the neck down should be tended to with subpar ingredients or as an afterthought.
You should feed the entirety of the skin with high-quality ingredients and botanicals. Luckily, it is as simple as finding a high-quality body lotion you like.
Advertisement
This ad is displayed using third party content and we do not control its accessibility features.
And on that note, might we suggest our silky, smooth mindbodygreen postbiotic body lotion? It's a one-step routine for full-body skin care, from neck to toes. (After all, just because you should take care of your skin doesn't mean the routine itself needs to be hard.) We've spent the last two years developing the lotion—now available in both fragrance-free and our neroli scent—and we've only blended in high-quality ingredients that come with expert approval.
Why experts love the ingredients in this formula. 
The basis for every good body lotion is hydrating botanicals. We included a robust assortment of ingredients that feed the skin lipids, fatty acids, and humectants, and so on. To start, there's an organic aloe vera that helps the formula splash on the skin (it's also an excellent humectant). Then shea butter and coconut oil are folded in to add richness and thickness to the texture. Finally, there's a variety of botanical oils like moringa seed oil, an olive-derived squalene, and oat oil. "I love the ingredients used—so worth it for the ultra hydration," says beauty expert and medical esthetician Tiffany Lee.
Not only do those botanicals offer moisture, but they also have antioxidant properties. "Look for hydrating lipids and antioxidants to trap moisture and keep free radical damage in check," board-certified dermatologist Whitney Bowe, M.D., reminds us. Speaking of, the formula contains two additional potent antioxidants to further bolster the formula. First, there's a stable form of coenzyme Q10, which can help skin cells fight against lipid peroxidation, improve tone, and even strengthen the free-radical-fighting power of other antioxidants. Additionally, there's a fruit complex that can help the skin deal with oxidative stress, even out overall skin appearance, and tend to texture.
But of course, there are the namesake biotic ingredients. "Moisturizers that support a balanced microbiome are not just important for the face; they are absolutely critical for the rest of our body," says Bowe. This blend contains an algae-derived prebiotic that helps support your skin microbiome and can calm the skin. The high-tech and selective postbiotic helps the skin act more vibrant, stay hydrated, and even smooths fine lines. Together these support your body's crucial skin microbiome—which in turn can help reduce skin irritation, improve epidermal framework reconstruction, and overall improve hydration levels.
We'd be remiss not to talk about the new fragranced option, neroli. This well-rounded and bright scent is a sophisticated combination of essential oils, natural extracts, and responsible synthetics that was formulated in compliance with the IFRA 49th Amendment and Prop 65—the most up-to-date international and domestic fragrance regulatory standards available. For top notes, you'll smell bergamot, ylang-ylang, and petitgrain. In the middle, neroli is the predominant note. The base is warm cedarwood.
Advertisement
This ad is displayed using third party content and we do not control its accessibility features.
The takeaway. 
If you're looking for a new body lotion, top experts swear by this formula. Not to mention, I've been testing it for two years—and this is as hydrating as they come.

Alexandra Engler
mbg Beauty Director
Alexandra Engler is the Beauty Director at mindbodygreen. She received her journalism degree from Marquette University, graduating first in the department. She has worked at many top publications and brands including Harper's Bazaar, Marie Claire, SELF, and Cosmopolitan; her byline has appeared in Esquire, Sports Illustrated, and Allure.com. In her current role, she covers all the latest trends and updates in the clean and natural beauty space, as well as travel, financial wellness, and parenting. She has reported on the intricacies of product formulations, the diversification of the beauty industry, and and in-depth look on how to treat acne from the inside, out (after a decade-long struggle with the skin condition herself). She lives in Brooklyn, New York.