An Avocado & Endive Salad With A Plant-Based, Protein-Rich Punch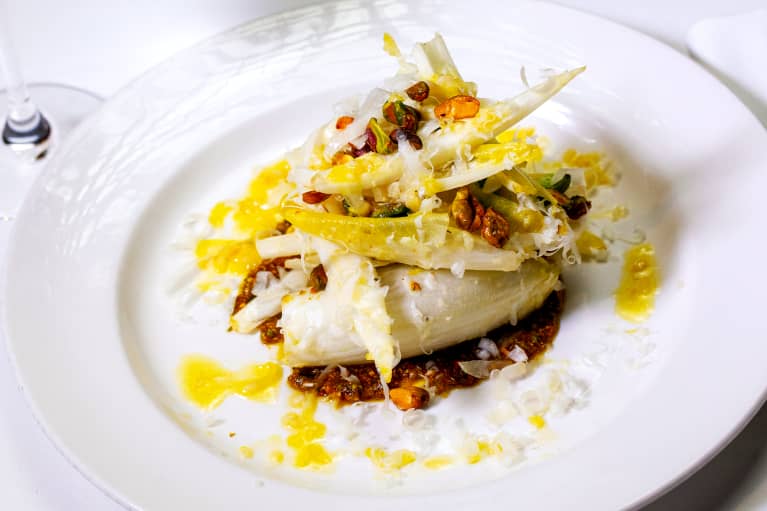 Our editors have independently chosen the products listed on this page. If you purchase something mentioned in this article, we may
earn a small commission
.
Protein itself is not that hard to come by, even for plant-based eaters. Legumes, nuts, and seeds can all add toward an individual's daily protein intake, but few of these are actually considered complete proteins—with the exception of pistachios.
Within this past year, the U.S. Food and Drug Administration (FDA) named pistachios a complete source of protein for anyone older than 5 years old, meaning the little green nuts contain significant levels of all nine essential amino acids—the protein-building blocks our bodies don't naturally produce. These are critical for building and maintaining muscle.
Aside from the standout salty taste and subtle crunch, pistachios' protein status makes them a viable option for a main course. So, gone are the days when salads were thought of as a side dish and pistachios were just meant for snacking.
James Beard Award–winning chef and co-owner of Mozza Restaurant Group Nancy Silverton combines the two for a nourishing and hearty dinner salad.
The entire salad serves four, making it a great dish for a dinner party, a family, or solo with leftovers. Now, this isn't your simple two-step salad, but every step is worth the final result, and the ingredients are easy enough to find. (If you're looking for less of a project, you can technically skip the pistachio aillade—but trust us, the flavor of the sauce takes this salad from good to gourmet.)
Here's how to make and assemble Silverton's pistachio-starring salad:
For the Belgian Endive Salad:
8 heads white Belgian endive
Lemon Dijon vinaigrette
½ lemon
Kosher salt, as needed
Cut off ends of the Belgian endives and peel off the leaves. Save half of the leaves whole and cut the remaining half of leaves in half. Place all the endive in a bowl. In the bowl with the Belgian endive, dress with the vinaigrette, a squeeze of lemon juice, and kosher salt.
For the Lemon Dijon Vinaigrette:
¼ cup fresh lemon juice
3 tbsp. champagne vinegar
¼ cup shallot, minced
1 tbsp. Dijon mustard
1 tbsp. kosher salt
freshly ground black pepper, as needed
¼ cup extra-virgin olive oil
In a small bowl, combine the lemon juice, champagne vinegar, shallots, mustard, and salt and a few turns of pepper. Add the extra-virgin olive oil, whisking constantly.
For the Pistachio Aillade (aka Garlic Sauce)
1 garlic clove, grated
½ cup pistachios, whole
1 anchovy, made into paste (optional)
½ cup pistachio oil
¼ lemon zest
1 tbsp. tarragon, minced
2 tsp. kosher salt
In a mortar, add pistachios. Pound and grind nuts with the pestle until fine. Add anchovy, garlic, pistachio oil, lemon zest, tarragon, and salt. Mix thoroughly until everything is combined.
On the center of each plate, smear a spoonful (or more) of pistachio aillade into a circle.
Place one-quarter of avocado (drizzled with olive oil and sea salt) in the center.
Grate Piave or Parmesan with a ribbon cheese grater to cover.
Pile endive on top, garnish with whole pistachios, and top with another quarter of avocado.
Repeat this for one more layer.
Finish the salad with a heavy grating of cheese, and top with roughly chopped pistachios.