3 Daily Beauty & Wellness Tips From Supermodel Emily DiDonato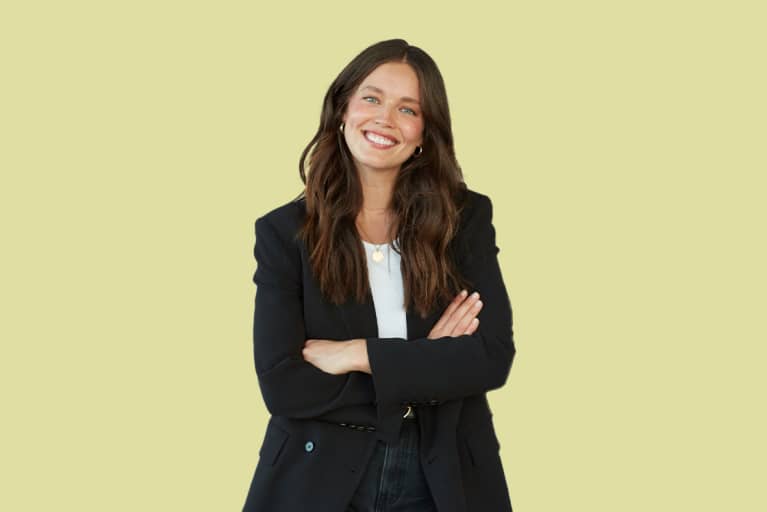 For supermodel Emily DiDonato, staying in the beauty loop is just part of her job. "Coming from the industry that I'm in, I used to have a 'more is more' mentality for a long time. Any time anyone recommended a product to me, I would buy it and add it to my routine. I would have eight, nine, 10, sometimes 12 steps in my routine all at once. I thought I was doing everything right: I have access to experts and I was using all the expensive products, but my skin would still struggle," she says.
But now, as she's entering new endeavors—like content creation, a new business, and, well, motherhood—she's starting to realize her most trusted beauty habits are the simple ones: "If you keep it simple, stick to it, and be consistent, your skin will thank you."
In this episode of Clean Beauty School, I chat with DiDonato about her best beauty tips, what she eats to stay healthy, our mutual love of therapy, and how she manages burnout. Check out the entire episode for all her sage advice, but for some quick beauty hits—here are her must-haves:
1.
Morning collagen smoothie
Over the years, DiDonato says she learned to take things on an inside-out approach by fueling her body with nutrients that can help the skin. And while her entire day consists of balanced, well-rounded meals—we like the sound of her morning smoothie.
"After [I work out], I usually do a smoothie," she says. "So in my smoothie, I'll do collagen protein, almond milk, blueberries, tons of greens, spinach, and mixed greens. I'll add some cacao, flaxseeds, or chia seeds. Sometimes all of the above, sometimes just one of them."
For more information on the benefits of collagen supplements, visit our guide.*
As she noted above, DiDonato keeps her skin care routine edited. Face wash, serum, moisturizer, and a mineral sunscreen during the day.
So how does she keep her skin so firm, bright, and fresh? Well, she focuses on collagen through vitamin C. "My skin care routine in the morning and at night is pretty much the same," she says. "My favorite is our Covey Next Up Vitamin C Serum because it helps with collagen production and protects the skin from free radicals. It's really hydrating too, and gives my skin that glow." See, vitamin C helps not only stabilize your current collagen—but it's a vital nutrient in the synthesis and cross-link process.
For her naturally curly and wavy hair, she's learned over the years to not wash it too much ("it took me a while, but I finally was able to train my scalp's oils," she says), sticking to sulfate-free, and applying hydrating products to keep her strands soft.
"For the hair department, that was probably where it was the most lenient in terms of what products I used. I would use whatever was at the grocery store," she says. "But when I got pregnant, I was like 'I got to keep it natural and find something to work for me.'"
One of those things? "In the evenings, I always use some sort of hair oil. Sometimes I'll use vitamin E oil. Sometimes I'll use pure squalene," she says. "But I like to apply it and then go to bed with just a bit of it on."
If you're looking for more engaging beauty conversations, listen to our new beauty podcast, Clean Beauty School. Subscribe on iTunes, Google Podcasts, or Spotify.