The Easiest Spice To Incorporate Into Your Daily Routine, According To An Expert

mbg SEO Editor
By Christina Coughlin
mbg SEO Editor
Christina Coughlin is an SEO editor at mindbodygreen. She graduated from Georgetown University in 2019 with a degree in psychology and music.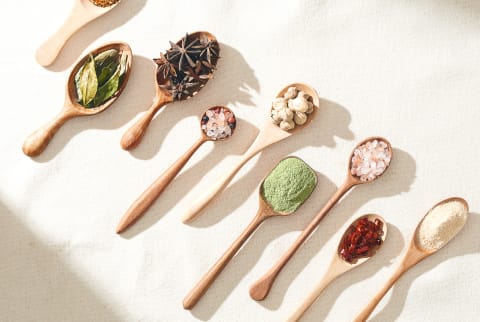 Image by Marc Tran / Stocksy
February 8, 2020
Here at mbg, we are all about spices. Not only do they add delicious flavor boosts to an ordinary meal, but they have numerous health benefits as well. Sometimes it can be hard to pick just one and figure out how to use it, so we consulted spice expert Kanchan Koya, Ph.D.
According to Koya, the possibilities are endless! When we asked her what spice is easiest to incorporate into a daily routine, she gave us two: paprika and cayenne. Both from the same larger "family" of chili powders, the spices differ in texture and taste.
What are the health benefits?
According to Koya, "This family of spices contain capsaicin and related compounds with anti-inflammatory and microbiome-nourishing effects."
Capsaicin is a component of chili powders that has numerous health benefits, helping to control our appetites and increase metabolism. In fact, a recent study found that consumption of chili peppers may reduce a person's risk of death by up to 23%. While paprika is full of antioxidants, cayenne is a great energy-booster. Either one provides a simple and effective way to improve overall health.
How can you use them?
The spices work in different ways. "While cayenne is spicy, paprika is mild and sweet and can complement a plethora of routine foods," says Koya.
She suggests putting paprika on any simple dishes, like roasted vegetables, fish, meats, and even popcorn. The complementary cayenne works nicely on beans, eggs, and Mexican-style foods. Both applications are simple—just add a dash of the powder into the dish and you're all set.
Want to turn your passion for wellbeing into a fulfilling career? Become a Certified Health Coach! Learn more here.