Many Couples Moved In Together For Quarantine — What Happens Next?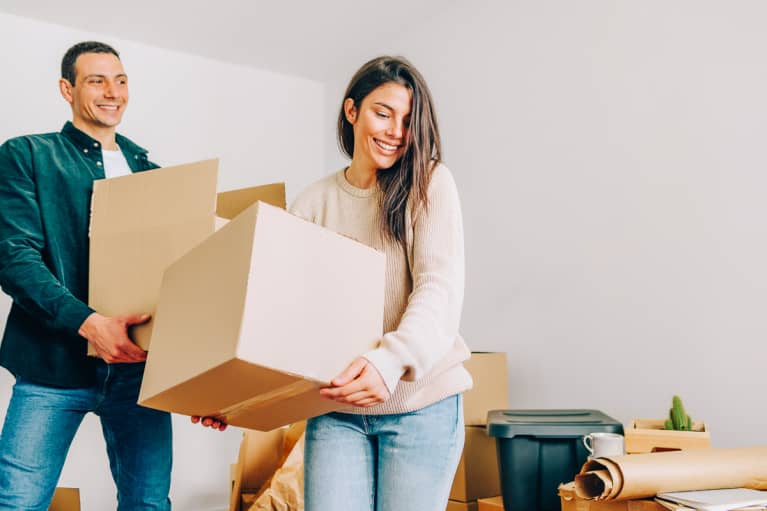 Moving in with your partner is typically a long, carefully thought-out decision. But when shelter-in-place orders were mandated, many couples threw caution to the wind and decided living together was better than spending an unknown amount of time apart.
Now as lockdown measures around the world begin to ease, couples are forced to decide what's next: Do we continue living together? Do we go back to our individual apartments? What if we're not actually right for each other?
Do we continue living together?
Inevitably, every couple and even every individual in this situation will have to decide the answer to this question themselves. There's no right answer that will apply to everyone, says relationship therapist Linda Carroll, M.S., LMFT. Deciding to continue living together may be the right decision for some, whereas deciding to go back to living separately might be the right decision for others.
Importantly, whichever option you decide is not a reflection of the strength of your relationship. Your relationship may be strong and healthy, but you still want to take things slowly and have time to live apart again before fully committing to cohabitation in a more permanent way.
Overall, just be sure to take time before making major decisions. Moving in together may have been a rushed, almost survival move. But now is the time to slow everything down, including your decision-making. "You have to figure out who you are going to be in the new world and who your partner is going to be," Carroll says.
Thinking through your next steps.
You'll need to figure out what you want your life and your relationship to look like in this next phase of COVID-19 and after the pandemic finally passes. Creating this vision for yourself is a process of patience and mindfulness, but here are a few questions to get you started:
How has your relationship progressed throughout this pandemic (or not progressed)?
What did you find out about your partner under stress?
Are you happy with who you've been as a couple throughout this time?
Would you benefit from having some space from your partner at this stage in your relationship?
Whether your relationship evolved for better or worse throughout quarantine, you have to be willing to let it go. That doesn't mean breaking up, mind you. It just means you have to relinquish the linear, idealistic version of your relationship and allow it to stretch and take new forms.
"You had a relationship, and you thought it was one way. Then, the pandemic came, and the relationship was totally different because of stress, limitations, and being locked up," she says. "Now you've got to let all that go and see who you are in the new world together."
What if we want different things?
At the end of the day, you can't force someone to live with you if they don't want to. If one of you has an instinct to seek space and feels held back, it will eventually lead to resentment. Carroll says the issue will play out in several scenarios—I love you more than you love me; you don't really want to be here; you're not committed.
If one person feels strongly about going back to living separately, go with it. This doesn't mean you need to break up or that your relationship is taking a step backward. Your relationship has been affected by a completely unprecedented global crisis, so accept that your relationship will not move in the typical trajectory you'd usually expect.
"For some people, they're going to get closer. For other people, they're going to feel like this is not the right relationship," Carroll says. "Know that you have been deeply affected by seen and unseen stress."
Whether you break up after COVID or make it through stronger than ever, cut yourself a little slack. These are weird times, and we're all just doing the best we can.