9 Condiments & Toppings To Jazz Up Any Basic Dish

By Laura Lea Bryant
mbg Contributor
Laura Lea Bryant is a certified health-supportive chef and cookbook author living in Nashville, Tennessee.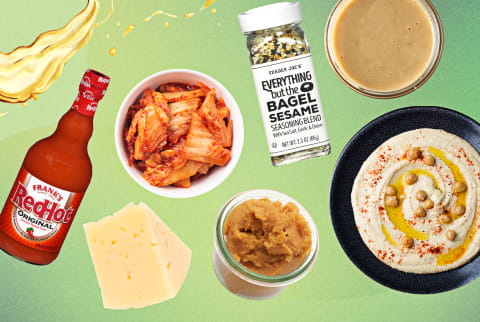 Image by mbg Creative / Various, iStock; Trader Joe's; Frank's Red Hot
May 2, 2020
These days, it can feel like a monumental effort is required for even the most mundane tasks—including eating! I've found myself grabbing snacks all day instead of putting together something of sustenance, and I'm trying to get back into the habit of well-rounded, nutrient-dense meals. Eating wholesome, colorful, and filling dishes personally helps me stay calm and grounded in stressful times. One way to make this easier is by relying on a handful of flavorful condiments and toppings. Below is a list of go-to pantry and fridge staples that can help jazz up even the most basic dish:
Advertisement
This ad is displayed using third party content and we do not control its accessibility features.
While this condiment is often associated with typical "bar" food, Frank's Red Hot actually has a wholesome ingredient list. Combined with its uniquely piquant profile and moderate spicy kick, Frank's can be a fantastic way to upgrade your meal. Add a splash to eggs any way you like 'em, quesadillas (I love rotisserie chicken, cheddar, and spinach), or toss a tablespoon over cauliflower florets before throwing them in your oven or air fryer.
This is the sesame seed version of peanut or almond butter, but it's much more savory and, in some ways, more versatile. In my opinion, the best tahini is mild with no bitterness (which can be a hallmark of some brands) and is "drippy" in consistency. Along with a squeeze of lime juice, tahini is wonderful drizzled on roasted veggies; I particularly like it with Brussels sprouts and sweet potatoes. Tahini is also the perfect foil to a little sweetness: Add it to your morning oats with a few dark chocolate chips or berries, or spread it on a good sourdough with a few chopped dates and some cinnamon.
Advertisement
This ad is displayed using third party content and we do not control its accessibility features.
Specifically, mild or white miso paste. This fermented paste is packed with umami, and a little goes a long way. Whisk a few teaspoons of miso with 1 minced clove garlic and 3 tablespoons of very hot water until creamy, for an addictive and versatile sauce. I love this mixed into sautéed leafy greens like spinach or kale, and I also use it to coat, then sear salmon, cod, or halibut.
You thought hummus was just for pita chips and carrots? Think again! Hummus is the base of one of my favorite salad dressings: A few tablespoons of hummus whisked with 1 tablespoon of olive oil, the juice from 1 lemon and a little black pepper. I've done this with plain, garlic, roasted red pepper, and pine nut hummus, and they were all fabulous. Hummus can also make a wonderful "crust" for oven-baked chicken. Just lightly salt and pepper your chicken pieces, then smother them with a thick layer of hummus. Bake at 375°F until the internal temperature reaches 165, then rest 12 minutes before slicing.
Advertisement
This ad is displayed using third party content and we do not control its accessibility features.
This might be my No. 1 go-to when I want to make something extra yummy, quickly. Toasted sesame oil is lovely, with its signature nutty, roasted taste. When you smell this oil, you may be transported to your favorite Asian-inspired takeout dish, and you can experience the goodness at home! As with some of these other ingredients, you need only a tiny bit to have a powerful impact. Whisk together 3 tablespoons peanut or almond butter, 1 teaspoon toasted sesame oil, 1 teaspoon soy sauce or tamari, and 1 teaspoon maple syrup, plus 1 to 3 tablespoons water to thin out. There's very little that won't taste amazing with this! I also love tossing warm pasta with a mixture of ½ cup tahini, 2 tablespoons toasted sesame oil, and salt and pepper to taste.
This pungent fermented cabbage is now available in most grocery stores, and for good reason. Not only is kimchi micronutrient-dense, its savory-sourness pairs beautifully with all sorts of foods. Add half an avocado and a dollop of kimchi to a grain bowl and you're good to go. Stir it into a simple fried rice (frozen veggies for the win!), or you can mix it with grated green apple for a bright "slaw." The Simply Kimchi brand is my personal favorite, if you can find it.
Advertisement
This ad is displayed using third party content and we do not control its accessibility features.
If you can do a little bit of dairy, Parmesan cheese is brilliant to have on hand. While we know and love parm on our pizza, this salty-rich topping is awesome over roasted root veggies, mushrooms, salads, shrimp, or stirred into boxed soups, cooked grains, and more. You can also make homemade Parmesan crisps: Grate approximately 1 cup Parmesan. Preheat the oven to 400°F and line a baking sheet with nonstick parchment paper. Add 2 tablespoons of Parmesan to sheet and spread into a small even circle. Repeat with remaining parm, spacing 1 inch apart. Bake for 5 to 8 minutes, until golden around the edges. Cool completely before snacking!
Look for Chili Onion Crunch (signature to Trader Joe's), Everything But The Bagel Seasoning (Trader Joes and Thrive Market), and Garlic Gold Nuggets (Thrive Market or Garlic Gold). All of these shakers are absolute game-changers when it comes to taking a meal from plain to more-ish. If you like a little spice, the Chili Garlic Crunch from Trader Joe's is for you. If not, go for the Garlic Gold nuggets. And while many already know about Everything But The Bagel Seasoning...trust me, you want in. I love all three on eggs, grilled cheese, stirred into wild tuna or salmon salad, on buttered cauliflower rice, mixed into breadcrumbs or tossed onto popcorn with avocado oil.
Advertisement
This ad is displayed using third party content and we do not control its accessibility features.
Most of us have ketchup, mayo, and mustard in our refrigerator. When you mix them together in equal parts, you have a spread or dipping sauce that pretty much everyone enjoys. Make some simple grass-fed beef burgers and roasted potato wedges, then dip or smother everything in this sauce. I promise it will be a hit!

Laura Lea Bryant
Laura Lea Bryant is a Certified Health-Supportive Chef in Nashville, TN. She graduated from The Chef's Training Program at the Natural Gourmet Institute (NGI) in 2013. Laura Lea published her first & best-selling cookbook in 2017, The Laura Lea Balanced Cookbook. Her second book, Simply Laura Lea, came out in 2020. Laura Lea based her business, Laura Lea Balanced, in her hometown to Nashville. The goal of LL Balanced is to dispel common misconceptions of healthy eating with her simple, comfort-food inspired and family-friendly recipes. In addition, she hopes to increase awareness about the relationship between food and mental, emotional and physical health.