5 Common Beauty Blunders That Make Makeup Artists Shudder + What To Do Instead

mbg Beauty & Wellness Editor
By Jamie Schneider
mbg Beauty & Wellness Editor
Jamie Schneider is the Beauty & Wellness Editor at mindbodygreen, covering beauty and wellness. She has a B.A. in Organizational Studies and English from the University of Michigan, and her work has appeared in Coveteur, The Chill Times, and Wyld Skincare.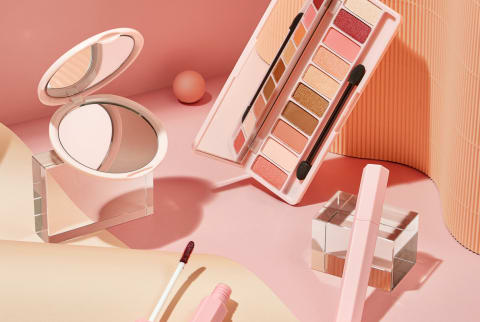 Image by Marc Tran / Stocksy
December 9, 2020
Our editors have independently chosen the products listed on this page. If you purchase something mentioned in this article, we may
earn a small commission
.
Full disclosure: I'm not too fond of the phrase "makeup mistakes." There are no hard-and-fast rules when it comes to makeup, and those who color outside the lines, so to speak, tend to create the most stunning and eye-catching beats. Be bold! Push those boundaries!
However, there are some general guidelines to follow that make applying makeup a touch easier, as are there faux pas on the technique front that make the pros absolutely cringe. This here article compiles the latter: Each time you commit these five common blunders, a makeup artist very well shudders into their cosmetic bag:
Advertisement
This ad is displayed using third party content and we do not control its accessibility features.
1.
Tugging on the eye area when applying concealer.
"Just thinking about this makes my eyes tear up and gives me bad flashbacks to getting my makeup done for prom in the early 2000s (sparkly smoky eyes were having a moment, and there was a ton of glitter fallout involved)," Alexandra Compton, product development manager at clean beauty retailer Credo, reminisces. Remember: Your eye area is the thinnest, most delicate skin on your face, and any dragging or tugging can result in fine lines down the road.
That said, when you're applying concealer, don't aggressively rub the product into the skin; rather, Compton recommends gently tapping in a creamy formula with your fingertips or buffing it out with a soft concealer brush. (And for what it's worth: Don't pull on your lid when you apply eyeliner, either).
2.
Using one shade of foundation on your entire face.
When it comes to base makeup, knowing your undertones is key. While you may be familiar whether you're generally warm- or cool-toned, you actually have different undertones across your entire face. That's why celebrity makeup artist A.J. Crimson says if you layer on a single foundation shade (along with bronzer and concealer where you need it), it tends to look caky. "If you put foundation on your entire face, then go back and add color corrector (which you might not have needed in the first place), and then top that with more concealer because now you're trying to brighten everything up—you've literally just fought yourself every step of the way," he tells mbg.
Use those multiple shades to your advantage instead of piling them on in layers: Place those shades only where they belong (you may find, for example, you only need a color corrector around your eyes and nose), and blend them together. According to Crimson, "You'll get a more flawless even complexion that's not so heavy."
Advertisement
This ad is displayed using third party content and we do not control its accessibility features.
3.
Ignoring your natural brow shape.
As much as you may yearn for a straight, bold brow—those with naturally rounded arches can't really achieve the look without plucking them pencil-thin, and vice versa. So don't fight your brow shape! "The brow that you do isn't going to work for everybody," says Crimson. While you can manipulate the hairs a bit in your favor, doing the most can backfire. "When you don't customize [your brows] to you what your natural features are doing, that's when everything goes awry," Crimson notes.
It's an idea you can apply not just to brows but to makeup writ large. Savannah St. Jean, makeup artist and owner of Savannah Rae Beauty agrees: "So often people try to force something that they don't have," she says. "Don't fight with what you've got; figure out how to make what you've got work."
4.
Dragging contour or blush too far down the cheekbones.
Creating lift is key to a youthful-looking beat, no? So when you effectively do the opposite—i.e., applying contour, bronzer, or blush too far down the cheekbones—Compton says it can give the face a sunken appearance. "To lift and define your cheekbones, don't bring contour past the outer corner of your eye and blend well up and out toward the temples," she explains. As for blush, you'll want to apply product at the top of your cheekbones, then move inward—not downward (think of a C-shape).
Advertisement
This ad is displayed using third party content and we do not control its accessibility features.
5.
Applying eye makeup last.
St. Jean recommends starting your makeup with the eyes. That way, you won't have to worry about any fallout from shadow or mascara and pile on more concealer to compensate. Applying concealer after can also help you make your eye makeup more clean and precise: "It can really clean up the lines, lift the eye shadow on the edges of the eye, and make the area lift up a little bit more."
So, say, if you've pulled the shadow down slightly too far (which, as we mentioned, can create the illusion of sagging), a tap of concealer can sharpen the edge and help you manipulate where you want the shadow to start. As St. Jean notes, "It's so much easier."
The takeaway. 
Ultimately, there are no "rules" when it comes to makeup; whatever looks and feels right for you is well and good. But technique-wise, read up on a few tips from the pros, so you can enhance your makeup further and take the look to new heights.
Advertisement
This ad is displayed using third party content and we do not control its accessibility features.