Close Banner
Advertisement
This ad is displayed using third party content and we do not control its accessibility features.
Cocofloss Review: Why This Floss Is Our Beauty Director's Top Pick
mbg Beauty Director
By Alexandra Engler
mbg Beauty Director
Alexandra Engler is the beauty director at mindbodygreen and host of the beauty podcast Clean Beauty School. Previously, she's held beauty roles at Harper's Bazaar, Marie Claire, SELF, and Cosmopolitan; her byline has appeared in Esquire, Sports Illustrated, and Allure.com.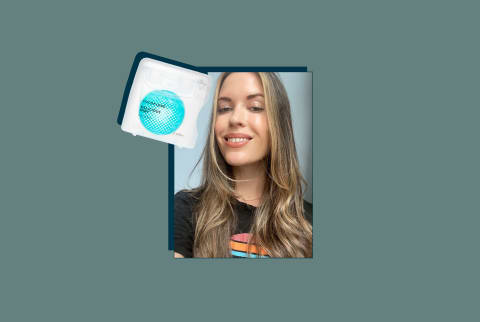 Image by mbg Creative / courtesy of source and writer
We carefully vet all products and services featured on mindbodygreen using our
commerce guidelines.
Our selections are never influenced by the commissions earned from our links.
Oral care isn't the sexiest of topics—it receives so little airtime from beauty editors like me. I've written countless articles on the intricacies of the epidermis, the fundamentals of protecting your hair fibers, and how exactly to swipe on concealer to make eyes look more awake. And while these are all worthwhile subjects, the smile is truly one of the most important areas to take care of for healthy aging.
The smile is a pillar of the aesthetics of the face. Having bright teeth and healthy gums can transform an overall appearance. And unfortunately, with time we start to see changes in both. Gums may recede, become inflamed, and become weaker with time. Teeth lose density, stain, and develop plaque buildup.
But it's not just aesthetics—a healthy smile is vital for digestion and overall inflammation in the body. Seriously: Periodontal disease1 is linked to chronic, systemic inflammation in the body.
Have I convinced you to take a closer look at your oral care? Good. Because I'm about to tell you about my favorite floss: Cocofloss.
The importance of flossing 
There's a reason your dentist spends so much time trying to convince you to floss daily. Flossing can get into the areas that brushing can't, like the crevices between the teeth and just under the gumline. Here, it's able to gently lift off plaque and buildup before it can turn into tartar. And in doing so, you're reducing the risk of developing gum disease (i.e., gingivitis).
According to the Centers for Disease Control2, 30% of all Americans have some form of gum disease. For folks 65-plus, that percentage skyrockets to 70%. So gingivitis is fairly common in the U.S. Only 30% of folks actually floss daily3—and 20% of folks report that they never floss (the rest floss but inconsistently).
As I noted, gum disease correlates to more inflammation biomarkers and higher rates of inflammatory diseases throughout the body. For example, those with periodontal disease are two to three times more likely to experience a heart attack or other serious cardiovascular events.
Gum disease can also wreak havoc on the aesthetics of the smile. Gingivitis can erode the gums, causing the gum line to recede. The plaque can also harden, turning into unsightly tartar. And ultimately, it can lead to tooth decay or even loss.
Cocofloss benefits 
This all brings me to Cocofloss, which has been my go-to floss for years. What makes Cocofloss unique compared to conventional flosses is that it's made with 500+ fibers. If you hold it up to a normal drugstore floss, you can see the diameter is noticeably thicker.
But it's not just the girth of the floss; it's the texture itself. The floss is plush, not slick like normal floss. This interwoven structure means more surface area and teeny-tiny crevices. Thanks to this, it's better able to remove buildup—it picks up debris as it glides through teeth rather than sliding on top of it.
And, yes, while it has a very distinct texture, it's not gritty. I suspect that's to do with the coconut oil coating that gives the floss some slip.
As far as dental hygiene is concerned, the primary benefits of coconut oil come down to its antimicrobial, antibacterial, and anti-plaque benefits. One preliminary study found that oil pulling with coconut oil specifically had a statistically significant reduction in plaque4.
There's also plenty of research showing its anti-inflammatory effects5, which are likely due to the fact that coconut oil is rich in antioxidants that can neutralize free radicals.
Finally, it can also help balance your oral microbiome. Coconut oil has been shown to target several of the "bad" bacteria that reside in the mouth and contribute to gum disease6.
But is Cocofloss worth it? 
All of this sounds great, but is it worth ordering premium floss when it's been traditionally thought of as a drugstore item? And believe me, I get that. The convenience of picking up a product at the bodega down the block often wins me over when I need to pick up a home or hygiene product.
But here's what I'll say about Cocofloss: Every time I use another brand, I notice. My teeth don't feel as clean, the experience isn't as thorough, and I'm left wondering just how deep the floss really got.
I often get free beauty and personal care products to test and try (part of the job of being a beauty editor!). Some of those products are oral care, so I almost always have a stash of brushes, floss, and paste. But I like Cocofloss so much more than other brands that I regularly buy it on my own. It's just a better product than anything else that's out there.
I also love that the brand makes easy refills. So much in the oral hygiene space can feel a bit wasteful, as it's an area of the industry that doesn't have as many sustainable solutions. (For example, single-use flossers, whitening strips, and plastic tubes.) But Cocofloss approaches sustainability from every angle.
Every new spool of floss is woven with 85% recycled material—spun from used water bottles. And it's not just the fact that it's recycled material, but the way that it's processed is more efficient. In fact, according to the brand, the eco-friendly floss takes 64% less energy to make, with 32% less CO2 emissions and 94% less water consumption.
The toothbrushes, too, rely on recycled materials: The handle is made of a whooping 98% ocean-bound plastic. Cocofloss does so by working with Oceanworks, a company that connects manufacturers with suppliers of eco-friendly materials.
I just feel better when using Cocofloss—for my health, my smile, and the planet.
The takeaway 
Cocofloss is my go-to oral hygiene brand. I love these little spools and how it makes my smile feel. I notice a huge difference when I'm not currently using it and always go back to purchasing a supply so I can always have some on hand.
Alexandra Engler
mbg Beauty Director
Alexandra Engler is the beauty director at mindbodygreen and host of the beauty podcast Clean Beauty School. Previously, she's held beauty roles at Harper's Bazaar, Marie Claire, SELF, and Cosmopolitan; her byline has appeared in Esquire, Sports Illustrated, and Allure.com. In her current role, she covers all the latest trends in the clean and natural beauty space, as well as lifestyle topics, such as travel. She received her journalism degree from Marquette University, graduating first in the department. She lives in Brooklyn, New York.