Um, 45% Of US Water Contains Chemicals — This Filter Is A No-Brainer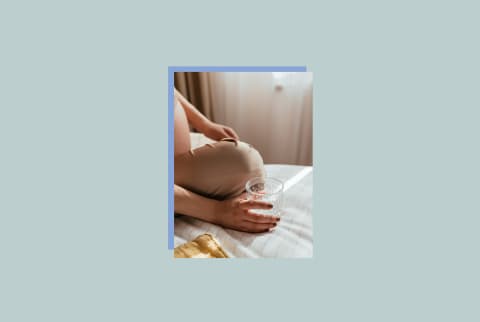 August 17, 2023
We carefully vet all products and services featured on mindbodygreen using our
commerce guidelines.
Our selections are never influenced by the commissions earned from our links.
Of course, a lot needs to be done from an environmental standpoint to improve tap water safety, but one thing's for sure: We should all be filtering our drinking water.
What are "forever chemicals"?
Unfortunately, PFAS are everywhere, including clothing, cosmetics, food packaging, and now drinking water.
How can PFAS impact our health?
There are still many questions to be answered about the effect PFAS have on our health, as the chemicals were only created less than 100 years ago (in the 1940s).
So what can you do about PFAs?
The Environmental Protection Agency (EPA) proposed new limits for PFAS in drinking water earlier this year—but until the government steps in, you'll have to deal with your PFAS yourself by installing a water filter.
If your main contaminants are PFAS, then you'll want to go with a reverse osmosis system.
Considered one of the most effective water filters, they use a combination of a carbon filter and a semipermeable membrane to remove even the tiniest of particles. This includes both metal and chemical contaminants, such as arsenic, lead, fluoride, phosphorus, and (you guessed it) PFAS.
Erik D. Olson, a senior strategic director with the Natural Resources Defense Council (NRDC), previously told mindbodygreen, "[Reverse osmosis filters] will filter out virtually everything from your water, to the point where you actually might want to add back some things, like salts or minerals, to give it some taste."
That's where the Cloud RO really shines.
What's great about the Cloud RO Water Filter
Not only does this reverse osmosis system filter nearly 100% of the particles out of your water, but it also adds back important trace minerals through a remineralization stage. All water is restored with calcium, magnesium, and potassium for a natural pH balance between 7.5 to 9.5.
This creates a true alkaline water—and reviewers say you can actually taste the difference.
What's more, this compact system also attempts to resolve some of the biggest issues with reverse osmosis systems: water waste and a slow flow rate.
The Cloud Filter wastes 80% less water than a standard reverse osmosis system, which can add up for those with a water bill. Instead of the 10:1 ratio of water to waste seen in most competitors, the design has a 1:1 waste ratio.
And despite giving you some of the cleanest H2O possible, the system doesn't just let water slowly trickle out of the faucet as you might expect. It uses an internal hydraulic pump to maximize pressure in the tank, which keeps water flowing at a faster rate. What's more, filtered water is stored in a 2.8-gallon tank—so it's ready to go when needed.
While there's plenty to be impressed about with Cloud, reviewers seem to love Cloud RO's smart technology the most. The unit has internal sensors to track water quality and consumption with all data available in a corresponding app.
The app provides concrete evidence of the filter's efficacy while also helping you stay accountable with your hydration goals (another key factor in staying healthy). No wonder one reviewer called Cloud RO "the iPhone of water filters," between the sleek design and efficient operation.
The takeaway
Recent findings have opened our eyes to just how prevalent potentially harmful chemicals are in our drinking water. While there's still a lot of research needed to fully understand how PFAS impact our health, we're not taking any chances with unfiltered drinking water. The compact Cloud RO is easy to install and provides a steady stream of clean water that users say tastes amazing. Plus, you can use code MBG200 to drop the price from $750 to $550.

Carleigh Ferrante
mbg Commerce Editor
Carleigh Ferrante is the Commerce Editor at mindbodygreen. She is a certified Health & Nutrition Coach and a born and raised New Yorker with a B.A. in Creative Writing and Psychology. Her work has appeared in Bustle, The Zoe Report, PureWow, The Everygirl, and more, covering topics such as fitness, travel, home, fashion, beauty, and dating, sex, and relationships. When she's not testing and reviewing products and services, you can find Carleigh training for her next World Major marathon, planning her next vacation, or interviewing experts on her dating podcast, Mostly Balanced.