You're Not Dreaming, Chocolate Chip Cookie Dough Pancakes Are A Thing

By Laura Lea Bryant
mbg Contributor
Laura Lea Bryant is a certified health-supportive chef and cookbook author living in Nashville, Tennessee.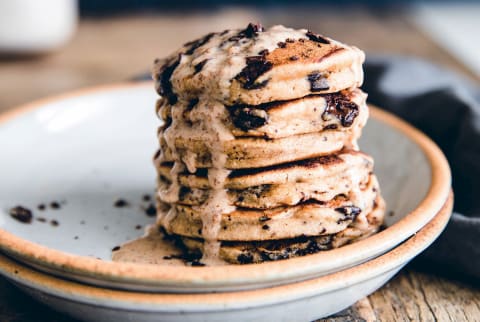 Image by Laura Lea / Contributor
April 17, 2020
We carefully vet all products and services featured on mindbodygreen using our
commerce guidelines.
Our selections are never influenced by the commissions earned from our links.
Since we're all cooking quarantine-style these days, this recipe is extra comfort-foody, customizable and family-friendly. These Chocolate Chip Cookie Dough pancakes, from my new cookbook, Simply Laura Lea, are just as delicious as their traditional counterpart. In fact, if you're having trouble sourcing coconut flour and arrowroot starch, you can absolutely sub all-purpose flour for coconut and cornstarch for arrowroot. Start with the same amounts of each flour, and then you may add a few more tablespoons to the batter to reach a pourable, but not runny, consistency.
One of the keys to successful pancakes is patience when it comes to heat. You must give your pan plenty of time to get warm. We're not talking scorching hot; we're talking just warm enough that you hear a little "sizzle" when batter hits the pan, but there's no smoke or burning. And then—put some music on, pour another cup of coffee, and wait for your pancakes to be ready for flipping: You want the surface to be covered in bubbles and the sides to be puffy and rounded.
If you keep these tips in mind, you should have successful stack experiences! And you can certainly play around with toppings; while I obviously love mine studded with chocolate chips, they're lovely with sliced banana, blueberries, a sprinkle of cinnamon and coconut sugar, or some roasted chopped nuts.
Chocolate Chip Cookie Dough Pancakes
Yield: approximately 20 3- or 4-inch pancakes
Ingredients
½ cup coconut flour
¼ cup arrowroot starch
1 teaspoon baking powder
½ teaspoon baking soda
¼ teaspoon sea salt
2 large eggs
1 teaspoon apple cider vinegar
1 scant cup unsweetened almond milk (just a tablespoon or two less than 1 cup; don't worry about perfection!)
¼ cup avocado oil, plus more for the pan if not using nonstick
¼ cup maple syrup
1 teaspoon vanilla extract
Topping: ½ cup dark or semisweet chocolate chips or chopped chocolate
Method
Combine all dry ingredients in a large mixing bowl and whisk to incorporate. Use fingers to break up any coconut flour clumps.
Combine all wet ingredients in a separate mixing bowl and whisk to incorporate.
Add wet ingredients to dry and mix until smooth.
Two chocolate chip options: You can either 1) stir the chocolate chips into the batter or 2) place them on top of the pancakes as you cook them. If you stir them in, you have to make sure you stir the batter before you make each round of pancakes so the chips don't fall to the bottom. If you place them on top, you will likely use fewer chocolate chips; this method is good if you want to decrease the sugar just a bit.
Heat a cast-iron skillet or other nonstick surface to medium-low heat. *If you don't have a nonstick surface, liberally coat the pan with avocado oil.
Here's the KEY: These pancakes require patience and paying attention to the heat level. The pan is hot when you hover your hand over it a few inches and can feel heat radiating from the surface. When it's ready, stir the batter to evenly distribute the chocolate chips, if you mixed them in.
Add a very scant ¼ cup batter (approximately 3 tablespoons) to pan, forming your first pancake. If you didn't stir in chocolate chips, sprinkle approximately 1 teaspoon chips evenly on top. Repeat with as many pancakes as you can fit, while allowing at least 1 inch between. It should take about 5 to 6 minutes for the first side if you have the temperature right. This will seem like forever, but if you rush it, they will burn. Flip and cook another minute (yay, this side is faster!).
For the next round, you will likely need to turn down the heat and they'll still cook a little faster, so use a spatula to gently feel whether the pancakes are solid enough to flip. Repeat until all pancake batter is gone, then enjoy immediately!
Once cooled completely, leftover pancakes will keep tightly sealed in the refrigerator for 5 days or frozen up to 4 months.
Excerpted from Simply Laura Lea © 2020 by Laura Lea. Photography © 2020 by Laura Lea. Reproduced by permission of Blue Hills Press. All rights reserved.

Laura Lea Bryant
Laura Lea Bryant is a Certified Health-Supportive Chef in Nashville, TN. She graduated from The Chef's Training Program at the Natural Gourmet Institute (NGI) in 2013. Laura Lea published her first & best-selling cookbook in 2017, The Laura Lea Balanced Cookbook. Her second book, Simply Laura Lea, came out in 2020. Laura Lea based her business, Laura Lea Balanced, in her hometown to Nashville. The goal of LL Balanced is to dispel common misconceptions of healthy eating with her simple, comfort-food inspired and family-friendly recipes. In addition, she hopes to increase awareness about the relationship between food and mental, emotional and physical health.