Can You Use A Scalp Treatment For Full, Lush Brows? Here's What Experts Say
mbg Editorial Assistant
By Jamie Schneider
mbg Editorial Assistant
Jamie Schneider is the Editorial Assistant at mindbodygreen with a B.A. in Organizational Studies and English from the University of Michigan. She's previously written for Coveteur, The Chill Times, and Wyld Skincare.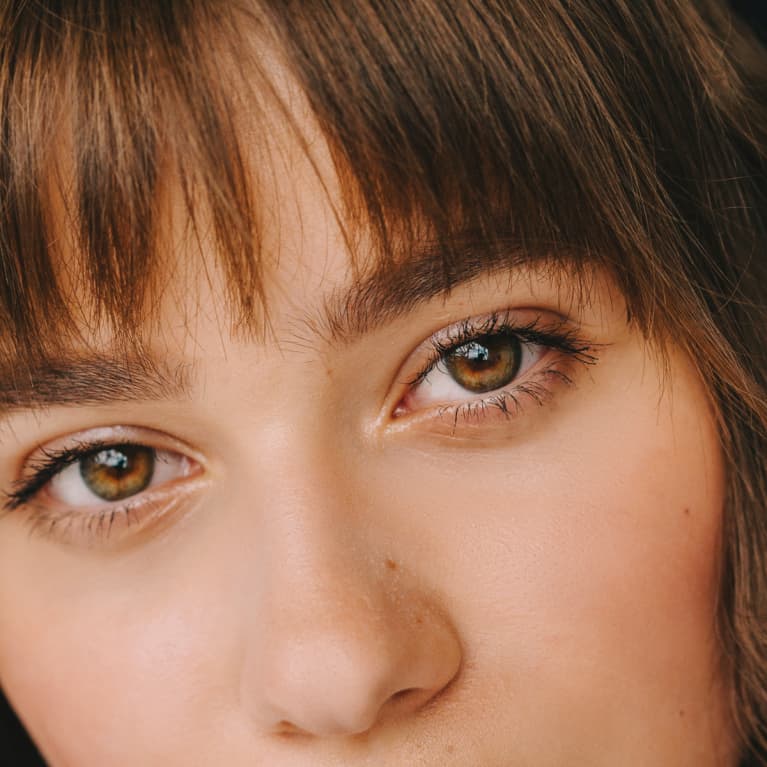 Our editors have independently chosen the products listed on this page. If you purchase something mentioned in this article, we may
earn a small commission
.
Scalp treatments range far and wide: Some scrub away itchy scales, some promise stimulation and blood flow, and others simply moisturize the skin for happy, hydrated follicles. No matter the treatment, proper scalp care is the key to keeping your locks healthy and growing—full, lush hair very much starts at the source.
All that said, it only makes sense you'd look at a scalp treatment and think: Huh. Can I use this same product to help grow my brows? Sorry to say, it's not such a simple switch—and there are a ton of tiny details to mind.
The answer: A resounding it depends.
Unfortunately, there isn't enough data to say whether exfoliating your brows helps them grow, per se, which makes a clarifying scalp treatment not so helpful. (For what it's worth: Gently exfoliating the area is still beneficial to keep dead skin and brow pimples at bay.)
That's not to say some scalp treatments don't have any benefits for those face framers. Specifically, treatments meant to nourish and moisturize the follicles can totally switch over to the eyebrows. Take it from hairstylist and licensed cosmetologist Christina Marie: She recommends repurposing a scalp serum with peptides, as these can support your natural levels of keratin. "Peptides are amino acid proteins that promote strength and elasticity," she adds. If you do wish to try a treatment serum (since eyebrow dandruff is very much a thing), you could potentially repurpose formulas that have antimicrobial actives, like tea tree oil.
As for which ingredients to avoid, an exfoliating scalp scrub isn't really necessary, as we mentioned. While brows do fare well from a sloughing of dead skin cells from time to time, an exfoliating face cleanser is a far better grab—simply pay some attention to the brow area while washing your face. "I would also avoid a serum that's very heavy because it can clog the pores on your skin and lead to breakouts," Marie adds. You know, oil buildup and all.
How to use a scalp treatment on your brows.
If you do have a nourishing scalp serum on hand, you don't want to massage it in the same way you would on your head. Rather, those tiny brow hairs deserve some gentler care: Marie suggests coating a clean, dry spoolie with the serum and brushing up the brow hairs—that way, the formula sneaks in between those tiny wisps rather than sitting on top in a messy goop. If you have a tiny paintbrush, that works, too.
In terms of timing, be sure to follow the directions on the packaging—some formulas are just not meant to sit on your brows all night long.
Here's the bottom line: Yes, you can theoretically use a scalp treatment on your brows, depending on the ingredients.
Perhaps skip the purifying actives and reach for moisturizing, conditioning treatments (unless you're experiencing a specific condition, like seborrheic dermatitis—in that case, you might want to consult a professional for more targeted treatments, anyway). Most scalp-moisturizing ingredients and antioxidants live in targeted brow serums already, so there should be no harm in repurposing those players in the name of hydrated, healthy arches—which, by the way, tend to look full and feathery.