Is 'Healthy Dessert' An Oxymoron?

Contributing Food Editor
By Liz Moody
Contributing Food Editor
Liz Moody is a food editor, recipe developer and green smoothie enthusiast. She received her creative writing and psychology degree from The University of California, Berkeley. Moody is the author of two cookbooks: Healthier Together and Glow Pops and the host of the Healthier Together podcast.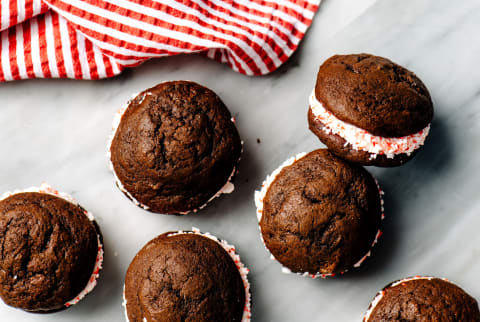 Image by Cameron Whitman / Stocksy
February 6, 2019
The concept of a healthy dessert is essentially the holy grail of wellness, the literal manifestation of having your cake and eating it too. Instagram celebrity is built on it. Companies are created based on their ability to deliver it, in an (eco-friendly) package, to Aisle 2 of a supermarket near you. But what makes a healthy dessert? Can anything we consider a dessert actually be "healthy," in the way that, say, true health foods like Brussels sprouts actually are? Is there such a thing as a "healthy" dessert, or just one that's slightly "healthier"?
It's a question I grappled with when writing my new cookbook that needed, like many cookbooks, a dessert section. It's also something I think about a lot in my role as food director at mindbodygreen when choosing what articles to publish each day, which is why I decided to talk to some of the leading health and food experts out there to try to get a clear answer.
"If you make sure ingredients are gluten-free, plant-based, and use healthy sugar substitutes, like honey and maple syrup, you've got what I call Fancy Dress Desserts...because it's like getting your fiber all gussied up in a fancy party dress," says Vincent Pedre, M.D., a mbg Collective member and author of Happy Gut. "Balancing fiber with sugar helps lower the sugar impact of the dessert, making it healthier."
Healthier, yes, but what about just plain healthy? "Baking using things like almond flour, eggs, avocados, avocado oil, coconut cream, and berries has inherent nutritional value and nutrient density—even though it's a form of a dessert," says Will Cole, D.C., mbg Collective member and author of Ketotarian.
Fundamentally, though, people aren't eating dessert because they're hoping it will make them healthier—they're eating it because they find it pleasurable.
"I'm all for incorporating ingredients like organic cocoa powder, which is a good source of fiber and antioxidants, and spices like cinnamon and nutmeg which have strong antioxidant properties," says Leah Silberman, a registered dietitian and founder of Tovita Nutrition. Even so, though, she eschews the concept of "healthy" desserts in favor of "clean." "Typically we don't eat dessert to be healthy but rather because we have a craving for sweet," she explains. "The word dessert implies an indulgence of sorts, so rather than focusing on how "healthy" the indulgence is, I place emphasis on the cleanliness of the ingredients." For her, lowering toxic exposure by choosing organic options is the most important part of creating a "clean" dessert.
Fundamentally, though, people aren't eating dessert because they're hoping it will make them healthier—they're eating it because they find it pleasurable.
"People love desserts, so it's about being realistic!" says Frank Lipman, M.D., an mbg Collective member and founder of BeWell. He recommends a dessert that's 3 grams of sugar or less, like a few squares of dark chocolate or a piece of fruit.
"Generally speaking, I sincerely believe that an overall healthy diet includes room for an occasional indulgence that feeds your soul," says Jessica Cording, R.D., an mbg Collective member and founder of Jessica Cording Nutrition. "If you're just not going to have the same level of satisfaction from a 'healthified' dessert that you would from a classic version you crave, then focus more on how to make room for what you truly want and stop trying to make yourself love what feels like an approximation."
It seems the experts have spoken: A healthy dessert, then, is one that limits negative impact on your body—but deeply, satisfyingly feeds your spirit. Whether that means a chocolate brownie protein bar or a dairy-filled, whipped-cream-topped ice cream sundae is your choice. You can choose your cake and eat it too—as long as you really, really love it.
What, then, did I wind up doing about my cookbook? Well based on the information above, I avoided refined sugar and simple carbohydrates that cause insulin spikes. I added in healthy fats like avocado, almond butter, and anti-inflammatory superfoods like raw cacao, rose water, and ashwagandha. But mostly, I made sure that the desserts didn't feel like I was sacrificing anything, because that's what makes dessert healthy—for your body and soul.
Psst: If you find yourself craving dessert after reading this, here are a few of my favorite recipes!