These Ayurvedic Beauty Brands Are Modernizing Ancient Tradition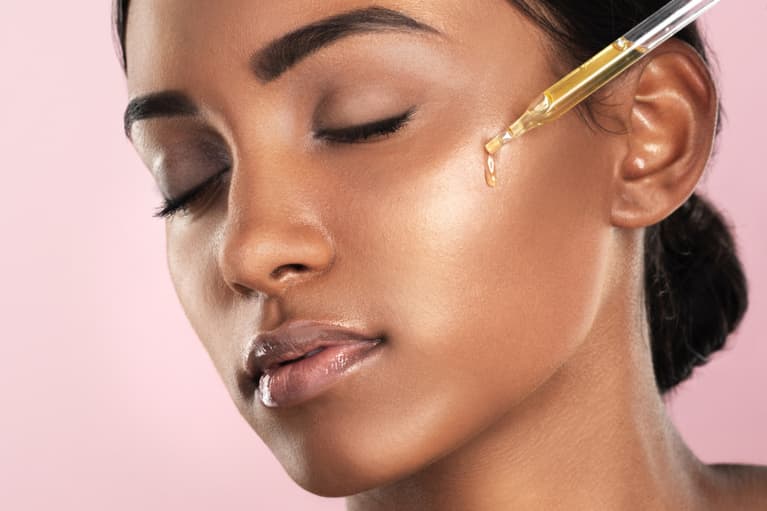 Our editors have independently chosen the products listed on this page. If you purchase something mentioned in this article, we may
earn a small commission
.
Don't call it a comeback; it's been here for literally thousands of years.
Some ayurvedic beauty companies, however, are expanding to a younger demographic by the use of a pretty modern online presence, including ultra-chic Instagrams, in-depth websites and blogs, and even quizzes to learn your skin's dosha. In doing so, they are courting a younger, more tech-savvy clientele than ever before.
According to this report published by Reuters, the global ayurvedic market is expected to expand by an annual growth rate of over 16 percent into 2022. "Some of the key factors favoring the market growth include increasing demand for natural and organic products, expanding medical tourism across the globe, rising consumer awareness, and growing demand for ayurvedic cosmetics products," the report states. "Organic skin care products are achieving fast grip, and the market is anticipated to expand even further."
The booming interest in natural, holistic skin care seems to be taking the ayurvedic world with it, but that's not to say that ayurvedic beauty brands aren't actively driving interest in their own market. "There's a way to make this ancient tradition available and approachable for modern life and women who might not come across it otherwise," says ayurvedic practitioner Kiera Nachman, founder of NAO Ayurveda. "And once you learn about it, it clicks."
"I love that ayurveda is gaining new followers, but there are still a lot of people who need to properly learn about the tradition and how to use it in their lives," says Uma Oils founder Shrankhla Holecek. And the thing about ayurveda is there's always something to learn on the journey. It is neither a stagnant, nor one-size-fits all practice.
And, ironically, that's what makes the internet and social media such a great pairing for the ancient tradition: Consumers can use it as an ever-evolving research tool—as well as practitioners can use it as an endless teaching medium. "Half of what we do is education—whether that's on our Facebook, Instagram, or our website," says ayurvedic practitioner Trudy Collings, co-founder of Paavani Ayurveda. "With the tradition becoming more and more popularized, there's the scare that people might steer away from the actual essence of ayurveda, so we really focus on educating people. And there's a balance in it; you want it to be fun and informative but stay true to what the tradition of ayurveda is."
With the tradition becoming more and more popularized, there's the scare that people might steer away from the actual essence of ayurveda, so we really focus on educating people.
And this batch of new users has made the need for guidance even greater, especially with identifying and educating on doshas, or energy types. This is why many of the brands (Pratima, NAO Ayurveda, Paavani Ayurveda, and Rasasara Skinfood, to name a few) come complete with a skin-care-focused quiz on their website (all the experts noted, though, that you should see a practitioner for your best reading).
After taking a quiz, the consumer is given skin care offerings that would likely be their best fit based on their dosha, or their combination of doshas, that would bring their skin to balance.
For example, pittas are irritation-prone and oily in the T-zone—and need soothing ingredients like aloe and rose. Kaphas are prone to clogged pores and need detoxing, clearing actives like sage and basil. Finally, vatas should plump skin with geranium and sesame.
"What you actually find, though, is these doshas are so similar to how we in the Western world are already talking about and identify skin types," says Nachman. "So it really comes naturally to how we already view skin care, if you just learn about it. We can easily connect with it."
That's actually why Uma Oils steers away from dosha-centric ayurvedic beauty; instead they focus on concerns. "Doshas are extremely complex and dense," says Holecek. "The way we go after it is a cause-and-concern-based approach. We in ayurveda know that certain concerns are caused by certain imbalances, so we treat them with the appropriate oils. But the way we go about fixing it is through identifying the concern, like dryness, anti-aging, or brightening."
Another aspect that seems to be resonating with people is how highly personalized this skin care framework can be: It comes as an answer to highly regimented multistep routines. These brands offer you options and guidance, but ultimately it's about you evaluating your skin's need at that time and feeding it with herbs, oils, and botanical ingredients to heal it.
"We all have all three doshas in us in some capacity. We focus on our main dosha because that's the one that tends to go out of balance easiest, but the others can as well," says Nachman, who notes this especially happens in the change of season (in standard Western skin care, you'll often hear about "changing your routine" come spring or fall, too). "In those instances we might need to use products to help concerns that are not typical for our primary dosha."
So even if you identify mostly as vata, that doesn't mean you'll never have breakouts—it just means when you do, your pitta might be out of balance and you should treat it with something anti-inflammatory. Or if you are kapha, come fall, your skin might become drier and you'll need a heavier moisturizer that would typically be better suited for a vata.
There is one aspect, however, that doesn't seem to match up to our everything-at-our-fingertips world. And it's an important one. "We now live in the world where everything is instant, so skin care products are now judged by their instant efficacy rather than their long-term efficacy," says Holecek. "But by definition, ayurveda is not that. Everything is about compliance and root cause, not reaction."