Yikes: The Top 3 Hair Removal Mistakes This Derm Sees All The Time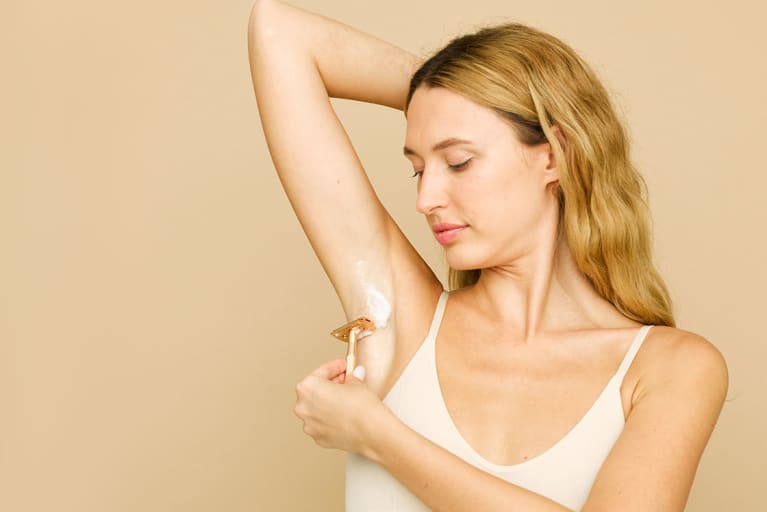 Our editors have independently chosen the products listed on this page. If you purchase something mentioned in this article, we may
earn a small commission
.
The weather is finally starting to warm up, and the sun's rays are ever-so-gingerly finding their way out. For me I know that means shedding a few layers. And with fewer layers comes more sunscreen—and more regular body hair removal, for me at least. Personally, I shave and occasionally wax. But body hair—and if you decide to keep it or not—is a very individualist choice. There's no right or wrong style to go with. However, there are correct ways to keep your skin healthy no matter your preference.
In this episode of Clean Beauty School, I chat with board-certified dermatologist Tiffany Clay, M.D., about all things body care, with a pretty heavy focus on hair removal (since it's top of mind for me at the moment). We dive into lasers, waxing, and shaving—and go over all the mistakes she sees most often. (And what they can lead to, like ingrowns. Groan.) Here, three major technique mishaps to keep in mind:
1.
Using a body retinol before waxing.
Retinol-infused body products are growing in popularity—as you can read about in our dossier on the products. And with the exfoliating ingredient being used in new territory often comes a learning curve. You know how you're often told to stop using facial retinol products a few days prior to waxing your face? Same goes for the body.
"With waxing you have to think ahead, Did I use any retinol on the area of the body I'm treating? You should also stop using strong actives on the skin a few days before your appointment," she says. And while she name-checks retinol specifically, we should note similar rules apply to other body exfoliators like AHAs and BHAs.
2.
It's laser hair reduction—not necessarily removal.
As with anything in beauty, it's good to set reasonable expectations. "For hair removal, I do consider lasers the gold standard, but that doesn't mean it works the same for everyone," she says. To start, it may not work for those with light or gray hair as it targets the pigment of the hair, and thus isn't as able to see light fibers.
But even those who do qualify as good candidates (read: dark body hair fibers), it may not mean you're hair-free for life. "I like to call it laser hair reduction because it may not be permanent for you. So many of us who've gotten it, we'll have to do a touch-up treatment here or there once or twice a year," she says.
Finally, she notes that your professional should be mindful of your skin tone when selecting the specific laser to use on you. Always find a reputable expert who has experience treating skin tones similar to yours.
3.
When shaving, wait till the end of your shower.
"I suggest doing your shaving routine more toward the end of your shower," she says. "This way, your skin is cleansed, you have some light exfoliation going on, and the skin is damp." This can all help prevent minor scrapes and even ingrowns down the line, as the humidity of the shower can help open up the hair follicles.
But even if you don't always wait till the last minute when under the spray, she notes the most important thing is that you do not dry shave. "You always need a little buffer there, be it a shaving cream or even a hydrating body wash."
For more body care tips—just in time for some sunshine—tune into this episode.