Satin & Silk Pillowcases: 9 Of The Best For Smooth Hair & Glowing Skin

mbg Beauty Director
By Alexandra Engler
mbg Beauty Director
Alexandra Engler is the Beauty Director. Previously she worked at Harper's Bazaar, Marie Claire, SELF, and Cosmopolitan; her byline has appeared in Esquire, Sports Illustrated, and Allure.com.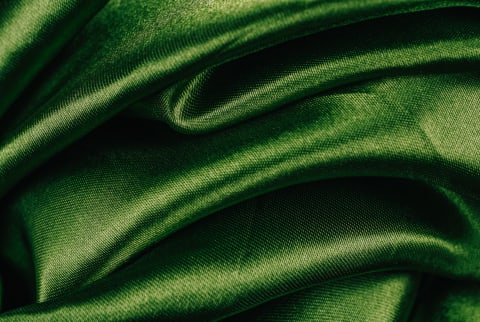 Image by Robert Kohlhuber / Stocksy
Our editors have independently chosen the products listed on this page. If you purchase something mentioned in this article, we may
earn a small commission
.
May 16, 2020
When you think of skin and hair products, perhaps bedding doesn't come to mind. You likely think of serums and tonics or even hot tools or facial rollers. But think about it: Your face and hair touch your pillowcase for multiple hours a night, every night. That's a lot of contact; arguably more than anything else. That's why silk pillowcases have become so very popular for beauty-minded folk: They provide the best environment for your beauty sleep.
While sleeping on fabrics like cotton or linen certainly isn't going to ruin your skin or hair, they're not the best fabrics for them either. Cotton or linen are porous and therefore rougher fabrics. For hair, this means the fabric can snag and pull at hairs, trigger physical damage, lift up the cuticle, and cause frizz. This is especially problematic for those with curly hair, which is already prone to all of these issues. For skin, this means the fabrics more readily absorb sebum, bacteria, and even your precious skin care products (silk and satin, on the other hand, are more repellent fabrics). But the benefits of silk don't stop there: They are hypoallergenic, antimicrobial, moisture wicking, and breathable.
Advertisement
This ad is displayed using third party content and we do not control its accessibility features.
Sound like the nighttime beauty product you never knew you needed? Here are our favorites.
Brooklinen Mulberry Silk Pillowcase
Mulberry silk is the highest quality of silk and makes for a very luxurious night's rest. Brooklinen is a direct-to-consumer bedding company that prides itself on high-quality materials at reasonable prices and certainly delivers with these. The pillowcases come in five shades (from white to pink and dark gray) and two sizes.
Mulberry Silk Pillowcase, Brooklinen ($59)
mindbodygreen
Olesilk 22 Momme Silk Pillowcase
If cotton has thread counts, silk has momme counts—and 22 momme is generally considered to be the most luxe count for things like sleeping pajamas and bedding. Olesilk not only has 22 momme silk, but it's 100% mulberry as well. These come in a variety of bright, bold hues as well, in case your bedroom décor lends itself to pops of color.
22 Momme Silk Pillowcase, Olesilk ($34)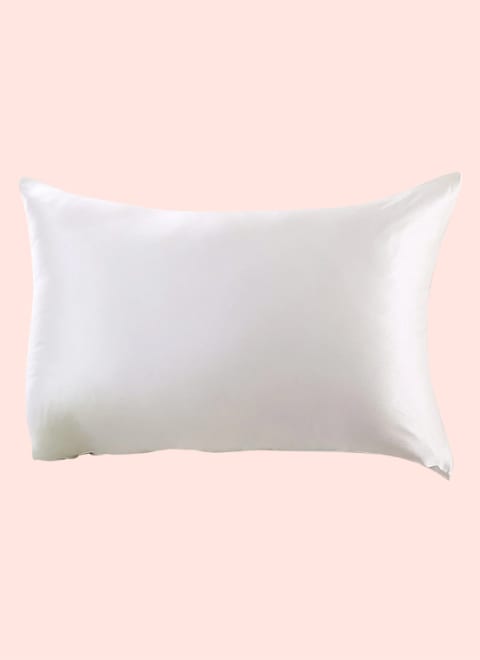 mindbodygreen
Hill House Home Sisi Silk Pillowcase
These sets are ultra high-end and look it, too. The decadent silk fabric comes with a hidden zip closure (so your pillow doesn't slide out) and detailed two-tone piping around the edges. You can also get the cases embroidered with your initials, if that's your taste.
Sisi Silk Pillowcase, Hill House Home ($155 for a set of two)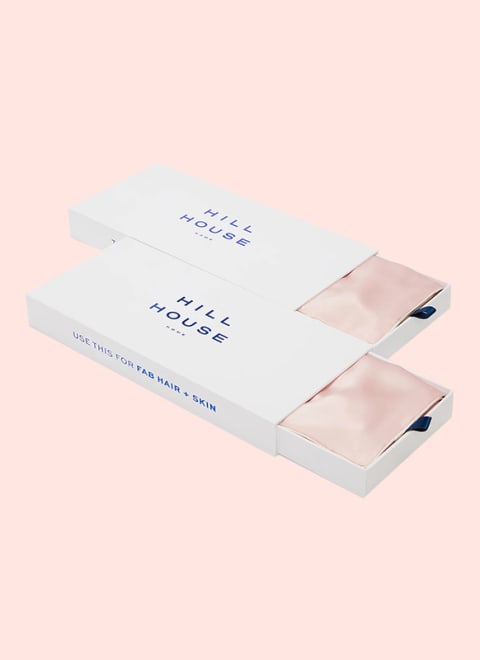 mindbodygreen
Myk Natural Silk Pillowcase
The major downside to silk pillowcases is that they are far more expensive than their counterparts. This option uses silk on only one side in order to keep the cost down. But it's still good quality: They use natural, 100% mulberry silk—and skip questionable dyes and tested for allergens.
Natural Silk Pillowcase, Myk ($26)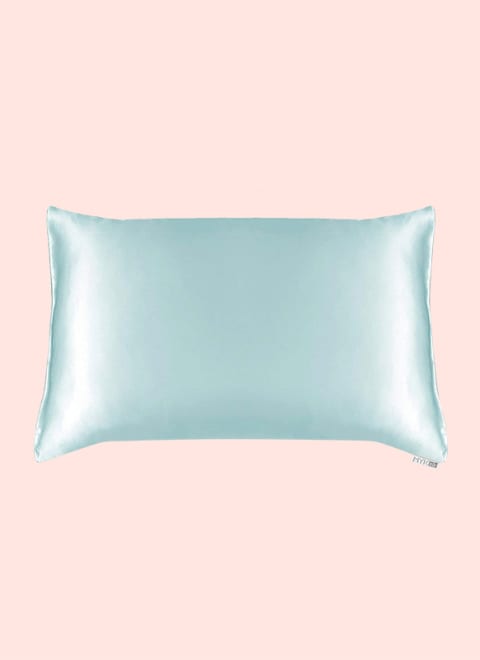 mindbodygreen
SLPBABY Silk Pillowcase
If you're looking for enchanting patterns and playful prints, here's your option. This brand has cases that range from groovy '70s florals to watercolor pastels to leopard print. No matter your taste, you'll find one that works for you.
Silk Pillowcase, SLPBABY ($20)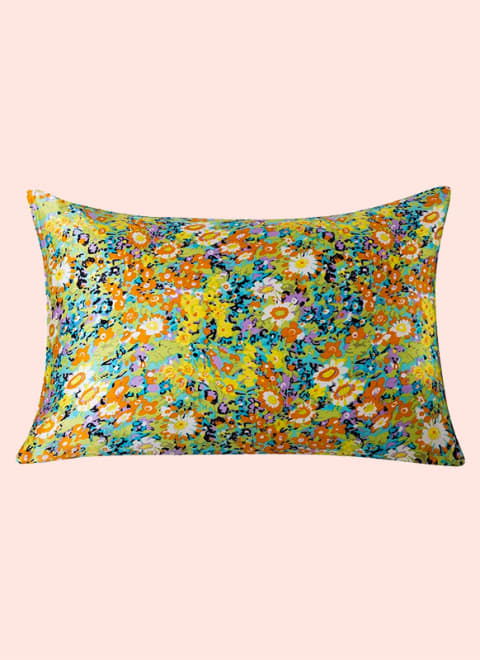 mindbodygreen
The Ethical Silk Company Pillowcase
This brand's products are tailored and printed by hand at Mehera Shaw, a fair trade tailoring unit in Jaipur, India. The mulberry silk is blended with a special satin weave, resulting in a more matte finish—rather than the high-shine silk you may be used to. It almost looks like linen fabric but feels as soft as traditional silk.
Pillowcase, The Ethical Silk Company ($60)
mindbodygreen
SLIP Silk Pillowcase
These have been shown to reduce friction by 43% on average—by reducing friction, you reduce frizz and skin irritation. Not only that but you reduce the changes of waking up with a pillow crease across your cheek. These are easy to care for as well: machine washable as long as you use a pH-balanced cleanser.
Silk Pillowcase, SLIP ($89)
mindbodygreen
Coop Home Goods Silk Pillowcase
This brand is known for their special pillows: They help align your neck and back while you sleep, are hypoallergenic, breathable, and are vetted by third parties to ensure they don't have any less-than-ideal chemicals lurking in the material. Same goes for their lovely silk pillowcases to slip over.
Silk Pillowcase, Coop Home Goods ($79.95)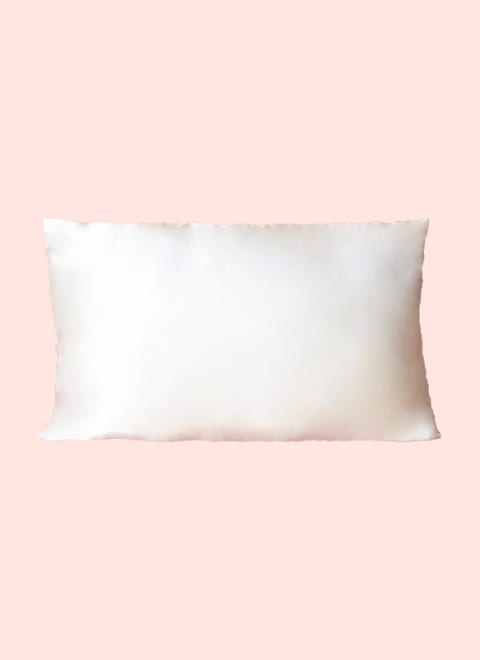 mindbodygreen
Face Case Pillow Case
Sometimes it's good to read kind words first thing in the morning. So why not have it stitched up onto your trusted pillow? These mulberry silk pillowcases have "Hey, Cute Face" embroidered into the side, which isn't a skin care benefit but certainly is nice to wake up to.
Pillow Case, Face Case ($50)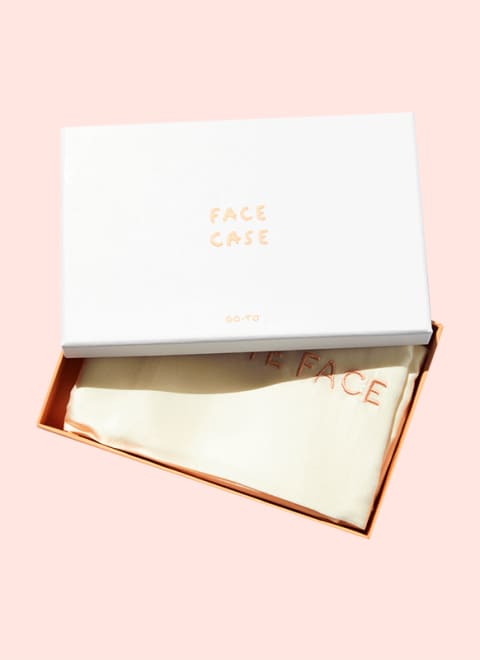 mindbodygreen
Advertisement
This ad is displayed using third party content and we do not control its accessibility features.
Heal Your Skin.
Receive your FREE Doctor-Approved Beauty Guide

Alexandra Engler
mbg Beauty Director
Alexandra Engler is the Beauty Director at mindbodygreen. She received her journalism degree from Marquette University, graduating first in the department. She has worked at many top publications and brands including Harper's Bazaar, Marie Claire, SELF, and Cosmopolitan; her byline has appeared in Esquire, Sports Illustrated, and Allure.com. In her current role, she covers all the latest trends and updates in the clean and natural beauty space, as well as travel, financial wellness, and parenting. She has reported on the intricacies of product formulations, the diversification of the beauty industry, and and in-depth look on how to treat acne from the inside, out (after a decade-long struggle with the skin condition herself). She lives in Brooklyn, New York.