The 7 Best Personal Trainer Certifications + How To Choose The Right One For You
Written by
Kelsea Samson
Kelsea Samson is a writer, content manager, certified yoga instructor and founder of The Mindfulness Program for Kids and Yoga for the Blind in Tampa, Florida.

Expert review by
BB Arrington, CPT
Personal trainer & holistic nutritionist
BB Arrington is NASM-certified personal trainer, holistic nutritionist, and sustainability advocate.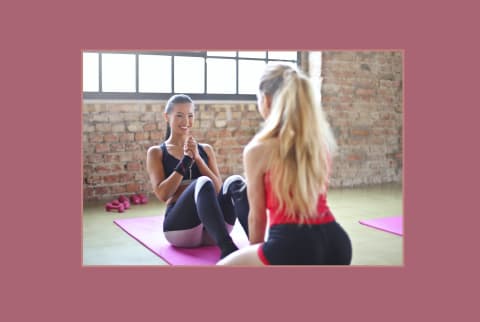 August 14, 2023
We carefully vet all products and services featured on mindbodygreen using our
commerce guidelines.
Our selections are never influenced by the commissions earned from our links.
The best personal trainer certifications:
Becoming a certified personal trainer is, dare we say, personal. There's no single certification that's better than the rest, but there certainly are a few that stand out. We interviewed Kenny Santucci, certified personal trainer and founder of The Strength Club in New York City, to learn what various personal training certificate programs offer and how to choose the right one for you. Below, find our picks for the best personal training certification programs to help kick-start your career.
What is a personal trainer certification?
"A personal training certification gives you the required degree to coach someone in health and fitness along with the background of anatomy, physiology, exercise science, and exercise programming," Santucci explains. "It provides the fundamentals of fitness, movement, exercise science, training, and coaching and can help people do it safely and effectively."
A personal trainer certification program prepares you for the CPT exam, typically over the course of a few months, giving you the knowledge and skills you need to earn your certification. It's worth noting that many personal trainer certifications generally need to be renewed every two years. You won't have to retake the course, but you'll need to pass the exam again. Some offer the option to recertify for life, with continuing education courses for credits.
Our picks for the best personal trainer certifications:
Advertisement
This ad is displayed using third party content and we do not control its accessibility features.
Advertisement
This ad is displayed using third party content and we do not control its accessibility features.
Advertisement
This ad is displayed using third party content and we do not control its accessibility features.
Comparing the best personal trainer certifications:
| Program | Price | Format | Length | Accreditation | Recertification cycle |
| --- | --- | --- | --- | --- | --- |
| ISSA | $870 | Online | 4-12 weeks | NCCA | every 2 years |
| NASM All-Inclusive or Guided | From $1619 | Online or in person | 3 months or less | NCCA | every 2 years |
| NCSF | From $649 | Online or in person | Self-paced | NCCA | every 2 years |
| ACE | $587 | Online (exam in person) | 3-6 months | NCCA / EHFA | every 2 years |
| NSCA CSCS® | From $300 | Online | Self-paced | NCCA | every 3 years |
| NESTA | From $477 | Online (exam in person) | Self-paced | NCCA (basic tier is not accredited) | every 4 years |
| ACTION CPT | $99 | App | ~2 months | NCCA | every 2 years |
How we picked:
Price: We picked programs at a variety of price points to meet aspiring personal trainers where they are while also making the process accessible.
Program length: We selected a range of programs with varying time requirements, from self-paced to four weeks to several months, to fit different timelines.
Accreditations: It's important that a personal training certificate is accredited by a reliable source. Programs approved by the NCCA are considered a high-quality benchmark for personal training fields.
Convenience: To accommodate busy schedules, we spotlight self-paced courses that allow you to learn on your own time and offer professional and group support online.
Types of personal trainer certifications
There are plenty of personal trainer certification programs available, and they are not all created equal. Knowing how to navigate the minefield of choices is crucial to choosing a quality program.
Santucci explains, "There are nationally recognized certifications such as NASM, ACE, ISSA, and NSCA. In recent years, there are different organizations that have developed their own courses and certifications that trainers can take, that are both general and on more specific topics in the field such as CFSC, John Rusin, and N1 Training." Most of the options we've recommended are nationally recognized, save for a few exceptions.
Recertification and continuing education
Something that folks tend to overlook when considering a personal training certification is the work that goes in after you've sat your exam. Almost every personal training certification has an expiration date and requires continuing education credits (or CEUs) to stay valid. The timelines vary by organization, but most give you between 2-4 years to accrue the required CEUs. The definition of a CEU also varies by org, but most will accept hours of hands on experience or additional courses to keep your certification fresh. A word of caution: if you neglect your CEUs, you may end up paying more money to re-sit your exam.
Additionally, most organizations will ask you to provide proof of a current CPR certification, which typically expires after 2 years.
Who should enroll in a personal trainer certification?
Santucci says a personal trainer certification program is great for "anyone interested in training clients on their health and fitness and, honestly, anyone who wants to give advice, say on social media, regarding health and fitness." While you don't need to be certified to be a paid trainer, most health institutes and clients will ask to see your certificate—and we highly recommend confirming your own trainer's certification to make sure you are in good hands.
If you want to make personal training your career or even side hustle, it's a good idea to earn your certificate so you can ensure you're training your clients safely and effectively.
A stamp from the National Commission for Certifying Agencies (the NCCA) is like the gold standard for any trainer certification. To obtain this, you must have a high school degree or GED and hold a current cardiopulmonary resuscitation (CPR) certification or an automated external defibrillator (AED) certification. A few highly renowned programs have even more requirements, which we've called out in our list below.
"[Personal trainer] certifications provide the basic knowledge you need to practice, but the best way to learn is by doing and getting experience under your belt," Santucci says. "You cannot just get the certification and think you are an expert. You need to have hands-on experience with clients, and you need to understand how to apply the things you learn. Getting a certification doesn't make you a coach. Hands-on experience training clients makes you a coach." In short, if you're up for the challenge—then a certification is very worth it but is only the first step in your journey as a trainer.
How to choose a personal trainer certification course
While there are some clear-cut standards, like being NCCA-accredited, that make some personal training programs a cut above the rest, it's also important to consider personal factors, preferences, and your long-term plan.
Santucci says the first step is to "realize your goals as a personal trainer, the population you want to work with, your financial commitment, and time commitment." For example, if you dream of being a trainer to highbrow clients at a luxury facility in a large city such as Los Angeles, New York, or Miami, you'll absolutely want to seek out programs that are NCCA-accredited and well respected at those particular facilities.
To fully narrow in on the right certification for you, Santucci advises looking beyond the program itself and asking the right questions. "Look at the people you admire and who are well respected in the field and ask: What courses did they take? What are their methodologies that led them to where they are?"
Lastly, most personal trainers decide their own rates, and there is not one particular certification that will help you earn the most. Your best bet is to check with the gyms or facilities you'd prefer to work at and see which certificates are most likely to get you a job there.
How much does a personal training certification cost?
As you'll see from our list, the cost of a personal training certification varies greatly by the company you choose to study with and the depth of the course. Our lowest-priced option starts at $99 and the highest costs over $1,600.
When considering how much you're willing to spend on a course, keep the following in mind:
Study materials and support: Some higher-priced courses include more in depth coursework and even in-person lessons. You can likely save a few hundred dollars by doing a self-study program with an online textbook, as long as you know that method will still be beneficial for your learning style.
Program reputation: As Santucci mentioned above, if you know the accreditation and brand name will carry weight for the trainer jobs you want, you'll want to prioritize certifications like NASM, ACE, or NCSA. These programs may be more expensive than others, but if big-time training is your goal it may be worth the investment.
CEU's: Unless you're banking the required hands-on training time for recertification, you'll likely need to spend additional cash on continuing education credits to keep your cert fresh. Costs will vary by program, but some (like ACE) help by bundling CEU's so you can acquire the additional courses you need with one purchase.
How a personal training certification can support your longevity
Helping others work toward their mobility and fitness goals can be an extremely fulfilling line of work. Plus, working as a personal trainer is also a great way to keep yourself moving and engaged with others, which is increasingly rare in today's WFH society. Depending on whether you choose to work independently or within a gym, it's also a profession that allows for a decent amount of flexibility and ownership of your schedule, which research suggests3 can help reduce feelings of work-related stress.
If you're ready to get serious about becoming a trainer, a certification is the first place to start. Just remember that the requirements for becoming a personal trainer go well beyond a one-and-done exam. As a CPT, you'll want to continue learning—both on the gym floor and beyond—to stay up-to-date with the latest science and keep your certification valid.
FAQ:
What personal trainer certification is most respected?

According to Santucci, the NSCA CSCS is the most respected certification, and NASM is the next most respected.
Which is better ACE or NASM?

"NASM is a better overall certification, while ACE is more basic," Santucci says.
What certifications should I get as a CPT?

Santucci says it's important anyone training others should have a general personal training certification under their belt. "As you get more experience, you should focus on more sports-specific certifications depending on your goals as a trainer."
What is the fastest personal training certification to get?

Santucci recommends ISSA as a fast-track program for those looking to speed up their success.
The takeaway
With plenty of options to choose from, finding a personal training certificate that's the right fit for you can be a significant first step toward turning your passion for fitness into a career. If you're interested in enhancing your practice, check out our best health coaching programs of 2023.
Meet The Experts
Kelsea Samson
is a writer, content manager, certified yoga instructor and founder of The Mindfulness Program for Kids and Yoga for the Blind in Tampa, Florida.
BB Arrington is NASM-certified personal trainer, holistic nutritionist, and sustainability advocate.