ISSA Vs. NASM: Which Personal Training Certification Is Best?
Written by
Kelsea Samson
Kelsea Samson is a writer, content manager, certified yoga instructor and founder of The Mindfulness Program for Kids and Yoga for the Blind in Tampa, Florida.

Expert review by
BB Arrington, CPT
Personal trainer & holistic nutritionist
BB Arrington is NASM-certified personal trainer, holistic nutritionist, and sustainability advocate.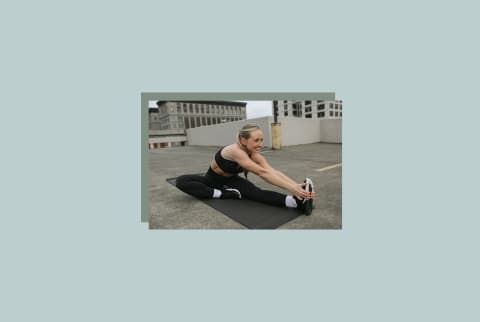 August 14, 2023
We carefully vet all products and services featured on mindbodygreen using our
commerce guidelines.
Our selections are never influenced by the commissions earned from our links.
You need more than just an upbeat personality and an obsession with wellness to make a living as a personal trainer. Any successful trainer will tell you a certification is crucial to establish your credibility and expertise—and where that certification is from plays a huge role. When comparing what many would consider the two best personal trainer certifications, ISSA vs NASM, there are a number of factors to consider.
Both organizations have a long-standing history and have certified thousands of fitness professionals worldwide—so it's no surprise Luis Echeverry, certified personal trainer, CEO and founder of DrivenFit in Tampa, FL, and Kenny Santucci, certified personal trainer and founder of The Strength Club in New York City, agree that these are two of the most recognized and respected certifications in the field.
But which should you try? Let's dive deeper into the similarities, differences, and how to choose between the two.
What is ISSA?
ISSA (International Sports Sciences Association) is a global organization that offers a wide range of fitness certifications, including personal training, fitness nutrition, strength and conditioning, and more from the comfort of your home. We dubbed it the best personal training certificate for new trainers earlier this year.
This program is beloved for its self-paced, online courses, which make earning a high quality personal training certificate accessible to all. It's also more affordable than other certificates (including NASM), and the curriculum is built to accommodate a range of desired time-frames.
Many people say ISSA is not as in-depth as NASM (and therefore less challenging). While ISSA is not NCCA-accredited, they do offer an NCCA-accredited exam through their subsidiary, NCCPT.
ISSA's courses offer flexibility and a self-paced nature, which makes it suitable for those who need to balance their studies with other commitments. The personal training certification covers topics such as exercise science, program design, client assessment, nutrition, and business fundamentals.
Per Echeverry, "ISSA tends to be more of a general personal training certificate with a business skillset portion. It's also more affordable with a higher pass rate because [it's open book, so] having to sit for the exam a second time is unlikely. Most CPT's finish the course within four months."
Pros & cons
Pros:
Offers a fast track accelerated course (4 weeks)
More affordable choice
Very high pass rate
Cons:
No hands-on experience in program
What is NASM?
NASM (National Academy of Sports Medicine) is a widely recognized and respected organization in the fitness industry that offers NCCA-accredited certifications, education, and training for personal trainers.
Per Santucci, "NASM is a nationally recognized certification. It is the gold standard for most people who want to get into training. It's recognized by most big box gyms as an entry level education for fitness."
The NASM Certified Personal Trainer (NASM-CPT) is the company's flagship program and focuses on preparing fitness professionals to work with clients of all fitness levels and help them achieve their health and fitness goals using a comprehensive and systematic approach.
There are four CPT programs to choose from, but the elite trainer program stands out for its one-on-one mentorships and on-site "Gymnternship," where future trainers gain valuable hands-on experience.
Whichever program you choose, NASM's mission is to provide evidence-based education and training programs that focus on the scientific principles of human movement, exercise, and performance. The organization is dedicated to promoting safe and effective fitness practices by utilizing the latest research and advancements in exercise science, which is why it earned the best inclusive/guided study certificate in our certification roundup.
Echeverry says that, unlike ISSA's more generic curriculum, "NASM focuses on corrective exercises and their unique training model, covering a more expansive set of information which requires more study time."
NASM typically requires five to six months of total investment time—and the exam has a lower pass rate because the material is more in-depth and the test is not open book. Self-study programs are available for those who prefer it, but the all-inclusive program and guided study program deliver the most value.
Once you do pass the exam, NASM guarantees their CPT's with a job and a community of NCCA-accredited, renowned fitness experts. Additionally, NASM provides continuing education opportunities for certified professionals.
Pros & cons
Pros:
1:1 mentorship
Gymternship™ gives you on-site, hands-on experience
Job guarantee within 90 days or you'll get a refund
Cons:
Previous knowledge of Health Sciences and a CPR certification recommended prior to enrollment
Re-certification is expensive at $399
ISSA vs. NASM: Quick facts
ISSA CPT Program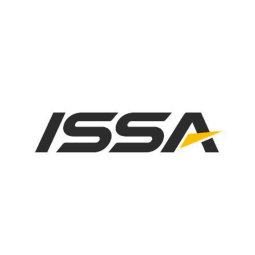 Online or in person:
Online
Length:
Between 4-12 weeks depending on program
Number of programs offered:
3
Recertification cycle:
Every 2 years
Who should try it:
ISSA is an excellent option for fitness enthusiasts who want to fast-track their career and prefer to go at their own pace with course materials. It's also more affordable than other certification programs, but still offers a high quality certificate.
Who should skip:
If you learn better through hands-on experience or one-on-one coaching, you may prefer another option. You'll also want to check that your potential workplace accepts ISSA certifications.
NASM CPT Program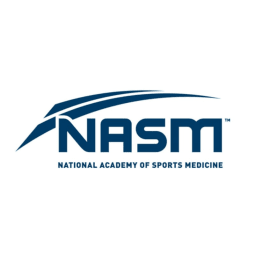 Online or in person:
Both
Number of programs offered:
4
Recertification cycle:
Every 2 years
Who should try it:
Those who benefit from hands-on, in-person learning will do well with NASM's curriculum. If you're looking for the gold standard of CPT certificates, this one is for you. It's also the most widely accepted and will open doors for the highest amount of opportunity.
Who should skip it:
If you prefer online-only learning or want to opt for an open book test with a higher pass rate, you might consider another program. NASM is very in-depth and will require a deep knowledge of the space in order to pass the final exam.
Advertisement
This ad is displayed using third party content and we do not control its accessibility features.
ISSA vs NASM
ISSA vs NASM: Comparing the cost
Budget is always an important factor to consider when considering big investments like a personal training certificate.
ISSA's personal training certificate program costs about $1,600. With a first-time customer discount you can sign up for $999 and a 12-month, interest-free payment plan that costs about $84 per month for 12 months.
NASM, on the other hand, has an all-inclusive CPT program which costs $1,899. Self-study options start at $899. While the more affordable programs don't offer the hands-on "Gymternship" or the valuable one-on-one mentoring that the all inclusive program does, the fee still includes the exam (valued at $600 on its own).
ISSA vs NASM: Comparing the completion time
Completion time varies widely depending on the personal trainer certification program you choose and your individual learning pace. If you prefer to go at your own pace and on your own schedule, ISSA or NASM's self study program might fit your schedule the best.
If you're looking for a fast track certificate, ISSA's fast track completion program will have you ready to roll in just four weeks.
"You definitely need to continue to invest in your education and get actual experience training people even after NASM or ISSA [because they're basic, entry level programs]," Santucci says. "I don't think the length of a program determines how effective it is. But if you can do something faster and that's more efficient, that would be my choice."
ISSA vs NASM: Comparing the study materials & curriculum
Echevvery has hired trainers with each certification and says, "Both groups have been more than prepared with the appropriate skillset to handle our diverse clientele." He adds that, at his fitness studio, they "tend to see many prospect trainers who are currently in university/colllege for sports medicine/kinesiology/etc leaning more towards NASM than ISSA."
Here's a sneak peek at ISSA's CPT Curriculum:
Fundamentals of Personal Training
Anatomy and Physiology
Exercise Science
Nutrition and Exercise
Program Design
Resistance Training and Cardiovascular Training
Flexibility and Mobility
Special Populations
Injury Prevention and Recovery
Business and Marketing
Here's a sneak peek at NASM's CPT Curriculum:
Basic and Applied Sciences
Assessments
Flexibility Training
Cardiorespiratory Training
Core Training
Balance Training
Plyometric and Reactive Training
Speed, Agility, and Quickness (SAQ) Training
Resistance Training
Integrated Program Design
FAQ
Is ISSA widely accepted?
Is it hard to pass ISSA?
What percent of people pass NASM?
The takeaway
Take it from our experts (two, wildly successful CPTs who have founded their own fitness studios): Both ISSA and NASM are reputable and respected certifications that can open doors to a successful career in the fitness industry. ISSA offers a flexible, self-paced learning approach, while NASM provides a more structured and evidence-based curriculum. Your choice between the two will depend on your learning preferences, career aspirations, and budget.
Meet The Experts
Kelsea Samson
is a writer, content manager, certified yoga instructor and founder of The Mindfulness Program for Kids and Yoga for the Blind in Tampa, Florida.
BB Arrington is NASM-certified personal trainer, holistic nutritionist, and sustainability advocate.