What The Healthiest People We Know Pack For THEIR Kids' Lunches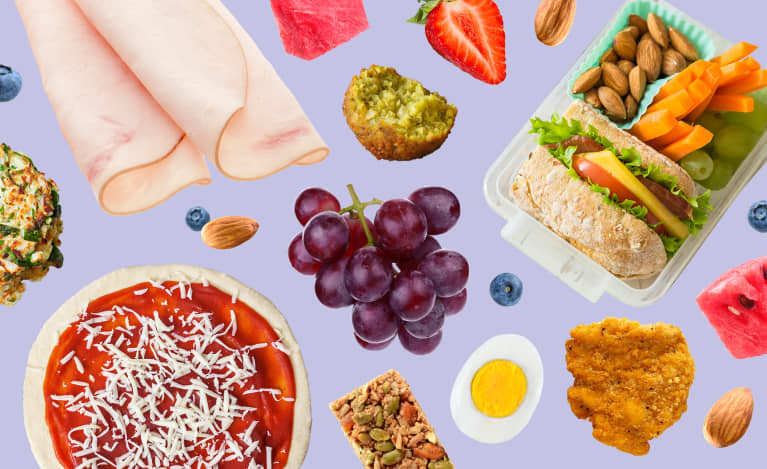 Our editors have independently chosen the products listed on this page. If you purchase something mentioned in this article, we may
earn a small commission
.
Back-to-school season is here, but that doesn't mean sending your little ones off with wan lettuce or floppy white bread. We reached out to a few of our favorite health experts to compile a list of inspiring, healthful, flavor-packed food, designed to be enticing for children but delicious enough for kids of all ages! Here are some of our favorite healthy ideas and tips for filling that lunchbox.
1. Make a healthy Lunchable.
I used to nanny, and I'd make healthy pizza "Lunchables" that the kids just went wild for! I'd buy premade gluten-free pizza crust and use cookie cutters to make fun shapes with it, then put all the makings for little pizza crusts in their lunchbox: organic mozzarella (you could use dairy-free cheese as well), organic pepperonis and a little container of organic pizza sauce. It was a fun activity for them to build their own lunch, and they got to have healthy pizza!
—Courtney Swan, M.S., founder of Realfoodology
2. Turn meatballs into lollipops.
Meatball lollipops are a great way to get kids excited about eating protein. Cook meatballs as you normally would, and when they're done, put the lollipop sticks inside, leaving half of the stick exposed. Not only do these lollipops add a major fun factor, but they also prevent bacteria that may be lingering on your child's hands from getting all over his/her food, which we can all agree is a plus!
—Allison (Aaron) Gross, M.S., RDN, CDN, founder of Nutrition Curator
3. Turn veggies into nuggets.
My inner child will eat anything in nugget form. These Veggie Nuggets with Sweet Potato and Kale are made up of frozen kale (a great timesaver), sweet potato, and gluten-free breadcrumbs. You can make them completely vegan as well with a flax egg and serve them with any sauce of your choosing. Freeze them for any last-minute lunch or study break—they will easily re-crisp in the oven.
—Phoebe Lapine, mbg Collective member and founder of Feed Me Phoebe
Kids can be super picky, but with a bento box, there are plenty of options and more likelihood that they'll eat (hopefully). Also you can use it as a way to repack leftovers! I love to stick to a protein, a starch, a veggie, a fruit, and perhaps a miscellaneous fun item. A few ideas: chickpea pasta salad (add veggies if your kid will eat them—I love this for protein), edamame with salt (protein!), grapes or watermelon, carrots, and a sunbutter packet. You could also include things like veggie chips, hummus-and-cucumber sandwiches, carrots and guacamole, crackers with cheese or coconut-based cheese, various fruits for picking, or protein balls.
—Isabel Smith, R.D., founder of Isabel Smith Nutrition
5. Make a rainbow of bite-size foods
You want to make lunches that are beautiful and make you feel happy, so your kids will feel the same way! Add as many colors as possible, so their lunch is a rainbow of nutrients. Finally, don't get overwhelmed by it or make it a mindless chore—get creative with what's in your kitchen and remember that food is our nourishment, our energy, and what keeps us and our kids growing and fueled up to accomplish our goals!
To make sure my kids stay nourished and satisfied all day at school, I'll include bite-size veggies like carrots or edamame beans; fruits like blueberries, strawberries, and dried dragonfruit; a protein source like turkey roll-ups with hummus, a cutup sandwich made of gluten-free bread with Cacao Magic and almond/hazelnut butter (it creates an amazing, healthy Nutella-like spread), a hard-boiled egg, or falafel with tahini; and then a healthy, energizing treat like a cacao and maca bar. I always like to toss in yummy snacks, too, such as superfood berry trail mix, green pea puffs, slivered almonds, or a protein bar to last them all day!
—Sophie Jaffe, mbg Collective member and founder of Philosophie Superfoods
We love making something called "dirty rice", which is rice cooked with chicken liver, bacon, carrots, celery, and five-spice seasoning. It's a delicious, kid-pleasing way to get a ton of nutrition into a single convenient dish.
—Ellen Vora, M.D., mbg Collective member and founder of EllenVora.com
7. Make a sneaky veggie pancake.
What kid wouldn't want to eat pancakes all of the time!? Well, when the main ingredient is spaghetti squash, they just might be able to munch on them for lunch! This spaghetti squash pancake recipe is made with all clean ingredients, many of which you probably already have in your kitchen. The recipe calls for baked spaghetti squash, a pastured egg, organic oats, vanilla extract, and cinnamon—that's it! You can eat them warm or cold, top them with fruit or cottage cheese (or both!). The squash provides vitamins, minerals, and fiber while the egg provides some protein and healthy fat.
—Leah Silberman, R.D., founder of Tovita Nutrition
8. Reinvent kids' food with healthy ingredients.
Instead of coming up with elaborate recipes for my kids, I like to reinvent recipes that I know my kids love but with healthier ingredients. This way, they get to eat the food they already love, and I am the only one who knows just how healthy it actually is. One example is making a large batch of homemade chicken nuggets. I'll take free-range organic chicken breast and chop it up into cubes, coat them in almond flour, and cook them with a healthy fat like avocado oil. I'll make enough for the entire week, and serve with sugar and additive-free ketchup.
—Will Cole, D.C., mbg Collective member and author of Ketotarian