The 12 Best Compression Workout Leggings Of 2023, With Picks From Trainers & Instructors
Written by
Kelsea Samson
Kelsea Samson is a writer, content manager, certified yoga instructor and founder of The Mindfulness Program for Kids and Yoga for the Blind in Tampa, Florida.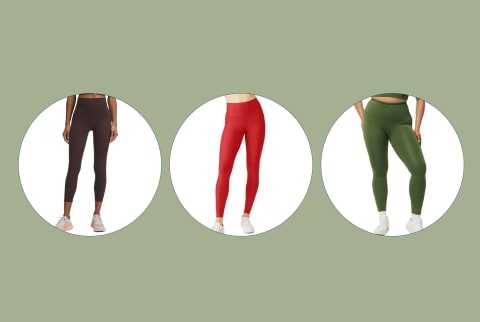 August 31, 2023
We carefully vet all products and services featured on mindbodygreen using our
commerce guidelines.
Our selections are never influenced by the commissions earned from our links.
The best compression workout leggings of 2023:
Luckily, we've got expert tips (and picks) to help you narrow down your search.
What are compression workout leggings?
Compression leggings aren't just any workout leggings. They're made from a specialized fabric that exerts graduated pressure around the ankles and gradually decreases in pressure as it moves up the legs, which increases stability and blood flow to the muscles.
The idea is to improve circulation, reduce muscle fatigue, and potentially enhance athletic performance via compression. Compression leggings provide a tight and supportive fit, which provides additional support to the muscles and joints.
According to sports recovery specialist Joe Barthelemy, compression therapy is a great option for "high-level athletes, fitness enthusiasts, [and] individuals who stand all day for work (nurses, law enforcement, military personnel, teachers)."
Because compression increases blood flow and circulation, it can speed up recovery from a tough workout or workday, Barthelemy explains.
Sarah Sponaugle, co-founder of Driven Fit, explains, "Compression leggings are a type of workout pant that helps increase blood flow during exercise."
If you want to make the most of your wardrobe, compression leggings can maximize your movement.
What to look for in compression workout leggings
"When looking to purchase a pair of compression leggings I always look at price, materials, and sustainability practices of the company," Sponaugle says.
Mellors adds, "They should feel supportive yet comfortable. You don't want to be so tight that they hinder movement."
When you're shopping, consider the below five factors:
Compression level: Compression leggings come in various levels of compression, typically ranging from light to firm. The right level of compression depends on your style of exercise. Higher compression levels may be more suitable for high-impact exercises or weight training, while lower levels are often used for low-impact exercise.
High-quality fabric: Sponaugle says to always make sure you're not allergic to any of the materials, which we've outlined for each pick. She also notes that these pants are tight and will be up against your skin while you're sweating for quite some time. Higher-quality fabrics are more expensive, but you'll be happier in the long run.
Seam vs. seamless: If your leggings have seams, check the placement of the seams to ensure they won't cause chafing during your workout. Even better, there are a few seamless options on our list.
Design and style: Compression leggings come in plenty of designs, lengths, and aesthetics. Choose one that suits your personal style and the activities you'll be doing. Some compression workout leggings have features that make them stand out even more, such as pockets, reflective elements, and mesh panels.
Ease of movement: As our experts said, compression leggings should provide support without restricting your range of motion. Try moving around in them to ensure they allow comfortable movement during your chosen activities.
Remember, you should love how you feel in compression workout leggings. Our bodies are all unique, so keep in mind that what feels best for one person may not be the best for your body type.
The benefits of compression workout leggings
Compression leggings increase the blood flow in your legs and ankles3, which can help tremendously with performance and recovery. On a scientific level, it's believed compression therapy leads to better oxygen and nutrient delivery to the muscles, which can help reduce the risk of muscle soreness and cramping.
Mellors explains, "Compression workout leggings promote blood circulation and quicken muscle recovery, but they also aid in stabilizing your muscles and give you extra support, reduce delayed onset muscles soreness, aid in proprioception, and how you feel and sense your body moving through space." That sounds like bang for your buck to us.
Some athletes and fitness enthusiasts say wearing compression leggings when working out improves overall performance by reducing muscle oscillation, improving muscle alignment, and providing a sensation of support.
Others wear compression leggings for post-workout recovery. The increased blood flow and reduction in swelling could aid in the recovery process by facilitating the removal of metabolic waste products and reducing muscle inflammation.
Who should wear compression workout leggings
Sponaugle explains that anyone who is active and looking for a slight increase in performance and recovery can benefit from compression workout leggings.
Mellors says compression leggings are a wonderful tool beyond just working out. "Compression leggings were originally created to prevent varicose veins and other vein diseases. They are great for travel, flights, and anyone that does strenuous workouts where you get prolonged buildup of lactic acid."
As a fitness instructor who swears by compression leggings to deal with inflammation, Mellors shares why she uses them regularly. "I personally love wearing [compression leggings] on the days after a particularly grueling workout or rehearsal because my muscles are fatigued," she says.
Per Mellows, "Compression leggings not only help this, but I also have peace of mind having the extra support so feel secure placing heavy demands on my body." She says they're beneficial on days when she's staying all day teaching, noting that if she wears compression leggings, "there is significantly less inflammation" in her legs.
If you feel like you're getting inflamed after workouts, changing up your leggings could be an easy switch.
How to choose the best compression workout leggings
Aside from narrowing down for a specific activity such as weight lifting or running, our experts have a few priorities when choosing a pair of compression leggings. Sponaugle says durability is one of her major focuses when shopping for activewear.
"The price point for high-quality compression leggings is now closer to $100 for a pair that will last you a good amount of time," she explains. "There are a few off-brand companies on Amazon; however, I haven't found a pair that lasts as long as my Nike's or Lululemon's."
Mellors, on the other hand, recommends prioritizing the pair that fits your body best. "Everyone's body is different, so the most important thing is that they fit your entire body comfortably. They should feel snug but shouldn't dig in and feel like they're cutting off your circulation. One thing to look out for is movement around the hips. If your leggings are too tight, you'll feel sore in your hip flexors and lower back after a while."
Once you're trying your new compression leggings on, Mellors recommends performing the squat test.
To do so, simply see if you can reach the full depth of your squat without feeling as if you are fighting against the material. If you can't, your leggings are too tight and they'll likely restrict your movement.
Our experts also forewarn that new users might have an adjustment period to the tightfitting nature of compression workout leggings.
How we picked:
Expert insight
All our picks are direct recommendations from the certified personal trainers and experts we interviewed.
Quality & materials
Per our expert's advice, we chose leggings from the top brands in the industry. All leggings have either been tested by our team or the experts we interviewed. As always, we prioritized brands that use sustainable materials and practices.
Versatility
We included workout leggings for a variety of exercises. Whether you're training indoors or outdoors and performing HIIT or low-impact workouts, there's something on the list for you.
Price
The best compression workout leggings range in price from under $100 to $150. We made sure to select picks that fit a wide range of price points so everyone can find their perfect pair.
Our picks for the best compression workout leggings of 2023:
Advertisement
This ad is displayed using third party content and we do not control its accessibility features.
Advertisement
This ad is displayed using third party content and we do not control its accessibility features.
Advertisement
This ad is displayed using third party content and we do not control its accessibility features.
Advertisement
This ad is displayed using third party content and we do not control its accessibility features.
Advertisement
This ad is displayed using third party content and we do not control its accessibility features.
FAQ:
Are compression pants good for working out?

Yes! Sponaugle says, "Compression pants are great for working out as they stay in place, wick sweat, and dry relatively fast."
What's the difference between compression tights and compression leggings?

Many brands use "pants" or "tights" interchangeably with "legging" as they're referencing their compression workout leggings.
What are the disadvantages of compression tights?

They can be uncomfortable for some and, if they're too tight, they can restrict movement.
How many hours can you wear compression leggings?

According to our experts, there's no real limit to how long you can wear your compression leggings because each pair is unique. Just be mindful if you notice you're feeling restricted.
The takeaway
Whether you want to boost muscle recovery or find more support, the best compression workout leggings can be a game-changing addition to your closet. The seamless fusion of innovative fabric technology and thoughtful design not only provides unparalleled comfort and support during workouts but also promotes improved circulation and muscle recovery. Just make sure you're armed with the best workout shoes too.
Meet The Experts
Kelsea Samson
is a writer, content manager, certified yoga instructor and founder of The Mindfulness Program for Kids and Yoga for the Blind in Tampa, Florida.