Curious About Beekeeping? Here's What It Actually Takes To Get Started

mbg Sustainability + Health Director
By Emma Loewe
mbg Sustainability + Health Director
Emma Loewe is the Senior Sustainability Editor at mindbodygreen and the author of "Return to Nature: The New Science of How Natural Landscapes Restore Us."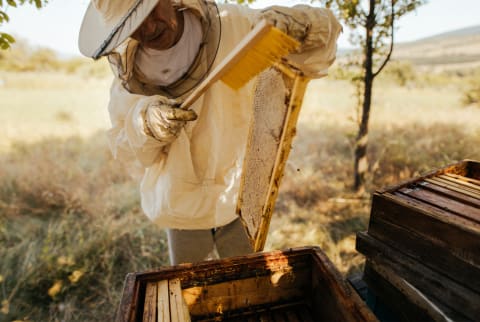 Image by AleksandarNakic / iStock
May 24, 2022
Our editors have independently chosen the products listed on this page. If you purchase something mentioned in this article, we may
earn a small commission
.
After a season of struggling to grow her vegetable garden, Mika Hardison was in the market for some buzzy allies. That's when the bees came in.
"I knew that I needed to find a way to increase pollination, which was going to make my yields jump up. And so that's what interested me in beekeeping," Hardison tells mbg from her Jacksonville, Florida, home. What started as a desire to grow more cucumbers and squash quickly blossomed into a passion for pollinators, and Hardison now oversees multiple apiaries under her urban farming company, The Herban Bee.
Advertisement
This ad is displayed using third party content and we do not control its accessibility features.
For Hardison, beekeeping has become a way to grow fresh food for her family, connect to nature, and teach others how to achieve their own self-sufficient garden to combat food insecurity. Clearly, bees can bring myriad benefits to your yard. Keeping them, however, is a commitment, so we asked Hardison about the beekeeping basics that everyone should know before building their first hive:
1.
You'll need to check on your local guidelines before getting started.
In the U.S., each state has its own regulations on beekeeping, Hardison explains. Whether it's registering your hive with the government, leaving enough room between your hive and your neighbor's property, or guaranteeing that your bees have their own water supply, these are rules you'll need to abide by on your beekeeping journey.
It's also worth checking in with any close neighbors to make sure they'll be OK with the extra pollinators, just in case!
2.
Seek support from the beginning.
When Hardison first got started, she'd attend group meetings at her local beekeepers association. While this provided her with valuable early exposure to bees, she considers one-on-one mentorship more helpful for the complete beginner—as you'll likely have a ton of questions. "Somebody who has had that experience already is just a great resource," she says.
Whether you find a beekeeper in your area or connect with one on social media (Hardison's DMs are open!), you'll be happy you did.
Advertisement
This ad is displayed using third party content and we do not control its accessibility features.
3.
Know the basics of your hive.
While it doesn't require a ton in the way of supplies, beekeeping is definitely more complicated than putting some bees in a box. You'll want to make sure you have a solid setup before you order your first colony. The typical hive contains a hive stand, one to two bottom layers called a brood chamber (where your bees live), a queen excluder (a barrier that keeps the queen bee from laying eggs in the hive's honey), and at least one honey super (where the honey goes!).
Hardison enjoys the freedom and flexibility of designing her own hive, but you can also shell out for fancier prebuilt hives like the Flow Hive, which you can read all about here. While you can't expand and adjust these hives as needed, they make the honey extraction process a lot easier. (More on that below!)
4.
Choose your bee format.
There are two main ways to get your (bee-suit-protected) hands on thousands of bees at once. First, you can buy a bee package from a company like Mann Lake or Dadant. These screened boxes filled with a queen bee and her started colony get delivered right to your door. However, Hardison notes, it'll take a while for your bees to acclimate to your hive and start building out frames of honey in their new home. "With that route, you're probably not going to get honey the first year," she says.
The other option is to connect with a beekeeper in your area and ask if they have any "nucs" for sale. A nuc, short for nucleus colony, is a starter hive that bees have already built out. "Those are not just a box with bees in it; they're actual frames with brood, pollen, nectar, eggs, larva, everything," Hardison says. So while a nuc may be a little bit harder to find, it'll let you start cultivating honey much faster, likely within a few months.
Advertisement
This ad is displayed using third party content and we do not control its accessibility features.
5.
Decide how to extract your liquid gold.
Honey flow season, when your hive's super layer is full of sweet honey ready to be extracted, typically falls during the summer months. The traditional honey extraction process is somewhat labor-intensive: You need to remove the honey layer, brush off any bees on it, and run it through an extractor. These machines, which typically cost around $100 to $200, will forcefully remove the honey from its frame, after which it can be processed and stored.
The benefit of shelling out for a Flow Hive ($600 to $1,000) is that these hives are designed with a built-in extractor system. When the time comes, you can just pull a lever and watch the honey flow out of your hive.
6.
Above all, be safe and treat the bees with respect.
The best beekeepers know what's going on with their bees at all times. They are consistently monitoring their hives for issues like diseases, pest infestations, and bee death. And every time they do, they're careful! Hardison notes that you'll want to always use personal protective equipment when you're inspecting your hives to minimize the risk of nasty stings. Remember: Bees can get aggressive, so learning as much as you can about their needs is the best way to keep yourself and your hive safe.
And once you get the hang of tending to bees, the results can be really fruitful. Hardison now enjoys a garden filled to the brim with abundant flowers and produce, and a steady supply of fresh honey with flavor profiles that tell the story of her land. "For anyone that is interested in self-sustainability, with a very small space, you can grow enough food and harvest enough honey to completely supplement your family's diet," she says of the value of backyard beekeeping. "It's a great way to keep more money in your household... And that produce and that honey is going to be way superior to anything that you'll find in the grocery store.
Advertisement
This ad is displayed using third party content and we do not control its accessibility features.
The takeaway.
While this is by no means an exhaustive list, it tells you the basics of beekeeping and what starting your own hive actually entails. Moral of the story: If you're willing to do your research, use proper equipment, and respect your bees, a pollinator-packed garden may be in your future.
Advertisement
This ad is displayed using third party content and we do not control its accessibility features.