The Beauty Routine Norma Kamali Has Been Using As Of Late
mbg Beauty Director
By Alexandra Engler
mbg Beauty Director
Alexandra Engler is the beauty director at mindbodygreen and host of the beauty podcast Clean Beauty School. Previously, she's held beauty roles at Harper's Bazaar, Marie Claire, SELF, and Cosmopolitan; her byline has appeared in Esquire, Sports Illustrated, and Allure.com.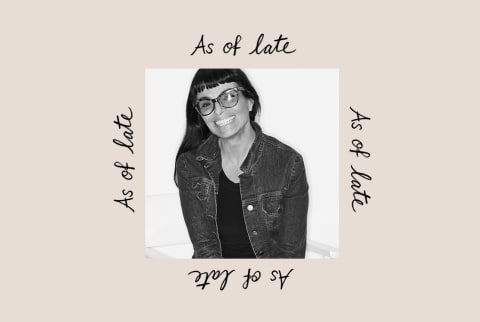 August 16, 2022
Beauty routines are never truly stagnant—practices evolve and change like we do. In As Of Late, we chat with influential folks about their current products and rituals. Here, we get a snapshot of what they're doing right now: The sacrosanct formulas they use until the last drop, the fresh launches they've got their eyes on, and of course, the why behind it all.
Advertisement
This ad is displayed using third party content and we do not control its accessibility features.
Not to be hyperbolic, but I'd take advice from Norma Kamali on just about anything. The iconic designer and author of I Am Invincible is famously knowledgeable about all things beauty and well-being—and you can see the results just by looking at her. The 77-year-old New York City–native has a complexion that's practically entrancing. I've never seen a photo of her and not thought to myself, I need to do exactly what she's doing.
Over the course of several decades, she's earned a reputation for being ahead of the curve: She's an early adopter of many wellness staples we consider standard nowadays. That makes her a particularly appealing candidate for a series that's all about the products and steps someone does in their beauty routine, no?
I hopped on a video chat with Kamali a few weeks ago to hear about what she's been up to lately and was greeted by her signature glowing skin, black glasses, and sleek hairstyle. And as we chatted about her beauty rituals, she didn't let her reputation down.
The tried-and-true: Olive-oil-infused everything.
"When I turned 50, I stopped wearing face makeup. I used to wear pounds and pounds of makeup, and it took me hours to get ready every day. I decided to work on my skin—both internally and externally. Olive oil has always been a big part of my life and diet: It's one of these timeless ingredients that are just with us for eternity and always the most reliable. My mother was Lebanese, and my father was Basque—and my mother could come up with 30 things to do with olive oil. In our household, it was an all-purpose product. You name it, she had a solution for it.
"Even now, I use it for everything, and so I decided to develop a moisturizer around it, Norma Kamali Soft. As we know, moisturizing your skin is a must. It's the one thing we should always do. It's not only my go-to face moisturizer; I also use it to remove makeup, as a healing ointment, on my feet, everywhere."
The surprise hit: Snail mucus.
"I'm a big acupuncture fan. Currently I go to Ansgar Lee, L.Ac., LMT, of LES Acupuncture & Bodywork—I found him after doing a lot of research on who to go to. He's a young guy and has a lot of new ideas and techniques with acupuncture, including things like LED lights and electrodes.
"One time he asked if I wanted to do a face mask after, and I said, 'Sure, why not!' Turns out, the mask used snail mucus. I've heard about snail mucus but never tried it because I thought it might be a passing trend—and I don't have time to try everything. The results were really impressive, so I started to do some research on the ingredient, and now I'm a big fan.
"I'm someone who's always interested in the science behind ingredients before I use it. It was originally used for healing1, so it's incredibly effective at treating and smoothing the texture of the skin. I have found Biopelle's products to be unbelievably helpful. They have this concentrated product called Tensage Intensive Serum 40 Post Procedure Ampoules—which are supposed to help repair your skin after a treatment or surgery—and I use them in preparation for a special event. Didn't think I would be a snail mucus fan, but here I am."
The secret: A buildable glow. 
"I share everything—I never really keep things secret. But one of the things that work really well that's a bit more behind the scenes is a product that I formulated to give you a healthy glow. It's especially helpful if you don't want to wear a lot of makeup. The Norma Kamali Glow works similarly to a tanner, but it has a different ingredient mix. It also has moisturizers in it, which tanners really don't have. It's made with caramel and beet extracts that evens out your skin color. Any skin tone can use it: My skin is a typical Middle Eastern kind of skin tone—a little bit of green, a little yellow—and this just takes that and enhances it without covering it up."
The steal: A classic pencil in all shades. 
"Back when I couldn't afford makeup, I would even use my paints to put on my eyes, lips, and face. But what I always had were a few Maybelline eye pencils in a few shades that I could do miracles with. I am very loyal to things that work. If you were to open my bag today, you'd still find two or three shades of a Maybelline eye pencil.
"They have the best ordinary base shades—nothing too red, nothing with too strong of undertones. Just really good basic colors. I'll use it to shade a little bit under my eye, do an extension at the outside of my eye, or smoke around my eye with the pencil. If I mix them with my moisturizer, I can get it to be sort of cloudy. If you get a lighter shade—something like an auburn color—you can use it as a lip pencil.
"The beauty of it is that if you have a good sharpener, you can keep these for a long time and really get the most out of that big investment you made buying the pencil."
The carry-on: A magnesium supplement. 
"The downside of travel is that your whole system's thrown off, including sleep and your digestive regularity. You're doing things at different times, including eating and resting. When I travel, I always have a magnesium supplement with me because it's not only calming, but it helps me keep to a regular schedule with my sleep and digestion."*
The ritual my friends taught me: Acupuncture. 
"I've done business in China for a long time, and there was a period of time when I was going to a certain part very frequently so I had made some friends there. This was about 20 years ago. These girlfriends all had the most beautiful skin. Even though they all worked really hard and were under a lot of stress, they always looked like they just came back from a vacation. And that's because they were doing 'acupuncture face-lifts' regularly.
"I went on a hunt to find someone to go to and found Jingduan Yang, M.D., who had offices in Philadelphia. It took me two hours to get to the appointment from New York. When I arrived I asked for an acupuncture face-lift—to which he said, 'Well, you're not going to get one here. That's not what acupuncture is about.' He then explained to me what acupuncture was really for, things like stress, sleep, and opening up the flow in the body. I started going to him to get just regular acupuncture, where he would teach me about it, and I would record our sessions.
"After about six months of this, he finally gave me a 'face-lift,' and when I went to the office the next day, someone complimented me on how good my skin looked right away. We ended up using those recordings to write a book together.
"To this day I still recommend that everyone try it: When I do acupuncture, I am able to fall into the deepest, deepest sleep. I wake up so refreshed and feeling so relaxed. When you look into the mirror, you can see the difference."
The year-round staple: A hair care system that works in all weather.
"Frizzy, straight hair is a strange thing. There's a hair product line from Lithuania called Moerie that I think is unbelievable. Anyone who uses their mask will say, 'Oh my god'—I know right away if I'm going to continue to use a product, and this one I liked instantly.
"I'm trying to wash my hair less, but I work out all the time. However, I understand it's not good to wash your hair every day. Instead, on some days I just rinse my hair, take the mask, put some of it in my hands, and run it through my hair from about halfway to the ends. It not only makes it feel silky soft, but it just takes down the frizzies. Even my colorist compliments me on it and has been telling all of her other clients to use it."
If you are pregnant, breastfeeding, or taking medications, consult with your doctor before starting a supplement routine. It is always optimal to consult with a health care provider when considering what supplements are right for you.
Advertisement
This ad is displayed using third party content and we do not control its accessibility features.
Alexandra Engler
mbg Beauty Director
Alexandra Engler is the beauty director at mindbodygreen and host of the beauty podcast Clean Beauty School. Previously, she's held beauty roles at Harper's Bazaar, Marie Claire, SELF, and Cosmopolitan; her byline has appeared in Esquire, Sports Illustrated, and Allure.com. In her current role, she covers all the latest trends in the clean and natural beauty space, as well as lifestyle topics, such as travel. She received her journalism degree from Marquette University, graduating first in the department. She lives in Brooklyn, New York.