The Products & Practices Lauryn Bosstick Has Been Using As Of Late
Assistant Beauty & Health Editor
By Hannah Frye
Assistant Beauty & Health Editor
Hannah Frye is the Assistant Beauty Editor at mindbodygreen. She has a B.S. in journalism and a minor in women's, gender, and queer studies from California Polytechnic State University, San Luis Obispo. Hannah has written across lifestyle sections including health, wellness, sustainability, personal development, and more.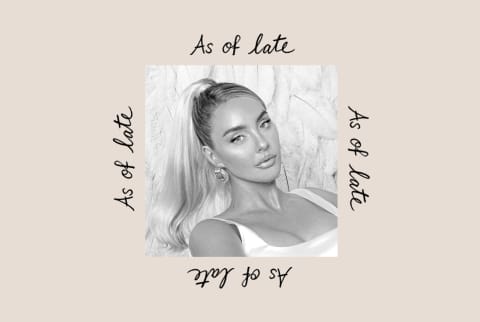 October 25, 2022
We carefully vet all products and services featured on mindbodygreen using our
commerce guidelines.
Our selections are never influenced by the commissions earned from our links.
Beauty routines are never truly stagnant—practices evolve and change like we do. In As of Late, we chat with influential folks about their current products and rituals. Here, we get a snapshot of what they're doing right now: the sacrosanct formulas they use until the last drop, the fresh launches they've got their eyes on, and of course, the why behind it all.
What started as a must-read lifestyle blog has far surpassed its humble beginnings—The Skinny Confidential, created by Lauryn Evarts Bosstick, entered the vast world of podcasts (with over 500 episodes, we might add) and even become a stand-alone lifestyle brand over the past few years.
The Skinny Confidential brand is filled with hot pink ice rollers for depuffing, quippy daily organizational tools, and even good-for-you vegan cookie dough. The brand is ever-evolving, as is Bosstick herself.
Yes—there's more. Bosstick has a strong reputation for being a trusted product reviewer and recommender for those who watch, listen, or read her content—myself included. As someone who used to watch Bosstick on YouTube in my high school bedroom, I couldn't turn down the chance to ask her what she's been loving as of late.
The tried-and-true:
"The product that I've been using for years, and very consistently, is ice. Long before we created the HOT MESS ICE ROLLER, I was using anything ice-related I could get my hands on. Years ago I had double jaw surgery and I literally looked like Sloth from The Goonies. The swelling stayed with me for years and ice and facial massage were by far the most effective ways to depuff.
"And when I say I tried everything, I tried everything. After sharing my story, so many members of the community contacted me to say that they had the same surgery or needed to and wanted advice. Creating the pink silicone was a no-brainer because I knew it worked (most importantly), and so many people out there needed a sturdy, quality ice roller that wouldn't break after one week."
The Skinny Confidential
The Skinny Confidential
Hot Mess Ice Roller
$69
Using chilled facial massage tools like an ice roller in the morning helps to depuff, reawaken, and contour the face—plus, it simply feels amazing. This roller is made from aluminum, meaning it gets cold faster and stays cold longer than other plastic tools. Not to mention, the pink colorway is an automatic mood booster.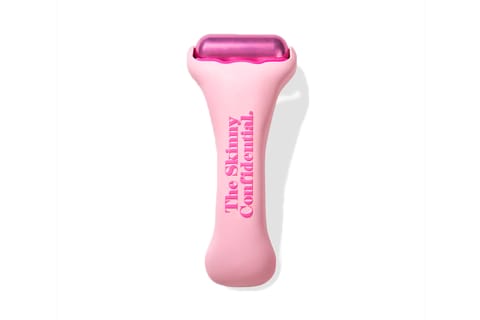 The steal: A $15 brow gel.
"This brow gel is just so good. It really holds up the brows like no other. It just gets them so erect and helps pull the face up too. I was using GOT2BE gel with a spoolie, but now they've come out with this actual brow gel. It's almost like a more affordable dupe of the Refy gel (also incredible)."
The surprise hit: Meditation.
"Meditation. Like, if you told me two years ago that it would be the best part of my day, and a ritual that made such a difference over time, I'd tell you you're crazy. The thought of sitting still and meditating was so beyond the scope of how I wanted, or could, spend my time. Melissa Wood-Tepperberg, who has been on 'The Skinny Confidential HIM & HER' show a few times, told me to just try it.
"So I made a commitment to try it for 70 days and if I benefited from it, great. If I didn't, at least I tried. It truly changed my life. The benefits I've noticed are that I feel calmer, I have more clarity, I'm more proactive instead of reactive, and overall, it has just drastically improved my life. Thirty minutes every morning with a habit stack—a toe stretcher, eye mask, legs up meditation on a PEMF mat is my fave."
The seasonal staple: Mouth taping.
"I started mouth-taping about six months ago. You just put the little strip over your mouth and you'll wake up with more energy and better breath. It's also known to reduce snoring and reduce cavities. The main benefit I see is more energy, though. I'm a BIG FAN…and maybe a human guinea pig?"
My new favorite: An Austin-based facial acupuncturist.
"I see Brooke @theroadacupuncture in Austin for facial acupuncture, and she is magic. The facial acupuncture she does is like getting Botox, and the results are just unreal. It increases blood flow, reduces appearance of fine lines and wrinkles, stimulates collagen, and reduces tension.
"She's also the first person to ever heat up the HOT MESS ICE ROLLER and use it on the lymph nodes in my neck. She's incredible in every way."
The secret: Super-planning out my day.
"During quarantine I started really planning my day. Like, down to what skin care I would use, podcasts I would listen to, vibes, books, intentions, my workout, and more. It helped so much and really laid everything out on the table so you could just run your day instead of the day running you.
"Again, a lot of The Skinny Confidential products are created because of the community. I shared the morning routine of writing down details of the day, people wanted it, so we made it for them. The HOT MINUTE PLANNER just launched and includes all the necessary prompts to really take control of your day (and life)."
The Skinny Confidential
The Skinny Confidential
The Hot Minute Planner
$35
The pleasure: A cold plunge.
"A cold plunge. They are an investment, but the health benefits are incredible. Think increased muscle and joint recovery, reduced inflammation, improved fat burning, improved skin conditions, improved immune system, increased lymphatic circulation, increased red blood cells, increased cardiovascular health—and it goes on. Increased mood and alertness is something I've noticed since I started cold plunging.
"My protocol is 2 minutes in ice, 2 minutes out, 2½ minutes in ice, 2 minutes out, 2½ minutes in ice, and 2 minutes out."
The thing my Nana taught me.
"My Nana who passed away a few years ago taught me to always get outside of myself when things were hard. When you're going through a rough patch or hard time, it really helps to do something for others or your community and not focus so much on what you're going through. Getting outside of yourself helps if you're feeling stuck."
Hannah Frye
Assistant Beauty & Health Editor
Hannah Frye is the Assistant Beauty & Health Editor at mindbodygreen. She has a B.S. in journalism and a minor in women's, gender, and queer studies from California Polytechnic State University, San Luis Obispo. Hannah has written across lifestyle sections including skin care, women's health, mental health, sustainability, social media trends, and more. She previously interned for Almost 30, a top-rated health and wellness podcast. In her current role, Hannah reports on the latest beauty trends and innovations, women's health research, brain health news, and plenty more.