Close Banner
Advertisement
This ad is displayed using third party content and we do not control its accessibility features.
The Beauty Routine Makeup Artist Daniel Martin Has Been Loving As Of Late

Beauty & Health Editor
By Jamie Schneider
Beauty & Health Editor
Jamie Schneider is the Beauty Editor at mindbodygreen. She has a B.A. in Organizational Studies and English from the University of Michigan, and her work has appeared in Coveteur, The Chill Times, and Wyld Skincare.
Image by Daniel Martin / mbg Creative
We carefully vet all products and services featured on mindbodygreen using our
commerce guidelines.
Our selections are never influenced by the commissions earned from our links.
Beauty routines are never truly stagnant—practices evolve and change like we do. In As of Late, we chat with influential folks about their current products and rituals. Here, we get a snapshot of what they're doing right now: the sacrosanct formulas they use until the last drop, the fresh launches they've got their eyes on, and of course, the why behind it all.
Whether you're opting for a dewy, "no-makeup" look or a bold, glittering face beat, skin prep is everything. Ask any makeup artist, and they'll be quick to confirm: You can't achieve expert-level glam without a clean, freshly prepped canvas.
I'd argue no one knows this better than Daniel Martin. The iconic makeup artist sure knows his way around a dreamy makeup moment. (He's the master behind Meghan Markle's royal wedding glam, in case you didn't know), but he always approaches those looks with a skin-first M.O.
In fact: "I don't want to see makeup on the skin," he tells me. Now, this may sound a tad unusual from someone who has literally made makeup their profession, but according to Martin, the best looks are the ones where you can't tell you're wearing makeup at all—save for a sharp cat-eye or crimson lip.
It's a delicate dance, and it always starts with skin care. So here, find his must-have steps.
The tried-and-true: An OTC hydrocortisone gel
"I have sensitive skin. I have this thing called 'skin writing,' where if I scratch myself, it welts up and turns into a hive. [Editor's note: This is also called dermatographia1.] It's like this weird dermatitis situation, autoimmune thing. So there are certain things that I always have with me, and my tried-and-true would be Cortizone gel just because I always have these flare-ups.
"I actually keep it in my makeup kit. If someone has any redness or if they have a pimple, I'll use the Cortizone gel to treat the redness but also flatten it out. So that's my tried-and-true if I have a flare-up, a breakout, anything."
The surprise hit: A long-lasting moisturizer
"The Tatcha Indigo Overnight Repair Cream. Because my skin is sensitive, I tend to use that at night, but then during the winter, I use it during the day. And I recently discovered that it works really well underneath makeup because it has this beautiful gel-cream texture. It works really well with a lot of the long-wear foundations that are out there right now."
Tatcha Indigo Overnight Repair
$ 92
I also share Martin's obsession with Tatcha's Indigo Cream. It's fragrance-free, rich, yet it doesn't sit heavy on the skin; the balmy, gel-cream texture glides effortlessly over your complexion. If you tend to use water-based foundations (Martin's preference), it will make your beat look especially plump and bouncy, sans pilling.
The secret: Facial cupping
"I just discovered facial cupping. I've been really puffy lately because of my allergies, and a friend of mine was telling me about these little suction cups she [uses] for lymphatic drainage. I just got them last week.
"You definitely need an oil to move the cup, but it seems like it's been working. I want to give it more time, but that's my new discovery. I got it on Amazon—it had the highest ratings.
"The oil that I use is Tatcha's Camellia Oil, just because it's super light. That's the only one that I seem to like that doesn't break me out. You need that emollience to move [the cups].... I need to actually try it with the Silk Serum."
SanDine Face Cupping Set
$ 9
Facial cupping has been used for thousands of years in traditional Chinese medicine, and it offers plenty of rejuvenating, skin-sculpting benefits. It helps stimulate blood flow, which not only helps deflate puffy areas but also promotes collagen and elastin production. These soft silicone cups provide an easy glide (just make sure you lather on lots of oil), and they come in different sizes to target precise areas.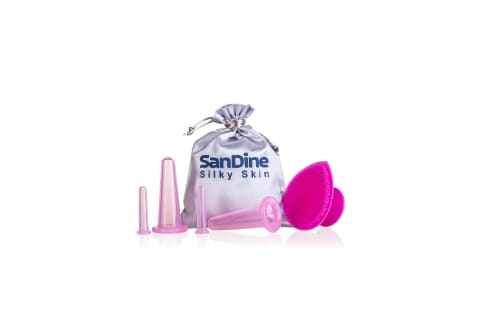 Editor's note:
You want to be careful while cupping, as dragging the suctioning tool can exacerbate wounds, causing broken capillaries and broken blood vessels for some. Check out our full
facial cupping guide
to ensure you cup correctly.
The splurge: A multitasking skin device 
"They have this [percussive attachment] that I was using a lot for my puffiness. I love that one. There's the microcurrent one that's great, there's one that goes cold and hot… But the fact that you have this one device where you can change the heads is so perfect.
"At the end of the day, you want something that's going to be efficient for you. The challenge for me was getting used to always using it. You have to have it by the sink or somewhere where you know you're going to do it… I tend to use the percussive attachment a lot, just because I really love how it feels, and I feel like I see the difference. I should use the microcurrent [attachment], but that takes a little bit more time. Whereas I can just watch TV and thump away on my face."
Therabody TheraFace PRO
$ 349
Yes, it's pricey, but think of this as four tools in one. The device comes with a microcurrent ring to sculpt the face muscles, along with heads for percussion therapy, LED light, and cleansing. Most microcurrent tools on the market have a pretty steep price tag (the high-quality, FDA-approved ones, anyway), so why not get more bang for your buck?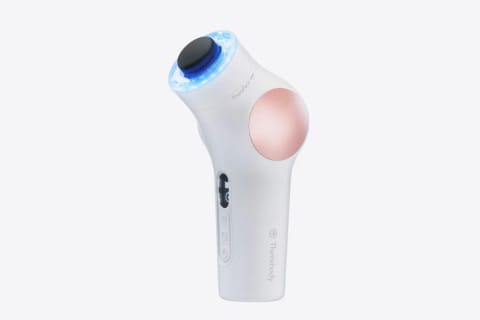 The steal: A fragrance-free face cream 
"There's this amazing Korean moisturizer I found. There's niacinamide in it, centella asiatica…For any of my clients who have cystic acne or are really red, this moisturizer is incredible underneath makeup.
"It's an incredible moisturizer. [It's] fragrance-free, it's in a tube so it's easy to transport, and I have it in my kit all the time. So many of my clients love it because you feel like you get the hydration but you don't get the weight. Sometimes if you have a heavy moisturizer with your makeup, that's just one added situation to feel on your face."
A'PIEU Madecassoside 2X Cream
$ 18
Think of centella asiatica (also called cica) as a skin care color corrector—it has the ability to neutralize redness due to acne, inflammation, sensitivities, and so on. Not to mention, the ingredient helps with hydration, promotes fibroblast proliferation (aka, the things in our cells that create collagen and elastin), and aids in wound healing. Not bad for an $18 face cream, no?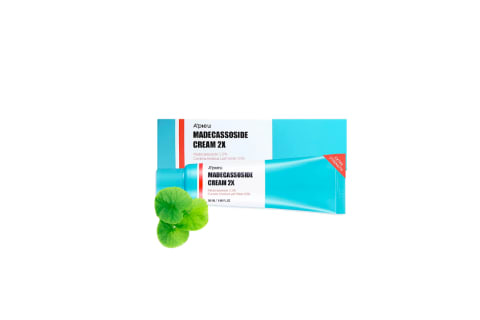 The red carpet routine
"I love using Joanna Czech's face roller with a full mask on. When I work with Michelle Yeoh, she always loves a mask—I'll do a mask on her, then I'll roll her and gua sha her, just so it's a nice, calming [experience] because her makeup takes me no time. I'd rather spend time on her skin care and making her feel comfortable, making her skin feel good, before I just slap everything on top. [I use] the 111Skin Celestial Black Diamond mask. That's my favorite from them.
"I have this formula that I've always done: Texture Tonic, essence, moisturizer, either The Liquid Silk Canvas Primer or The Silk Canvas Balm Primer, and then foundation. And my foundation is always water-based… That combination with the foundation is my go-to for red carpet for anybody. I need [the makeup] to last, and that does the trick for me. And it doesn't feel or look like makeup on the skin."
111Skin Celestial Black Diamond Lifting And Firming Face Mask
$ 140
This is the ultimate event-prep face mask. The material itself is made from hydrogel, which is known for its skin-plumping effects. The upper portion includes peptides to smooth fine lines around the eyes and on the forehead, while the lower focuses on volume and plumpness. It also contains carrageenan powder, niacinamide, cica, and allantoin to soothe the skin and balance tone.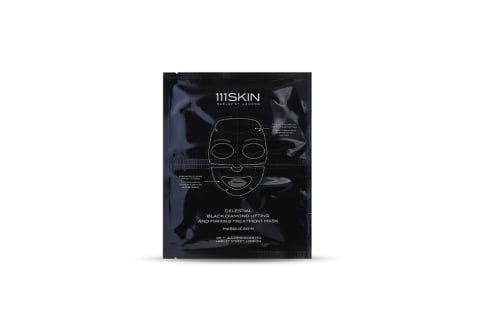 Joanna Czech The Facial Massager
$ 189
This double-pronged facial roller perfectly hugs your jawline, so you can easily push away any sticky tension and stagnant lymph. The aluminum material should stay cool, but you can always stash it in the fridge for a few minutes for an extra-lovely sensation. Better yet, opt for Yeoh's method and roll over a cooling, lifting face mask.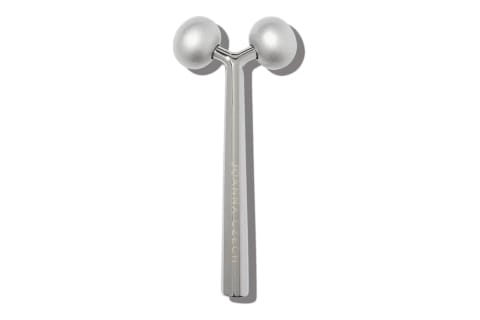 Tatcha The Liquid Silk Canvas
$ 54
Just like its name suggests, this primer does, in fact, feel like liquid silk. It also contains silk protein extracts rich in amino acids to condition and soften the skin. Even if you don't wear a stitch of makeup, you should include this primer in your arsenal—it's the perfect final step to seal in all of your skin care.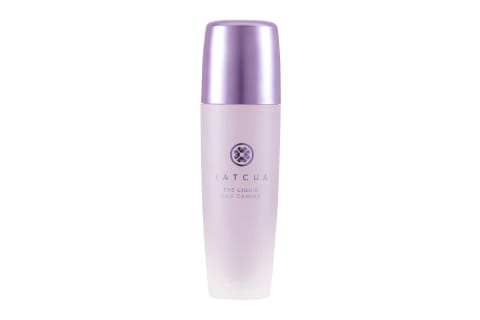 What my clients recommend to me: Esthetician-led exfoliators
"I pick up so many tips from my clients. Before I became friends with Joanna Vargas, Meghan [Markle] introduced me to her. She has this Exfoliating Mask… Meghan introduced me to this product, and I was obsessed with it.
"Because I have such sensitive skin, Meghan knew that I can't use a lot on my face. And I think I was complaining to her about just how patchy my skin was—this was maybe six years ago—and she was like, 'Oh, you should try this mask Joanna Vargas has.' And it's amazing. It's gritty, but it's not a scrub. I used it, and I was just like, 'Oh my God.'
"Then my other client, Maggie Gyllenhaal, was seeing Joanna and was like, 'You just need to go get a facial with her.'"
Joanna Vargas Exfoliating Mask
$ 75
The exfoliating mask that started a beautiful friendship. It contains both physical and chemical exfoliants (kaolin clay, pumice, and lactic acid) to gently buff away dead skin cells and unglue them at the source, so you're left with a beautifully radiant complexion. Then to elevate the brightness even further, you'll find a bouquet of antioxidant-rich fruit extracts, like bilberry, orange, and lemon.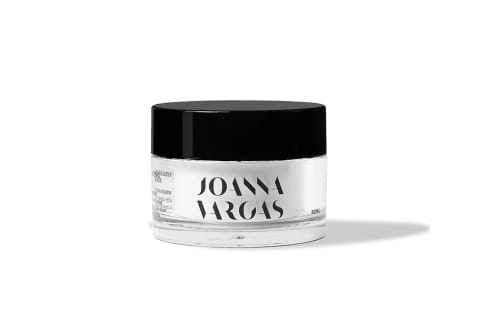 The signature: Skin prep & "no makeup" makeup
"So many people discovered me because of Meghan's wedding. People are like, 'Oh, you're the king of 'no-makeup makeup.' I came from fashion, and no one wears makeup in fashion. Like shooting editorials and stuff like that, you don't really do heavy makeup. So I would say everyone knows me for that.
"For me, I don't want to see makeup on the skin. Once I get the skin to a good place, then the makeup is seamless. A lot of my foundations tend to be water-based, and I do a lot of layering with color just because I can control it. I tend to look at makeup on the face as an accessory.
"So if [clients] want to do a bold lip, I'll keep the eyes pretty subtle. I always try to find a focus and then build the makeup around it. The last thing I want is someone to look at one of my clients and be like, 'Oh, I can see their makeup.'"

Jamie Schneider
Beauty & Health Editor
Jamie Schneider is the Beauty Editor at mindbodygreen. She has a B.A. in Organizational Studies and English from the University of Michigan, and her work has appeared in Coveteur, The Chill Times, and more. In her role at mbg, she reports on everything from the top beauty industry trends, to the gut-skin connection and the microbiome, to the latest expert makeup hacks. She currently lives in Brooklyn, New York.