The Makeup Product This Beauty Editor Wears Daily For Glowing Skin

mbg Beauty Director
By Alexandra Engler
mbg Beauty Director
Alexandra Engler is the Beauty Director. Previously she worked at Harper's Bazaar, Marie Claire, SELF, and Cosmopolitan; her byline has appeared in Esquire, Sports Illustrated, and Allure.com.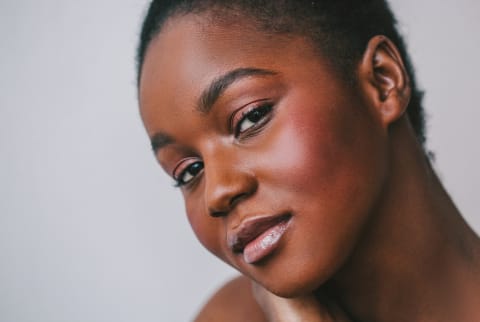 Image by Liliya Rodnikova / Stocksy
Our editors have independently chosen the products listed on this page. If you purchase something mentioned in this article, we may
earn a small commission
.
February 22, 2022
Everyone experiences makeup differently. For me, it's most enjoyable when it feels like finger painting. There's a certain freedom and ease with finding balmy products that melt on your fingers and slip onto your face. Not to mention, I feel most confident when my makeup imparts that dewy, glistening finish. (Certainly, there's a place for a matte look, but I hardly ever visit there.) It's how I always want to look: like me, just a bit more luminescent.
It's why I'm so partial to Bobbi Brown's signature, all-natural aesthetic. The makeup icon is known for creating products that help people enhance all their best features—not reshaping their face or covering up too much. And in Brown's newest endeavor, Jones Road, never has this been more clear.
Advertisement
This ad is displayed using third party content and we do not control its accessibility features.
My makeup cabinet is stocked with several of her Jones Road creations, but none more used than the aptly named Miracle Balm. These precious products are my staple for that coveted all-over glow.
This multi-hyphenate balm is my secret to any makeup look.
Currently, my Jones Road Miracle Balm lineup includes Flushed (their newest hue that's a bright, poppy pink), Dusty Rose (a soft dewy mauve), Au Naturel (a slick, totally sheer finish), and the all-star favorite Magic Hour (a jaw-dropping shimmer that helps your skin catch the light in the most attractive ways). And I use them just as Brown instructed me to: however I feel like it.
I love tapping on the mauve over my blush to add dimension to the color. Or I'll use the vibrant pink on the apples of my cheeks and lips for a sweet monochrome look. The transparent balm goes anywhere and everywhere I want a splash of shine: On my brow bone, cupids' bow, and collarbone. And for Magic Hour? Well, if I could I'd bathe it in. The soft-focus hue looks heavenly anywhere you tap it on.
The texture's a solid balm, so to break into the product you need to firmly press your fingers and take a small scoop. I find it looks best when you warm it up a bit between your fingers, as it sinks into the skin easier—but you can press it in as is for a thicker, more opaque finish. As I noted, I'm always one to finger-paint my makeup on, but brushes and sponges work just fine if that's more in your comfort zone.
If this sounds like vague application advice, that's the point: These balms are so effortless, you don't need step-by-step instructions. They work best when you have fun with placement, color, and texture. Allow yourself to enjoy the product—instead of being constrained by it.
I feel & look good while wearing it.
This wouldn't be a mindbodygreen beauty product review without dabbling into a little formulary chat, now would it? After all, a product is only as good as the ingredients that make it up. Delicious aesthetics aside, this balm contains a blend of high-quality botanicals—many of which make up my normal skin care routine. Given I wear this almost every day, I figure my skin should be getting something out of it, too.
The base is a jojoba and argan oil blend, two antioxidant-rich options that come with glowing recommendations from derms and skin care experts. For those who need a refresher: Antioxidants come with loads of benefits including protecting your skin from free radicals and brightening tone, which make them must-haves for most skin care products. I'm partial to jojoba oil in particular, as it's a lightweight oil, which I suspect lends this balm its slick spreadability and light finish. (Not to mention, it's structurally similar to your skin's natural oils so your skin reacts better to it than thicker numbers.) From there, it folds in vitamin E for its anti-inflammatory properties, ability to strengthen the skin barrier, and help you deal with environmental stressors. Not bad for a makeup product.
While the formula leaves out many of the buzzed-about ingredients to avoid (parabens, PEGs, and the like), I was particularly interested in their decision to forgo cyclic silicones. Silicones are a nuanced category of ingredients that comes down to your personal preferences, skin and hair tolerability, and (most notably) the type of silicone being used. While I don't tell people they need to avoid silicones altogether if they don't want to, I do highly recommend that people stop using this type in particular.
Here's why: Cyclic silicones do not break down easily in water. And we must remember, even if we are able to wash a product off our face at the end of the night, it doesn't just disappear—everything we use must go back to the earth eventually. These are shown to bioaccumulate in our water supply and can take hundreds of years to break down, contributing to aquatic pollution. Increasingly, we're seeing brands skip them for this reason—but certainly it's not mainstream at the moment. I always appreciate when brands are ahead of the ingredient curve.
Advertisement
This ad is displayed using third party content and we do not control its accessibility features.
The takeaway.
For those looking for a multifunctional balm that they can feel good about using (in more ways than one), there's none more appealing than this dewy number. And in a collection of delicious shades, you'll be sure to find one (or several, like me) that speak to you.
Advertisement
This ad is displayed using third party content and we do not control its accessibility features.

Alexandra Engler
mbg Beauty Director
Alexandra Engler is the Beauty Director at mindbodygreen. She received her journalism degree from Marquette University, graduating first in the department. She has worked at many top publications and brands including Harper's Bazaar, Marie Claire, SELF, and Cosmopolitan; her byline has appeared in Esquire, Sports Illustrated, and Allure.com. In her current role, she covers all the latest trends and updates in the clean and natural beauty space, as well as travel, financial wellness, and parenting. She has reported on the intricacies of product formulations, the diversification of the beauty industry, and and in-depth look on how to treat acne from the inside, out (after a decade-long struggle with the skin condition herself). She lives in Brooklyn, New York.