I've Tried A Lot Of CBD, But I Keep Coming Back To Beam's The One*

March 25, 2023
We carefully vet all products and services featured on mindbodygreen using our
commerce guidelines.
Our selections are never influenced by the commissions earned from our links.
Rewind a few years: I was gearing up to start training for my second marathon, when the 2018 Farm Bill declared industrial hemp (i.e., defined as containing less than 0.3% of the cannabinoid delta-9 THC by dry weight) and hemp-derived products legal. In what felt like an instant, hemp-derived CBD options started flooding the scene, with new brands popping up, and new benefits being touted. I've never been a particularly high-stress person, so claims that the substance could reduce anxiousness didn't quite pull me in—but when I learned CBD was being used by athletes to help with inflammatory pathways, resilience, and performance1, my interest was officially piqued.*
I was first introduced to Beam through an Instagram ad, and while I am a sucker for good branding, what really drew me in was the company's focus on recovery. The brand was founded by two former professional athletes, who explained that pushing their bodies to their limits was taking a toll in the form of joint aches. The two experienced the benefits of hemp CBD for themselves, but weren't wowed by the quality of the options on the market at the time. This sentiment of training-induced aches hit particularly close to home, so I decided to give Beam's hemp-derived oil a whirl.
That's right, Beam's The One tincture was the first CBD product I ever tried. I'll admit, I've tried quite a few since, but I can't stop coming back to this brand. Seriously, subscribing to this product has been one of the most impactful things I've done for my well-being and workout recovery. (Pro Tip: There's no commitment for the subscription, so you can skip or cancel at any time!)
What sets Beam apart from other brands
Beam focuses on broad-spectrum CBD products, which retains the many beneficial compounds found in the hemp plant but removes any traces of THC. This allows users to capitalize on the essence of the entourage effect without worrying about even trace levels of THC present in full-spectrum hemp. The brand also opts for nano hemp, with smaller particles for absorption.
When creating The One tincture, Beam combines this nano hemp with hemp seed and grape seed oil, as well as organic peppermint oil (for the mint variety). The hemp is sourced from farms in Colorado, Oregon, California, and Montana, and the brand provides access to COAs (certificates of analysis) for all products, which share third-party testing results confirming the same amount of CBD as advertised, as well as trace levels of heavy metals and other contaminants. Once I wrapped my research on Beam, I felt confident that I could trust the brand, along with connecting to its focus on recovery.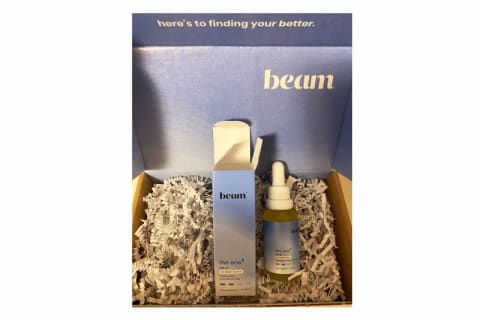 The benefits of Beam CBD
I have to say, I felt the impact of hemp extract CBD the very first time I tried it. I quickly realized that I actually had been a bit tense and worried, but I simply wasn't acknowledging it. I tried one serving of Beam's CBD on the morning of a big meeting at work, and I was shocked by how at-ease I felt throughout the day.* I soon grew accustomed to the sense of calm—enough so that I began taking the CBD oil every day. And that's not to say I was a moody person before, but I swear I felt less bothered by little stresses throughout the work day, too.*
From a training perspective, over time I realized that my body was bouncing back much faster after tough workouts and long runs. Whether this was from the CBD oil's support for my body's inflammatory response, or the fact that it was improving my sleep by helping evoke a sense of calm before bedtime, I can't be sure.* But I do know the impact was so significant that I even decided to take a dropper full before my next marathon, and I shaved nearly 10 minutes off my personal record. Plus, I also qualified for the Boston Marathon, which is no easy feat.
It came at no surprise to me when professional athletes like Danica Patrick, Brooke Wells, Billy Horschel, and Colleen Quigley started using Beam's products for better sleep, recovery, and performance.* Some have even chosen to invest in the brand.
My only qualm? The price. With higher quality, comes higher costs. Beam's products are on the expensive side, but there are subscription savings available, which I have been utilizing for years.
How I use CBD oil
Beam's CBD oil comes in four strengths (500mg, 1000mg, 1500mg, and 2000mg) and two flavors (natural and peppermint). Initially, I opted for the 500mg peppermint oil, using it the way most brands advise: taking a single serving under my tongue and holding it there for about 30 seconds before swallowing. I loved that the dropper had labeled measurements, making it incredibly easy to find the right dose.
Soon, I started putting the CBD oil in my morning coffee or matcha. I love the minty flavor it adds, turning my decaf lattes into a better-for-you seasonal beverage. I've since upped my strength to 1500mg. Personally, I adhere to the thought process of consuming CBD during daytime for better focus and at night to help with sleep.*
As I grew more comfortable including CBD in my routine, I started to try other products. This led me to the brands best-selling dream powder, which is like a healthier hot chocolate with incredible sleep-supporting benefits.* I also started using Beam's CBD salve, which I apply directly to achy muscles for immediate relief. However, The One continues to be my tried and true.
The takeaway
There are many CBD brands out there, so it's easy to get overwhelmed in the search for something you can trust. Each of Beam's products has its own benefits, with one thing in common: They all fit seamlessly into your day to help you feel and perform at your best. After trying a lot of great CBD oils over the past four years, I haven't found another tincture that compares. This isn't a product I'd sleep on.
*These statements have not been evaluated by the Food and Drug Administration. These products are not intended to diagnose, treat, cure, or prevent any disease.
If you are pregnant, breastfeeding, or taking medications, consult with your doctor before starting a supplement routine. It is always optimal to consult with a health care provider when considering what supplements are right for you.

Carleigh Ferrante
mbg Commerce Editor
Carleigh Ferrante is the Commerce Editor at mindbodygreen. She is a certified Health & Nutrition Coach and a born and raised New Yorker with a B.A. in Creative Writing and Psychology. Her work has appeared in Bustle, The Zoe Report, PureWow, The Everygirl, and more, covering topics such as fitness, travel, home, fashion, beauty, and dating, sex, and relationships. When she's not testing and reviewing products and services, you can find Carleigh training for her next World Major marathon, planning her next vacation, or interviewing experts on her dating podcast, Mostly Balanced.