Baked Stuffed Avocados Are Our Favorite Way To Upcycle Those Thanksgiving Dinner Leftovers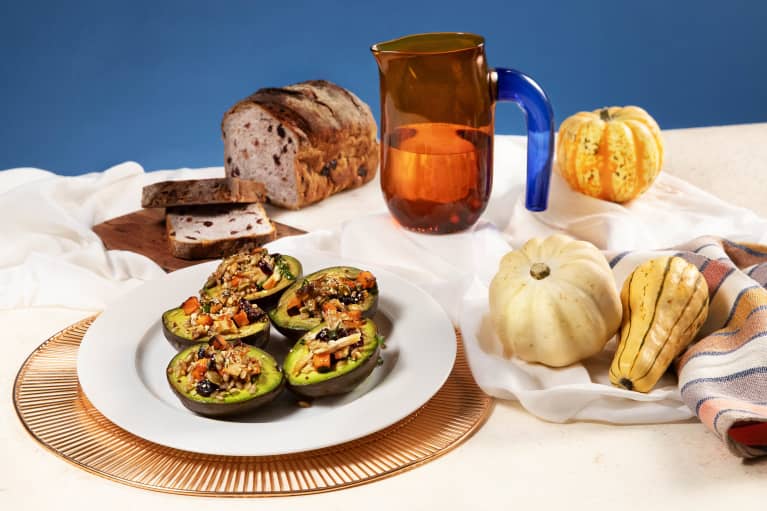 It's the day after Thanksgiving, and your fridge and pantry are probably as stuffed as you are (at least we hope!). What to make with all the extra herbs, leftover sweet potatoes, and Turkey Day dinner garnishes? Three words: Baked. Stuffed. Avocados.
This recipe—perfect for brunch the next morning if you're hosting family or friends—is super easy and versatile. You can essentially stuff anything you have on hand into these avocados (with California's avo season over, our go-to's are always Avocados from Chile). Make your stuffed avos vegan, keto, gluten-free, or dairy-free—either way, we promise it'll hit the spot no matter what.
Makes 4 servings
Ingredients:
4 ripe Avocados from Chile
½ cup shredded turkey
¼ cup grain of choice (we used barley)
¼ cup roasted sweet potatoes, diced ¼ inch
¼ cup parsley, chopped
1 Tbsp. each flaxseeds, chopped walnuts, pumpkin seeds
2 Tbsp. dried cranberries
Olive oil
Salt and pepper to taste
Preheat oven to 400°F. Cut avocados in half and remove the pits; season with salt and pepper and set aside.
In a bowl, add all the remaining ingredients except for the olive oil, and toss to mix. Fill the avocados with the mixture. Drizzle with olive oil and bake for 15 minutes. (Optional: Sprinkle grated parm on top before baking!)