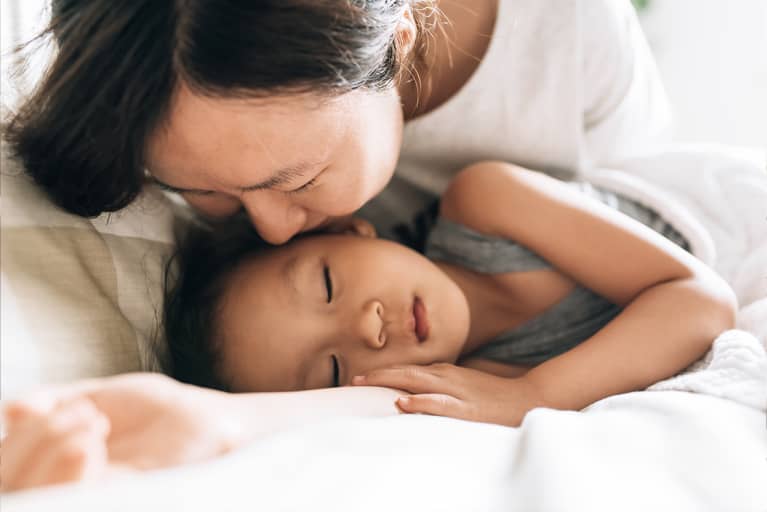 Every year, when fall comes back around, we parents buckle up our seatbelts and hold on tight. Because after the long and playful days of summer, transitioning our kids into a structured school-time routine is one bumpy ride.
Back-to-school time is a hustle, and we all know organization is key. But no matter how many lunches you plan ahead of time, back-to-school season is exhausting. Not just for you, running around town, but for your little one too. And the more rest our kids get as they settle into a new routine, the better (for everyone).
When our kids sleep better, we sleep better—and our back-to-school bustle flows more smoothly. While adults can skate by with seven or so hours of sleep per night—our kids require much more. According to the National Sleep Foundation, our preschoolers need 10 to 13 hours of sleep and our school-age children require 9 to 11 hours. When they're headed back to school, it's more important than ever that they count those sheep—but that's easier said than done, which is why we've collected the latest tips and products by Brentwood Home that help your kids get the deep sleep they need. Because with an über-sustainable, nontoxic kids' mattress, not only is their rest assured—but you can rest assured tomorrow will be an easier day.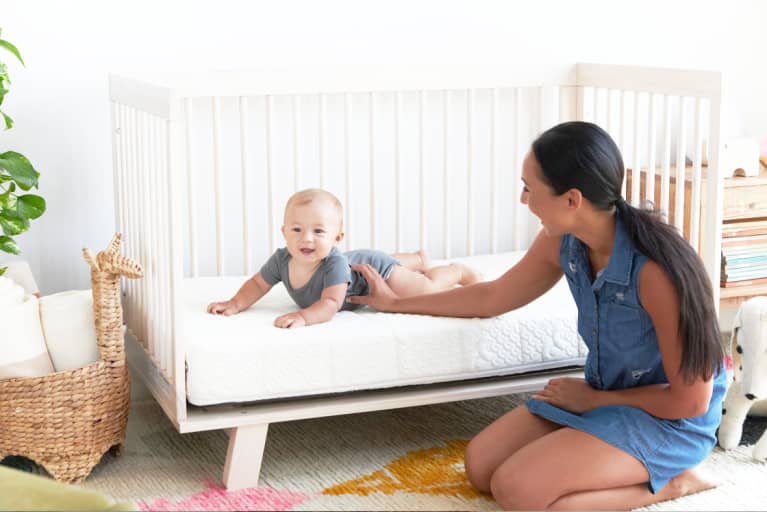 Tip 1: Back to the regular bedtime.
A regular bedtime, and coinciding routine, makes everyone's lives easier. A study by the American Academy of Sleep Medicine found that a regular bedtime routine is associated with better sleep in young children and only gets better with consistency. In the flow of a routine, our kids can wind down and are primed to fall asleep. A good bedtime routine is simple: Keep it short and sweet, and stay away from stimulating activities (i.e., screens). A bath or shower, brushing teeth, and a book will suffice.
Tip 2: Only the best for their rest.
Just like us, feeling supremely cozy puts our kids in the mood for sleep, and that starts with the Brentwood Home Juniper Kids Mattress. Made with a layer of cooling gel memory foam, this bed cushions their growing body and keeps them cooler for better rest. Most importantly, this mattress uses only the safest materials, like GOTS organic and Fair Trade® certified cotton, plus CertiPUR-US® certified foams. This means this mattress is free from chemical flame retardants, heavy metals, or phthalates and is 100% hypoallergenic. It's safe and functional: This mattress is a perfect transition bed or works for bunkbeds down the road!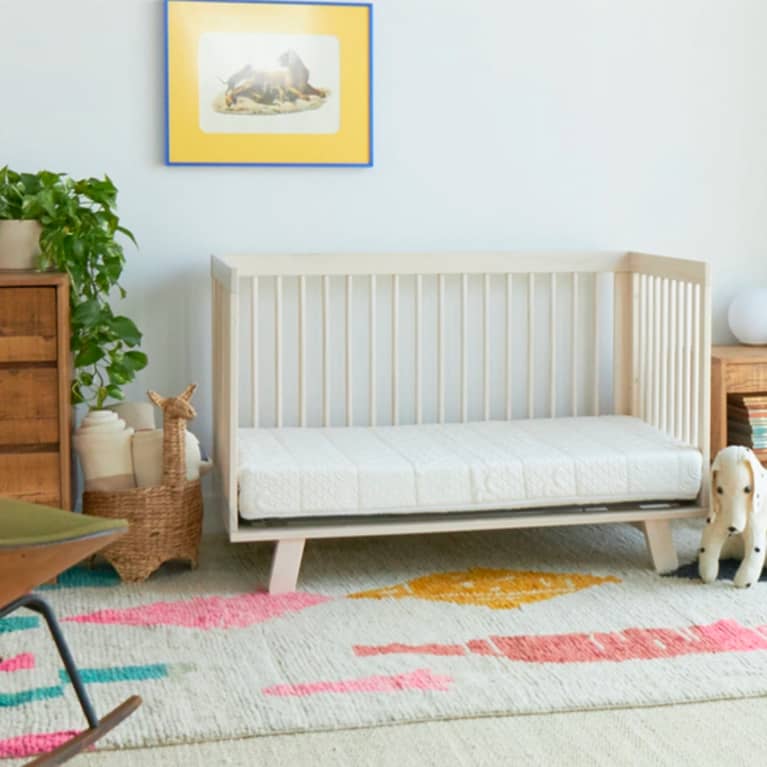 Brentwood Home Juniper Kids Mattress
The Juniper mattress uses safe, healthy materials like GOTS organic and Fair Trade® certified cotton and CertiPUR-US® certified foams. Greenguard Gold certified for safe emissions. It is free of any chemical flame retardants, heavy metals, or phthalates. It's also latex-free and 100% hypoallergenic.
To increase the snuggle factor, you can add a Lilypad Kids Natural Pillow or two. When we know our littles are laying their heads on the highest quality materials, we rest better at night. These plush pillows are made with organic certified kapok, natural latex ribbons, and an organic cotton cover to create a slim, soft design that is best for kids. But if your kids are younger (toddler age), you might opt for the medium-firm support of the Toddler Pillow instead. A growing body requires different forms of support, and Brentwood Home inspires safe and snuggly sleep for all stages.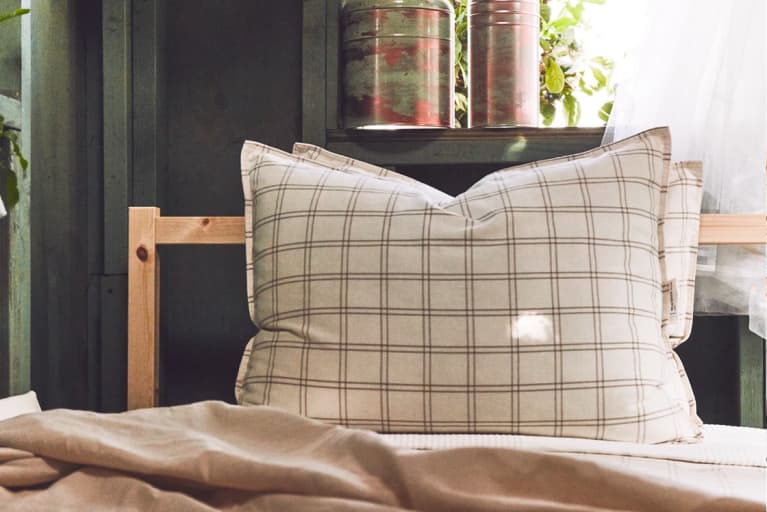 Brentwood Home Lilypad Kids Pillow
The hypoallergenic Lilypad pillow uses safe, healthy materials, like an organic cotton cover, and is free of any chemical flame retardants, heavy metals, or phthalates.
Tip 3: Help your kids feel safe
At some point in their childhood, most kids will face fears and anxiety around bedtime. As parents, it's our role to provide a sense of security. While it's important for them to stay in their own bed—we can soothe them through communication: reassuring them that they are safe, that they can handle sleeping by themselves, and that their bed is a safe place. Security objects like a nightlight or soft toy are also encouraged to help them learn how to fall asleep on their own.
Tip 4: Wear them out during the day.
Chances are (and fingers crossed), your kids are going to be worn out anyway during the back-to-school transition. But the more you can exhaust your kids during the day, the easier they'll fall asleep at their scheduled bedtime. In the afternoon, take them to the park and run them around. Play games around the house, or simply let them loose on the Brentwood Home Play Couch to make the fort of their dreams. Just be mindful not to peak their energy too close to bedtime so they're not too wound up to fall asleep.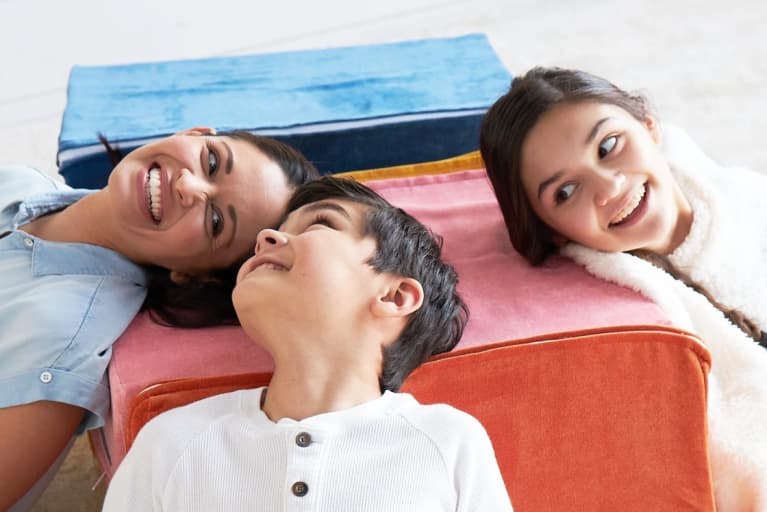 The back-to-school season is a notorious whirlwind for everybody involved. But we don't have to go at it alone—why not collect all the tips we can? Why not lean on brands we trust, like Brentwood Home? Because as crazy as this time of year is, there's much for parents to enjoy. It's exciting to send our kids into a new routine of learning, socializing, and more independence. And when our kids are fully rested, we know we're sending them into their day more successfully... Not to mention, their good day means we sleep soundly at night!