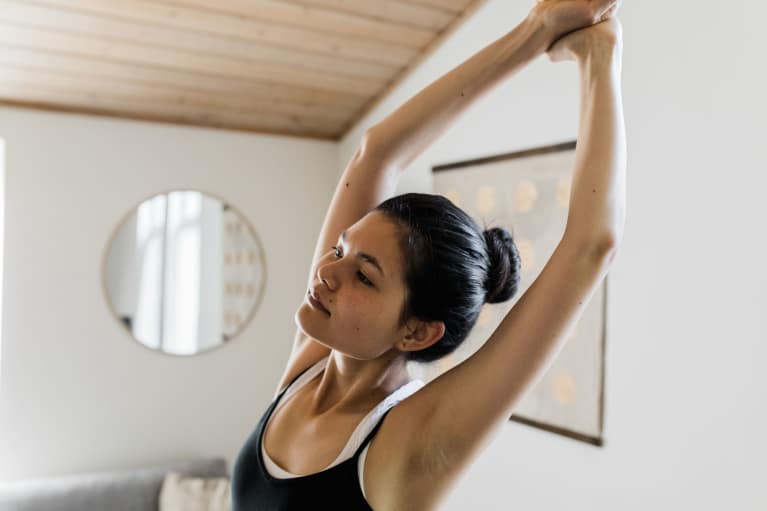 Walking into a new gym or fitness studio class for the first time can feel a lot like the first day of kindergarten: You don't know anyone there, you don't really know where to go, and you're probably wishing you could just head home and watch TV. Throw an unpredictable work schedule or daily family obligations into the mix, and even just sticking to a regular gym routine can sometimes feel inconvenient at best and impossible at worst.
Enter the at-home workout. Trust us when we say it's not about having to buy expensive equipment to reach your goals—but the right movements and instruction can help you become your fittest self without leaving your front door.
Need help getting started? BODYPUMP could be right up your alley. You might know it as that barbell workout class at your gym that combines cardio fast-tempo moves with motivating instructors and heart-pounding music to kick your metabolism into high gear. What you may not know is that you don't actually need a gym membership to do a BODYPUMP workout—the popular studio class is available through Les Mills On Demand, an online library with hundreds of science-backed, 15- to 55-minute daily workouts from yoga and post-pregnancy exercise to HIIT sessions.
Avoiding weights altogether is actually one of the biggest mistakes you can make if you want to improve your fitness.
Here's the thing about barbells and resistance training: There are a few big misconceptions about them that should be cleared up. Avoiding the weights altogether is actually one of the biggest mistakes you can make if you want to improve your fitness. Read on to find out why:
1.
Resistance training burns calories way more efficiently than cardio.
When it comes to weight loss, many gym-goers focus their workouts on cardiovascular exercises as their primary tool. In reality, resistance training is more like "teaching a man to fish." While an hour of low-resistance cardio might expend more calories than weight lifting in the same time, the moment you stop moving your body, that process comes to a halt. And while an hour of resistance training might burn fewer calories during that window, it's ultimately way more effective. That's because adding more muscle to your frame means increasing your caloric expenditure throughout the day, even at rest.
So while typical anaerobic exercise is akin to fishing for a man (go with our analogy here), high-intensity resistance training will turn your body into a more efficient machine that burns more energy throughout the day.
2.
Getting stronger and losing weight go hand-in-hand.
Whether you're training for a half marathon, trying to improve your flexibility, or just want those jeans to fit a little more comfortably, everyone's goal in the gym can (read: should) be summed up in one word: progression. And if you're trying to shed the pounds, science says that pushing your body (and your mind) beyond what they're used to is priority No. 1.
And if you're looking for the most efficient way to lose weight through resistance training, your best bet is thorough fast-tempo, high-intensity workouts. BODYPUMP is a perfect example of this in action—and through Les Mills On Demand, you don't even need to leave your home to reap the benefits. All you need is a weighted bar and a step (and a positive attitude), and you're fully equipped for 55 nonstop minutes of squatting, pressing, lunging, and more. Research shows that this kind of high-repetition, low-load methodology can generate far greater long-term results than using higher weights at lower speeds.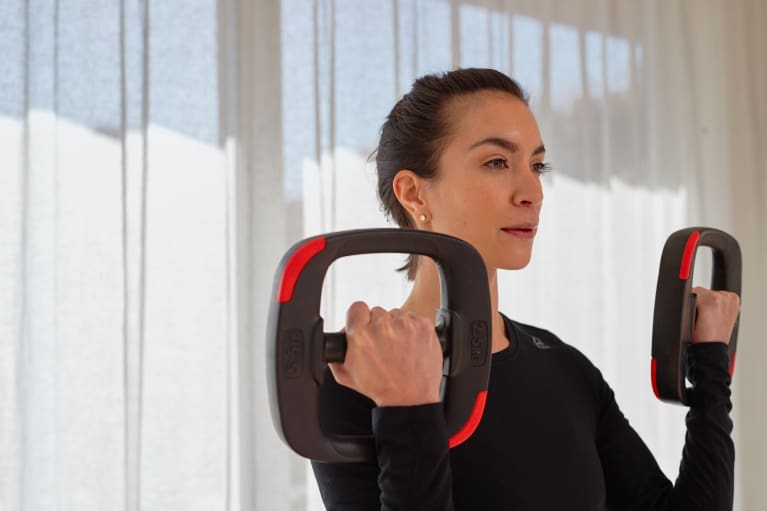 3.
Lifting weights can make you feel empowered in many other ways.
One of the greatest benefits of getting stronger is that it's both a physical and an emotional endeavor—you just have to be committed. Everyone's fitness journey has to start somewhere, just remember that continual progression is the key to getting the most out of any strength training.
You can boost your strength through a variety of methods, like increasing set, repetition, or number of weights used. And when building muscle becomes your focus, you'll gain strength in more ways than one—and learn to actually enjoy your workouts. With the right plan of action, strength training can become your greatest source of empowerment.