This Fall-Flavored Pizza Has A Bonus Healthy, Omega-3 Ingredient
mbg Nutrition & Health Writer
By Eliza Sullivan
mbg Nutrition & Health Writer
Eliza Sullivan is a food writer and SEO editor at mindbodygreen. She writes about food, recipes, and nutrition—among other things. She studied journalism at Boston University.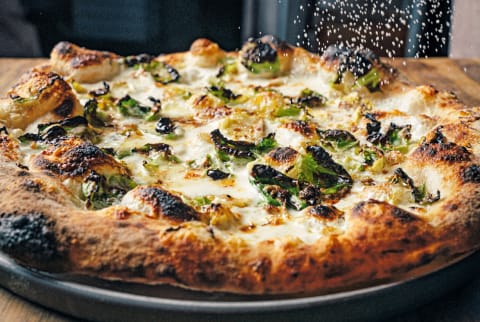 Image by Eric Wolfinger / Contributor
November 10, 2021
We carefully vet all products and services featured on mindbodygreen using our
commerce guidelines.
Our selections are never influenced by the commissions earned from our links.
Making pizza at home is an art—one that Dan Richer of Razza Pizza takes seriously. So seriously, in fact, that his new cookbook, The Joy of Pizza, takes eight pages to explain a detailed method of how to bake your pies at home.
While we couldn't bring all those pages to you, we did make sure that this recipe, adapted from the book, features his essential methods for baking the perfect pizza. This particular pie caught our attention because it includes two foods we particularly love: Brussels sprouts and anchovies.
Two slightly controversial flavors on their own, in this pizza, they're combined with a blend of cheese to make a perfectly balanced pie. Anchovies, in particular, bring some benefits to the party since they're a good source of omega-3s. Plus, in this recipe, they're cooked in high-quality olive oil, which has benefits all its own.
As mentioned, the recipe includes all the details you need for a perfect pie—but when it comes to baking, Richer has a couple more tips: "I'm all about harnessing the heat of the broiler to get the oven and stone or steel even hotter," he explains. "I start by preheating the oven for at least an hour, then turn on the broiler for 10 minutes before I load the pizza. The extra heat absorbed by the stone or steel translates into great oven spring and a sturdy, crisp, well-browned undercarriage."
Richer also mentions that if you don't have the appropriate equipment—like a baking stone or steel—"you can use an inverted half-sheet pan, but it won't retain and transfer heat efficiently, so I don't recommend it." He specifically says that this swap can lead to an under-caramelized base.
But the scariest part of the process? Actually getting your pizza into the oven. The key is making sure you flour the peel first. But if you do find that your pizza is a bit stuck, rather than struggle to fix it, Richer says: "I just fold the dough in half and make it into a calzone, the most delicious way I know to recover from a round pizza failure."
Cavolini (Brussels Sprouts) Pizza
Ingredients
Dough for 1 round 12-inch pizza
90 grams fresh mozzarella, torn or cut into 1-inch pieces
10 grams scamorza, grated
1 cup medium Brussels sprouts, outer leaves peeled, insides shaved into 1- to 2-millimeter-thick slices
1 tablespoon Melted Anchovies (recipe below)
Freshly grated Parmigiano-Reggiano
Method
Stretch the dough and transfer to a floured peel.
Distribute the mozzarella over the pizza dough to the edge of the raised border, followed by the scamorza and Brussels sprouts. Drizzle over the melted anchovies.
To bake: Preheat the oven to its maximum temperature (somewhere between 500°F and 550°F) with a baking stone or steel placed on a rack 6 to 8 inches from the top of the oven. The stone or steel absorbs the oven's heat and transfers it to the dough.
Transferring a blast of heat to the pizza dough is essential for oven spring, crust browning, and caramelization. If you don't have enough heat built up, you're not going to have an adequate heat load to transfer to the food. Preheating the oven for at least an hour will give you the concentrated heat you need for a great final product.
Grip the peel with your dominant hand and open the oven door with your other hand. Land the tip of the peel about a half-inch from the far edge of the stone or steel. Pull the peel swiftly away, cautiously allowing the dough to fall into place.
Don't get discouraged if you don't pull this off at first. This is a legitimately difficult part of the process, and it takes practice. Close the door and turn on the oven light. The pizza needs to bake for 6 to 7 minutes. Set a timer for 3 minutes.
Check the pizza at the 3-minute mark to inspect the oven spring and rim caramelization. Oven spring should be complete—meaning the rim should be prominently raised. Caramelization should be in progress—meaning the rim will be beginning to brown.
Most ovens have hot spots, so if you see one part is cooking more quickly than another, slide the peel underneath the pizza and use your fingers or tongs to reposition it so the pizza cooks evenly, then close the door quickly.
The pizza should be baked and the toppings should be melted or cooked within 6 to 7 minutes total, but use your intuition to tell when the pizza is done.
Serve immediately, dusted with Parmigiano-Reggiano.
Melted Anchovy
Ingredients
1 cup extra-virgin olive oil
100 grams peeled whole garlic cloves, crushed
200 grams salted anchovy fillets, rinsed, soaked, and deboned, or high-quality anchovies packed in olive oil, drained
Method
Heat the olive oil and garlic in a small pot over medium heat. Once the cloves start to take on a bit of color, about 5 minutes, add the anchovies.
Cook, breaking the anchovies up with the back of a spoon, until the fillets are melted into the oil and the garlic is deeply tender, about 40 minutes. Mash the garlic.
Remove from the heat and set aside to cool. The melted anchovies will keep in a sealed container in the refrigerator for 5 days.
Adapted from JOY OF PIZZA by Dan Richer with Katie Parla. Copyright © 2021 by Dan Richer. Photographs by Eric Wolfinger. Illustrations by Katie Shelly. Used with permission of Voracious, an imprint of Little, Brown and Company. New York, New York. All rights reserved.
Eliza Sullivan
mbg Nutrition & Health Writer
Eliza Sullivan is an SEO Editor at mindbodygreen, where she writes about food, recipes, and nutrition—among other things. She received a B.S. in journalism and B.A. in english literature with honors from Boston University, and she has previously written for Boston Magazine, TheTaste.ie, and SUITCASE magazine.