How To Eat In A Way That 'Speaks' To Your Genes, According To An RD
Contributing writer
By Amanda Archibald, R.D.
Contributing writer
Amanda is a Registered Dietitian with extensive training in nutrition biochemistry, nutrigenomics and functional nutrition. She is the founder of The Genomic Kitchen, a website that provides online courses, virtual coaching, and in-person instruction.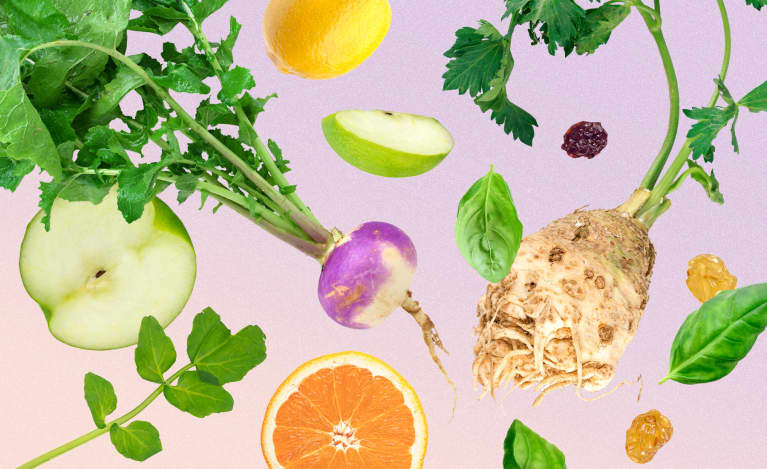 Our editors have independently chosen the products listed on this page. If you purchase something mentioned in this article, we may
earn a small commission
.
Have you ever wondered how the way we eat affects our genes? According to Amanda Archibald, R.D., and her book,
The Genomic Kitchen: Your Guide to Understanding and Using the Food-Gene Connection for a Lifetime of Health
, our diets are crucial for the health of our DNA. Different foods and ingredients have unique capabilities that can promote the health of our cells, and although the science is rather new and cutting-edge, the harmonious union between genomic science and food science has been shown to be so important for modern-day health. To learn more about the concept of culinary genomics (and for a yummy recipe to test out your new knowledge), check out this excerpt below.
Genomic medicine offers a new approach to personalizing health care, one that uses your unique gene blueprint as a powerful insight into how your genes respond to nutrients, exercise, life stressors, environmental pollutants, and medications. It does not get any more personal than you.
Nutrigenomics, which looks at nutrition through the lens of genes and how they are affected by what and how you eat, is an exciting, relatively young offshoot of the broader study of genetics. Both are highly complex fields that are rapidly evolving as researchers attempt to untangle the relationship between nutrition and the unique blueprint of our bodies, our genes. The field explores how various classes of substances found in our diet can affect how genes express themselves at the molecular level to have a positive or negative effect on our health, our behavior, and even our emotions.
The field of nutrigenomics, genomics seen through the lens of nutrition science, helps us understand how specific nutrients and other non-nutritional compounds found in food influence gene activity. Nutrigenomics informs us how food interacts with specific genes and in which way (cooked or raw, for example).
Culinary genomics is a term I devised to describe the union of genomic science, nutrition science, food science (how food responds to growing, storage, and cooking techniques), and the culinary arts to transform the home kitchen into a resource for modern-day health. The discipline involves the selection and preparation of ingredients that are designed to influence key health-giving aspects of gene behavior. In the vernacular of the Genomic Kitchen, a system I devised to empower every one of us with this game-changing nutritional insight, culinary genomics involves paying particular attention to antioxidants, inflammation, metabolism, and your microbiome.
Fermented foods are a foundational component of culinary genomics since the gut—and its microbiome—is the gateway to health. A finely tuned gut allows us to absorb the nutrients that serve as information to the body and its complex biochemical pathways. Fermented foods deliver a unique set of information, providing the body with useful data for its 24/7 functioning.
We now know that some compounds, such as sulforaphane, a compound created when we chop cabbage or bite into Brussels sprouts, can activate influential genes that have a dynamic effect on our health. This same sulforaphane compound can be produced by beneficial bacteria in the gut. This being the case, bacteria in the gut contributes to food-gene relationships and, subsequently, to our health.
Genomics uncovers why some people struggle more with weight than others and why some people may be more likely to suffer from anxiety and depression or struggle to control their blood sugar. By understanding the nature of how food, the environment, and our lifestyle choices influence our genes, we can begin to understand health phenomena such as longevity. In this way, genomic medicine cuts through the nutrition noise.
We are at the dawn of a new era in food and a new era in medicine. Never before has the kitchen played a more pivotal role in health. Whether you are a classically trained chef, an avid home cook, or just an individual trying to eat for your well-being, these are watershed times. We have finally reached a moment when we can empirically trace the connections between food, how you prepare it, and how that affects your innate biochemistry. Medicine and the culinary arts are now walking hand in hand, forging perhaps the most dynamic and revelatory food conversation and health opportunity in history.
Root Vegetable Slaw Recipe
How to make root vegetable lovers out of root vegetable haters? Mix fruit with the roots and a punch of citrus acidity, and you'll have a room full of root lovers and no leftovers. Try this juicy and adaptable slaw to make use of roots and fall fruits.
Serves 4
Juice and zest of 1 lemon
2 cups peeled and grated tart apple (about 3 apples)
2½ cups grated root vegetable—such as celeriac, rutabaga, turnip, or golden beet
Juice and zest of ½ large orange
1 tablespoon olive oil
¼ teaspoon salt
Pinch cayenne (optional)
⅓ cup slivered fresh basil or 2 tablespoons slivered mint
Generous handful of fresh arugula, watercress, baby kale, or finely sliced baby bok choy leaves
½ cup raisins, golden raisins, cranberries, or sour cherries
Note: You can also use jicama instead of the root vegetables, or mix jicama with the roots. Jicama is a prebiotic-rich vegetable with a sweet juicy taste. Jicama adds powerful "information" for your gut!
As soon as you have grated the apple and root vegetables, toss with the lemon zest and juice to prevent browning.
Stir in orange juice, olive oil, salt, and cayenne. Coat ingredients well to distribute flavors.
Just before serving, gently fold in herbs, greens, and raisins.
Do a quick taste test. If the salad is too tart for your taste, add a drizzle of honey or maple syrup to punch in some sweetness.
How root vegetable slaw ingredients "speak" to your genes.
Apples contain quercetin, a bioactive that can activate or turn on the "firehose" pathway we call NrF2. Quercetin can also block activation of pro-inflammatory genes TNF-alpha and the Nf-kB pathway.
The addition of arugula, watercress, baby kale, or bok choy leaves just prior to serving provides sulforaphane, yet another powerful bioactive that can also activate the NrF2 firehose.
Citrus is a nutrient-rich ingredient that provides the core nutrients to support highly influential biochemical pathways. These biochemical pathways link (like teeth on gears) and produce important molecules to support detoxification, neurotransmitters, or "neurotalkers," such as dopamine for the brain, and molecules that support DNA production and repair, for example.
Noteworthy recent research (2017) also demonstrated that citrus peel (we use it as zest in recipes) is a source of THREE bioactive compounds that are capable of blocking an enzyme that is integral to the formation of the amyloid plaque associated with Alzheimer's disease.
At the Genomic Kitchen, we think about the abundance of citrus in the Mediterranean region, which uncannily also has a much lower incidence of Alzheimer's disease.
Olive oil is rich in many bioactives capable of activating the NrF2 firehose response. Once again, we think of the health and longevity associated with the Mediterranean region. We can point out ingredients, such as citrus and olive oil, which are rich in bioactives and are a natural part of cuisine, and which also speak to our genes!
The addition of raw crucifers prior to serving preserves the valuable sulforaphane ingredients that turn on NrF2 firehose.