A Resurfacing Serum That's Safe For Sensitive Skin, Beauty-Editor-Approved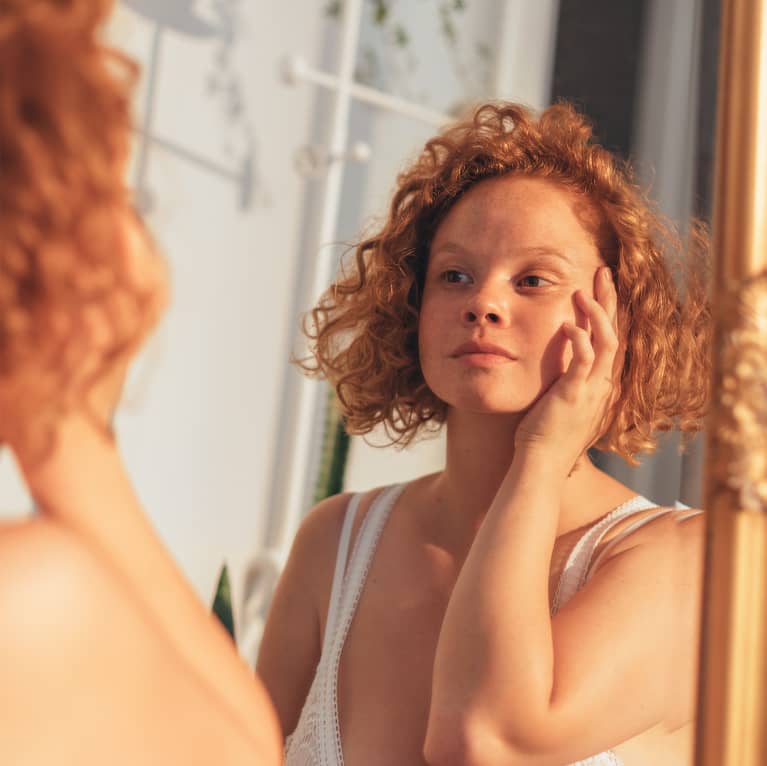 Our editors have independently chosen the products listed on this page. If you purchase something mentioned in this article, we may
earn a small commission
.
There is no one way to glowing skin. What works for those with acne will look far different from a routine that works for someone with dry or aging skin. That's why skin care is so personal. It's also an ever-evolving process, as you may find your skin changes over time, meaning you can react differently to ingredients at various stages of your life. (Read: What works for you now may not even work for you in a few months!) I always keep this in mind when I dish out product recommendations—and take recommendations from others, for that matter.
So here's where I'm at on my skin care journey: I have sensitive skin, which is becoming increasingly so as I age. And with age comes the same skin care woes many others experience: texture changes, fine lines, and a peppering of adult acne.
This leaves me in an interesting spot when treating my skin—especially in regard to exfoliation.
Why those with sensitive skin need to be careful with exfoliation.
The way beauty folk talk about exfoliation may lead you to believe that every single person absolutely needs to be exfoliating their skin, and doing so daily: That's simply not true. "Exfoliation isn't for everyone," says board-certified dermatologist Raechele Cochran Gathers, M.D. "People with certain skin conditions, very sensitive skin, or those who use certain sensitizing skin care products may become more irritated with exfoliation, so before exfoliating, it's important to know your skin type and be aware of any sensitivities that you may have."
However, exfoliation comes with some pretty enticing benefits—namely those with acne who are looking to slough off potentially pore-clogging dead skin cells or those with aging skin looking to revive tone and encourage cell turnover.
Which leads me to my particular issue: I have very sensitive skin and fall into the category of people for whom exfoliation really shouldn't be a priority—and certainly shouldn't be done with regularity. My skin barrier is already quite weak as it is, and I need all the help I can get to keep it functioning properly. However, I simply cannot help but be lured by the promises of exfoliation: I want my pores clean and congestion-free, and, yes, I also want help tending to any signs of premature aging.
So what am I supposed to do? Well, it took a significant amount of testing over the course of several years, but I believe I found the best retexturing serum for sensitive-skin folk like me.
The only exfoliator I trust for my sensitive skin.
Since being introduced to Biossance Squalane + Lactic Acid Resurfacing Night Serum several months ago, I have collected my fair share of empties. For someone who tests products for a living—albeit, trying to cut down on just how many for the sake of sustainability and practicing the "less is more" attitude of beauty I so often preach—returning to a singular product on multiple occasions is something of note.
That's because anytime I stray from the serum and try another exfoliator (be it a peel, scrub, or other leave-on product), I almost always get some sort of rosacea flare-up. My skin will sting, get tomato red, and small angry bumps will start appearing around my nose, cheeks, and chin. Depending on the strength of the product, I may even start peeling and flaking. Not great.
This serum does none of that, even after pretty regular use. (By regular, I mean a few times a week; I still never use an exfoliator daily, even if a product says you can—I need days when I simply go all-in on moisture and antioxidants.) But I love it not just for what it doesn't do but for what it does: This serum will smooth out texture, fade fine lines, and tend to clogged pores, and does so remarkably fast. In just a week, my complexion was brighter (like glow-on-the-Zoom-screen bright), and the slightly hilly texture on my cheeks was noticeably less apparent. On my forehead, where I seem to be developing my first pencil markings of fine lines, my skin was taut and firm.
This was all due to the lactic acid, an alpha-hydroxy acid (AHA). AHAs are exfoliators that work by breaking down the bonds between dead skin cells, thereby sloughing off any excess buildup. (Rather than working to dissolve oil, like BHAs.) When it comes to AHAs, lactic acid has one of the larger molecules in the group, which means it can't penetrate as deeply as others. This means all of the hard work of the acid happens on the surface of the skin, which decreases the amount of irritation and helps to protect the skin barrier.
But another benefit from using the serum: My skin was so deliciously hydrated, too. Often when I use an exfoliating product, the best I hope for is "not dry"—never do I expect the outcome to be more moisturized. That's thanks to the brand's signature squalane. Squalane is an ingredient that's actually produced naturally in the skin as part of our skin barrier (like ceramides or hyaluronic acid). When used in skin care, it functions as an emollient, soothing the moisture barrier and helping fill in cracks or damaged spots. Read: great for people who have weakened barriers inherently.
If you have sensitive skin, you are probably rightfully scared of exfoliation. While everyone else gets to sing its praises of glowing skin and clear complexion, for us it means irritation, dryness, discoloration, and a laundry list of other issues. But if you're like me and still looking for something to encourage skin cell turnover, this lactic acid and squalane blend may be your best bet.