This Allergy-Relieving, Inflammation-Fighting Apple Cider Vinegar Spring Tonic Will Make You Feel Better, Stat
Contributing Food Editor
By Liz Moody
Contributing Food Editor
Liz Moody is a food editor, recipe developer and green smoothie enthusiast. She received her creative writing and psychology degree from The University of California, Berkeley. Moody is the author of two cookbooks: Healthier Together and Glow Pops and the host of the Healthier Together podcast.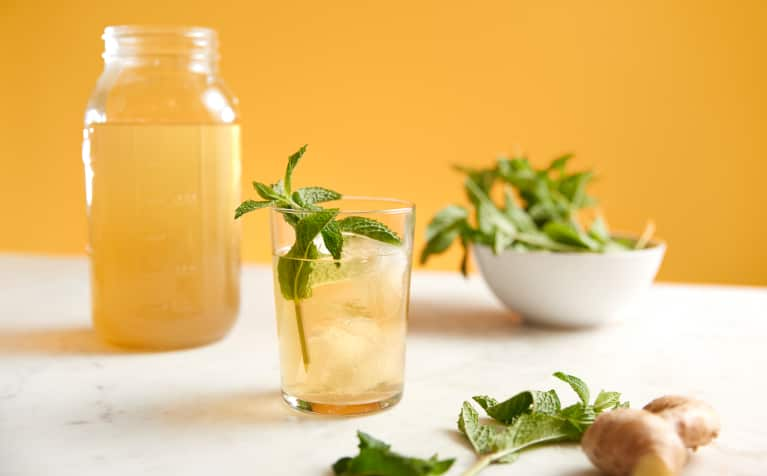 Here at mbg, we're all about Food With Benefits—whether those benefits save you money, time, or help heal your body. In our video series, we'll show you how to make delectable recipes, each with a unique benefit. Whether it's a dinner for four for under $5, or a dessert designed to heal your thyroid, these meals, snacks, and desserts will make inspire you and make your mouth water! Up today: how to make an allergy-relieving tonic you can sip all summer long.
It's not your imagination—allergy season is particularly bad this year. If you're sniffling and rubbing your eyes daily, fear not: There are a number of science-backed ingredients that can help stave off those miserable symptoms, and they all come together in this delicious tonic. Nettle tea has been shown in multiple studies to help with allergies and stave off the inflammation at their root. Because inflammation is often related to poor gut health, the tonic includes ginger, mint leaves, and apple cider vinegar, all proven gut-health and digestion boosters that will keep your immune system strong and inflammation levels low. Finally, the raw, local honey can act as an inoculation against pollen from your particular region.
Best of all? It tastes really, really good, so you'll never dread sipping the stuff. Whip up a batch every weekend to keep in your fridge and stave off your allergies all week long.
Allergy-Relieving Apple Cider Vinegar Spring Tonic
5 bags nettle tea
1 tablespoon grated fresh ginger
1 cup packed fresh mint leaves
4 tablespoons apple cider vinegar
4 tablespoons raw, local honey
5 cups water
Boil water. Pour over nettle tea, ginger, and mint leaves.
Cover and let steep for 10 minutes, then strain, reserving liquid and discarding solids.
Let cool until just warm to the touch, then stir in the apple cider vinegar and honey. Store in the fridge and drink one cup daily.
Psst: This is the best allergy-relieving tea we've ever tried!