Feeling Anxious? Use These 3 Acupressure Points To Calm Your Nerves, Stat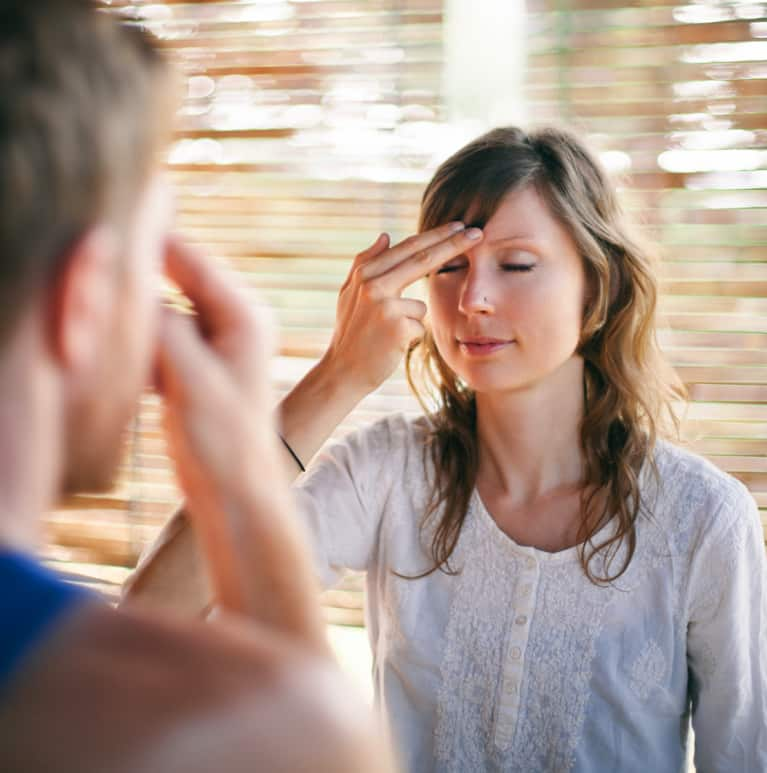 In my late 20s, I was burned by a pressure cooker explosion and was riddled with second- and third-degree burns on my body and face. It took a year to heal, but I've never totally healed from trauma and chronic anxiety. When I'm having minor anxiety or just need a timeout, I use these acupressure points on myself, my kids, and even my dog. These pressure points are an easy and fast go-to tool when you need to reconnect with your breath and help yourself calm down.
Acupressure is similar to acupuncture in that it stimulates certain points on the body that facilitate the mind-body connection. Acupressure, however, uses the healing touch of a finger to activate the benefits of the acupuncture points that run up and down our bodies. While I feel that acupuncture can be more effective because several needles can work harmoniously together to create optimum flow, acupressure is an excellent healing method when you want to address something quickly and you can't get to an acupuncturist in the moment.
Refocus your energy with Hall of Impression (Yin Tang).
Yin Tang is a very popular point to use among acupuncturists. It's the one point that can tie a whole point prescription together and help a patient go deeper into a healing treatment. It calms the mind, body, and spirit and can help ease headaches as well as sinus blockage. Located right in between the eyebrows, I like to use my index finger and massage in a counterclockwise motion (toward your right eye) to invoke calmness and a clockwise position (toward your left eye) to revitalize your mind.
I use Yin Tang on myself for just a few minutes before responding to a tricky situation that requires me to be patient and calm rather than reactive. Some days after multitasking for hours, I find my nerves twisted in knots and just can't bring myself to understand why my kids do what they do. This point helps me take a moment to refocus my energy and remind myself how wonderful life is and to appreciate everything presented to me, however challenging.
Calm your racing heart with Inner Gate (Pericardium 6).
This point is named "Inner Gate" on the pericardium channel, most likely referring to its ability to be the gateway to the heart. It is located three finger widths below the wrist on the inner forearm (palm side of the hand) in-between the two tendons. I recommend using your right thumb to press on your left wrist, the left side being more effective for anxiety as it is on the same side of the heart. Massage or press down steadily to stimulate this area for four to five seconds. Oftentimes the sorest area is the best area to focus on. Repeat five or six times.
When my dog gets in a car, anxiety hits her little 12-pound body hard and quick. Her heart rate races, she paces in a circle in the passenger seat and won't sit down until she pants and whines so much, she makes herself vomit. I have learned over the years that I need to sit with her in the car so that I can do acupressure on her while we drive. This acupressure point calms her down, decreases her heart rate, and allows her to sit and enjoy the ride.
Lull yourself (or your kids) to sleep with Great Tower Gate (Ren 14).
Great Tower Gate is located directly above the umbilicus and right below the diaphragm in the apex where the ribs meet. This point can be sore for people with anxiety who have difficulty taking a deep breath. It's used to help pain in the cardiac region, reduce palpitations, and can help with stomach pain and vomiting. Pressure on this area can help secure a deep breath when shallow, and rapid breathing occurs during an anxiety attack.
When I'm putting my children to sleep, sometimes they are riled up and would much rather play a game of hide-and-seek or have a dance party. I, on the other hand, am ready for their night to end and mine to begin! I lie in bed with them and use this acupressure point, which helps calm their energy down and prepares them for a good night's slumber.
Try this video for more acupressure points to relieve anxiety. And if it helps, you're not alone—here are 10 real people on what really worked to help their anxiety.