paid content
 for

What This Model-Turned-Health-Coach Does To Heal Her Gut + Make Her Skin Glow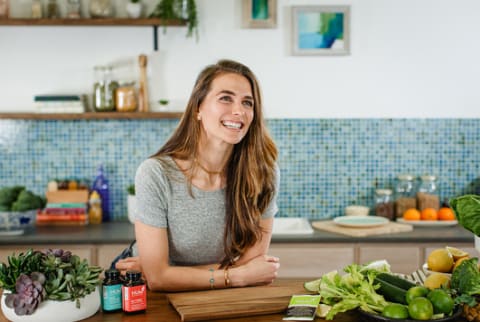 Photo by BrakeThrough Media
March 17, 2017
The word "beauty" has such a different meaning for me today than it did in the past. It took a lot of life experience to get me where I am today, but the most important thing I've learned is that beauty starts from within—everything from the food you're eating and the supplements you're taking to the thoughts you're thinking.
Every thought and substance that flows through your body makes a difference in the way you look and feel!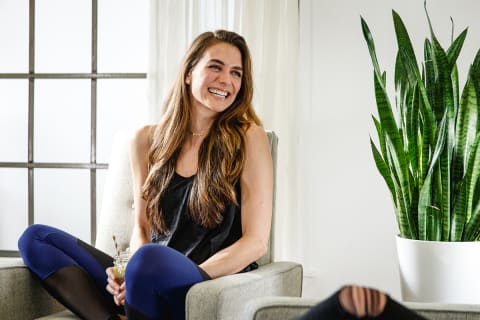 Photo by BrakeThrough Media
Inside-Out, Outside-In Beauty
Looking and feeling great in my own skin has always been my ultimate goal. But it hasn't always been that simple for me. Seeing me today, you might never know that I was once a girl who hid behind layers of makeup. I was painfully insecure and knew no other language than negative self-talk.
I was suffering from painful and recurrent cystic acne, which is what first ignited my mission to better understand what the underlying cause was. I started educating myself on nutrition, and paying more attention to what I was putting into my body. In addition to this, I became more spiritual, which helped me to understand that my negative thoughts were impairing my overall health.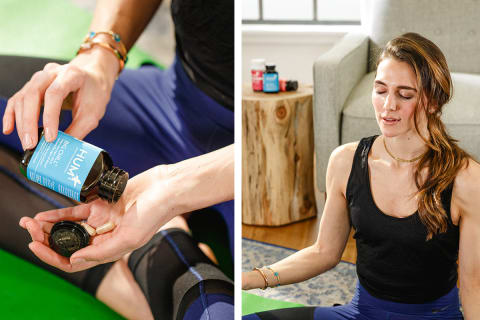 Photo by BrakeThrough Media
Peace of Mind
I learned how to meditate, which helped me quiet the voice in my head that kept saying, "you're not good enough." I also found that taking an adaptogenic herb like Rhodiola rosea, found in HUM Nutrition's Big Chill supplement, helped me to cope with and reduce stress in my body.
On the flip side, when I'm in need of an extra boost I cannot express how immediately you feel the effects of the HUM Nutrition's B12 Turbo (that name says it all). This vegan supplement will boost your energy, memory, and mood like magic. I also started juicing daily, and transitioned to a plant-based diet. After that, I started seeing immediate changes in my skin, hair, and nails as I became more conscious of what I was putting into my body.
Here are some of my favorite things that I swear by in helping me look and feel my absolute best:
A.M. Ritual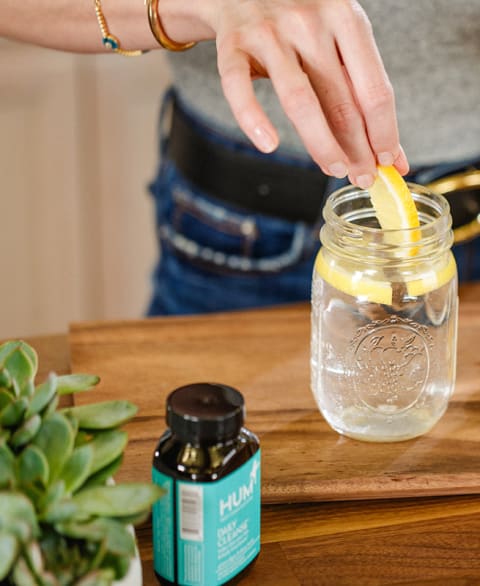 Photo by BrakeThrough Media
Start the morning with a glass of warm water with lemon and grated ginger, a good-quality probiotic, and a fresh green juice. I love HUM Nutrition's Gut Instinct probiotic blend because of the lactobacillus and bifidobacterium combo that helps ease digestion and suppress bad bacteria in the gut.
I also follow, teach, and live by food combining principles for optimal digestion. For instance, I highly recommend eating fruit on an empty stomach or blended with greens in a juice or smoothie because fruit digests faster than any other food group. It's crucial for our gut health to properly digest everything you're putting in your body. What you don't digest sits in your gut and builds toxins. These toxins will show themselves in many different forms: acne, weight gain, hair loss, weak nails, low energy, etc.
Good Gut Health Is Your Secret Weapon
If you are suffering from poor digestion, I recommend taking HUM's Daily Cleanse in the morning on an empty stomach. I love this formulation because it contains chlorella, spirulina, and dandelion leaf—all amazing for digestion and cleansing. This bad boy will get things moving, if you know what I mean! Hey…it's the key to good health, good skin, good hair, and strong nails. The cleaner your gut health is, the more beautiful your hair, skin, and nails will be.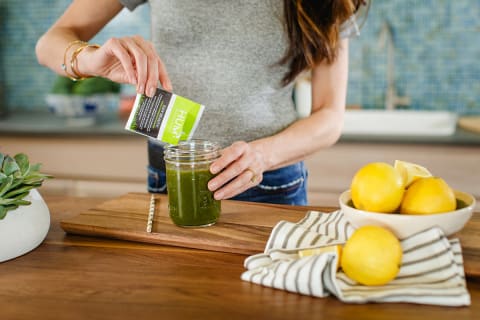 Photo by BrakeThrough Media
Glowing Green Juice
As I mentioned before, juicing daily has been a huge part of my health journey. This is my favorite green juice recipe for instantly glowing skin, shiny hair, strong nails, and optimal digestion.
4 kale leaves—kale is high in fiber, vitamins A and K, and is anti-inflammatory.
4-6 romaine leaves—romaine contains biotin, which is great for the hair and nails.
4 celery stalks—celery is an excellent source of antioxidants and beneficial enzymes to help aid in good digestion.
1 cucumber—they're made of mostly water, which is excellent for gorgeous hair, skin, and nails.
1 large carrot—carrots are rich in vitamins A, C, and K for beautiful, youthful skin.
1 broccoli stalk (yes, the stalk of the broccoli)—broccoli is one of the most nutritious vegetables. It provides vitamin C, calcium, potassium, and iron.
½ aloe vera leaf—aloe is great for constipation, clearing the skin, digestion, and creating an alkaline state in the body.
1 packet of HUM's Raw Beauty Green Superfood Powder—this raw beauty vegan powder is a whole food supplement that boosts energy, gives radiant skin, and contains enzymes and probiotics to increase optimal digestion. These packets are fantastic for travel! I add this right into my green juice or coconut water.
Beauty comes from within, and I love supplementing with products from HUM Nutrition because they use pure, non-GMO ingredients, which are sustainably sourced and are gluten-free—plus they also offer many vegan options.
I hope these tips of creating good gut health leave you looking (and most importantly feeling) your absolute best!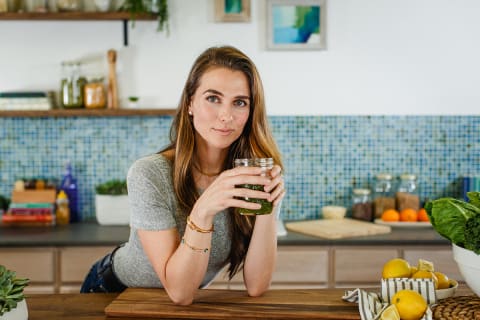 Photo by BrakeThrough Media
Ready to start building good gut health and looking and feeling your absolute best? mbg readers can take 20 percent off their first HUM Nutrition order by clicking here and using code MBG20 at checkout.

Melissa Wood
Health & Fitness Coach
Melissa Wood-Tepperberg is a mom, certified health and wellness coach, meditator, yoga teacher, and thriving on a plant-based diet. Melissa's three pillars of focus are meditation, mindful eating, and movement. Melissa Wood Health is a platform for sharing all of the wellness tips that she swears by—food, fitness, beauty, fashion, and overall lifestyle—to help achieve your best self.