The Top 6 Sources Of Waste In Your Kitchen & How To Avoid Them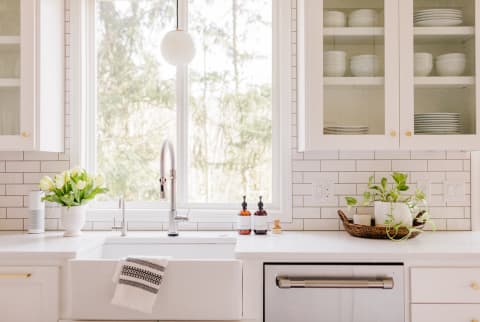 Image by Lauren Edmonds / Stocksy
March 18, 2020
I've spent the past few years looking at every aspect of my environmental footprint, including my buying decisions, how far my food travels to get to me, and how much waste I produce. What I've found, not only from my own experience and research but also from the people I've talked to, is that the majority of waste is accumulated in the kitchen.
While this might seem like an unavoidable part of life, it can actually be a huge opportunity to tackle your environmental footprint. To help you get started, I made a list of the six biggest culprits of waste in your kitchen and how to avoid them. Don't worry; it's a hell of a lot easier than you'd think:
1.
Plastic sandwich and snack bags
For me, plastic baggies and my childhood go hand-in-hand, but I never realized they could do a lot of harm once I tossed them into the trash. Not only would they not break down for potentially hundreds of years, but if they got lost along the way to the landfill, they may have become some poor animal's lunch (yuck!)
The good news is, today, there are countless ways to cut plastic bags out of your kitchen routine. From silicone stasher bags to BPA-free reusable snack bags, the options are endless.
These babies might seem like a must-have in your kitchen, and trust me, I get it. They're awesome for cleaning up spills, wiping down counters, and they make a great napkin when someone spills all over that crisp white shirt you just picked up from the laundromat. But the truth is, a lot of resources go into making a roll of paper towels, which is hard to justify when we use them for just a few seconds.
What's the solution?
There are plenty of alternatives that can be tossed in your washing machine when dirty. From cloth towels that last a lifetime to Swedish dishcloths (which do the work of 17 rolls of paper towels), there's no shortage of options for cleaning up spills without filling up your trash.
3.
Plastic plates, utensils, and cups
Washing dishes can be a total pain, but so can taking out the trash all the time. What's worse? Most plastic utensils don't actually get recycled, so if you've been putting your plastic dinnerware into the recycling bin, though well-intentioned, it's not making much of a difference.
What's the solution?
Simply eat your meal on a glass plate using metal utensils. Think of it as an extension of the mindfulness you already take in preparing your food. Eat with intention, and give your deliciously made food the stage it deserves.
Drink containers are probably the biggest culprit of waste in your trash and recycling bins. I'm talking glass jars, plastic bottles, aluminum cans, and milk cartons, among other things. And yes, much of it can be recycled, but unfortunately, recycling only delays the process of getting items to the landfill. Shifting your focus to reducing is much more important than recycling alone.
What's the solution?
Be mindful of the number of store-bought drinks you buy. And remember, making these drinks yourself can help you control the amount of sugar you're putting in.
Ordering in is sometimes easier than cooking, but have you ever noticed the amount of trash that comes with your order? Paper napkins, chopsticks, plastic cutlery, and sauces in all kinds of containers and wrappers. Not to mention the plastic containers that come in the paper bag, which are also wrapped in another plastic bag. That convenience comes with a major trash footprint, and you can most likely make something far healthier and more nourishing than fast food.
If ordering takeout is a way you're supporting your local business right now, be sure to let them know you don't need plastic utensils, napkins, or extra condiments.
So far, we've covered the biggest culprits of waste in your kitchen, but we can't wrap this up without talking about the largest culprit of all: food waste. I'm talking leftovers, coffee grounds, eggshells, and spoiled produce from the far corners of your fridge.
One-third of the food that's produced in the world gets thrown out, so it's a top contender for the trashiest item in your kitchen, and it's also a big cause of climate change.
What can you do about it?
For starters, be much more intentional with the food and cleaning products you buy: doing smaller grocery runs, buying only what you can reasonably consume (or food that won't perish), and making sure that your fridge is well organized so nothing ends up spoiling because you couldn't see it.
Another big thing you can do is compost your food scraps or drop them off at a neighborhood compost. That way, if you have food that doesn't get eaten, you're still doing your part to help the environment.
Of course, these are just a few of the top culprits of waste. But if you're ready to take a deeper dive into your environmental footprint, I've put together a list of the 40 places you create waste in your kitchen and an entire guide on how to shop with more intention, produce less waste, and reduce your environmental footprint.

Shannon Kenny
Shannon Kenny received her B.A. in art and art therapy from the University of Tampa and her M.F.A in painting from New York Academy of Art. She is the founder of Eco Mama, a platform to help eco-conscious people and businesses make better decisions for the environment so they can live the lives they want without sacrificing their time or the planet. Kenny is a sustainability coach, educator and consultant, and the author of The Complete Zero Waste Kitchen Guide.