paid content
 for

6 Ways To Bring Back Your Inner Fire This Valentine's Day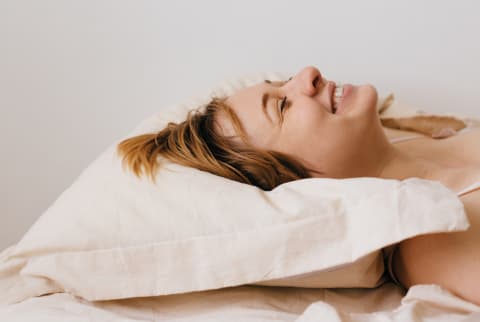 Image by Alexey Kuzma / Stocksy
February 11, 2021
Energy ebbs and flows. We're all prone to finding ourselves in an energetic rut from time to time. Even though it's part of being human in a modern world, low energy isn't exactly ideal. When our energy levels slow to a trickle, our vibrancy fades. And with it: our sex life.
Not a fun truth to hear. But research1 has connected our psychological and physiological well-being to our sexual satisfaction. Stress, anxiety, and physical illness all put the brakes on our sexual energy. So suffice to say, after a year like 2020, we're looking for ways to get things moving again.
Advertisement
This ad is displayed using third party content and we do not control its accessibility features.
This Valentine's Day, we're on a mission to stoke our inner fire and reclaim our sexual energy. Healthy sexual energy (which can look different for everyone) contributes to the passion and satisfaction that make life meaningful in so many ways. We're ready to feel more alive, are you?
We've compiled some steamy practices to help revive sexuality. With the inspiration of body-safe and approachable sexual wellness devices by plusOne, all you'll need here is an open mind. After all, science has proved those with an open mind are more likely to experience sexual pleasure. Whether you're single or coupled-up, here are the six ways to bring back your inner fire for this upcoming season of love.
1.
Indulge in your pleasure.
This Valentine's Day, embrace the thought that pleasure is your birthright. Our bodies were designed to experience pleasure. Those with a clitoris are particularly predisposed for pleasure, with 8,000 nerve endings capable of stimulation. The plusOne Air Pulsing Arouser was designed with this feel-good fact in mind. Celebrate pleasure with a new toy or by simply appreciating your body.
2.
Double the fun: Be extravagant.
If ever there were a reason for extravagance, it would be love. Don't let yourself settle for less on this day of love. Instead, gift yourself the best! Whether that's going for double the pleasure with plusOne's Dual Vibrating Massager or splurging on sexy lingerie, stir your sexual energy by letting yourself have more.
Shop plusOne:
3.
Make a fantasy come true.
Fantasies come in all shapes and sizes. It's rare that we actually take the leap and make one come true. This Valentine's Day, own your fantasy, and make it happen. But if you need some ideas... Try a full-body massage with the help of a warm body oil and the plusOne Vibrating Wand. Or let the Vibrating Feather guide some impromptu role-playing.
Shop plusOne:
4.
Build excitement with safe sexting.
Sexting that's safe and mindful has a way of tapping into sexual energy. Throughout your Valentine's Day, tease your partner with daring texts about what you'd like to do with them later. Don't skimp on the details: Share what's turning you on. Playing safely outside of your comfort zone ignites sexual energy. Your phone doesn't have to be the only thing buzzing—build extra excitement with the plusOne Personal Massager.
Advertisement
This ad is displayed using third party content and we do not control its accessibility features.
5.
Stimulate your senses with something new.
Shop plusOne:
Like energy itself, sexual energy will have its peaks and valleys. There's no set formula for reclaiming your sexuality, but taking your energy into your own hands is a powerful start. Whether you experiment with plusOne sexual wellness devices or try something fiery this Valentine's Day, remember to keep it light and fun. Energy wants to move—sometimes we just have to get out of our own way.
Advertisement
This ad is displayed using third party content and we do not control its accessibility features.
Devon Barrow
Branded Content Editor
Devon Barrow is a Branded Content Editor at mindbodygreen. She received her degree from the University of Colorado. When she's away from her desk, Devon is teaching yoga, writing poetry, meditating, and traveling the world. She's based in Boulder, Colorado.
Devon's first book, Earth Women, is coming soon. To learn more, join the mailing list, and receive updates, head to www.devonbarrowwriting.com.