5 Trader Joe's Products To Jump-Start Spring Cleaning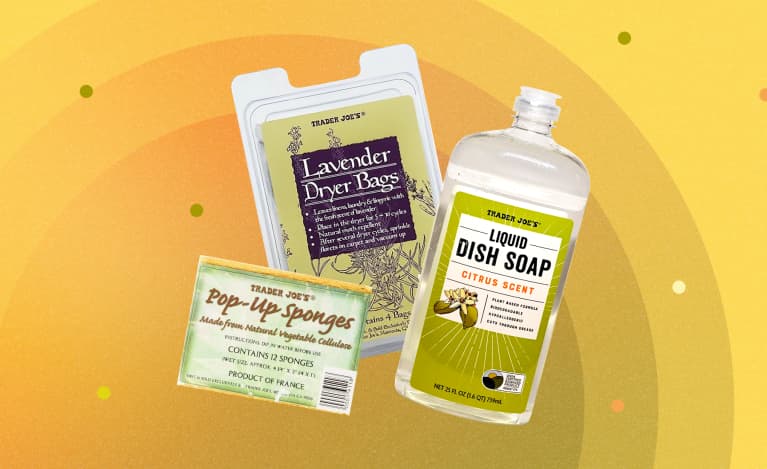 While it may be obvious to head to Trader Joe's for your favorite snacks and frozen meal-prep saviors, what about cleaning products? Their home section may be small, but it covers most of the basics and provides some great options for replacing other less sustainable cleaning tools you may rely on.
While it's obviously not spring yet, the months of mostly indoor living have us feeling like cleaning up our space. These five products can help keep every part of your cleaning routine, from the kitchen to the laundry room, cleaner for you and the planet.
Super Amazing Reusable Kitchen Cloth
These are actually named with those adjectives—but they are pretty amazing. Billed as a replacement for your not-very-sustainable rolls of paper towels, these cloths come in packs of two. Ringing up at only $3.99 per package, trying them out isn't exactly a big investment, and you'll probably be a convert. The material they're made up of allegedly absorbs 10 times its weight in water, so they'll probably outperform paper towels pretty quick.
These sponges are made in France from natural vegetable cellulose and come in a pack of 12 so you won't need to restock too often. Their "pop-up" design makes the big pack size possible without taking up too much space, which is ideal for anyone who's short of storage space. When they're expanded, they grow to 4 inches wide, 3 inches long, and an inch high, so don't worry about the size when you first see them.
Scented with cedarwood and sage, this cleaner will leave any surface shiny and clean—and smelling clean too. And when they say multipurpose, they mean it. It's plant-based and biodegradable and safe to use on walls, countertops, tiles, mirrors, and any other water-safe surface.
Doing laundry is a crucial part of any deep clean (just make sure you're doing it right). While the scent of traditional dryer sheets may be clean, it can also be chemical and they're only single use. These dryer bags infuse your linens with the soothing smell of lavender and can be used up to 10 times, depending on what you're drying. Catch us in our soothing lavender-scented sheets from here on out.
Whether washing dishes is one of your least favorite tasks or the easy one you tackle first, a soap that actually smells pleasant can definitely make it better. Trader Joe's stocks two options, Citrus and Lavender Tea Tree, both of which are, according to the brand "highly efficacious" so you can use less soap and get more bubbles. The products are phosphate-free, hypoallergenic, biodegradable, and they're USDA Certified Biobased products. This certification means that 87% of the components of the soap are sourced from renewable biological sources.
When you head to your local store to stock up on these, we're sure you'll also pick up your tried-and-true favorites, but maybe toss a few of these healthy options in your cart as well. And if you buy the cult-classic cauliflower gnocchi, do us a favor and ignore the cooking directions: Do this instead.