Close Banner
Advertisement
This ad is displayed using third party content and we do not control its accessibility features.
paid content
 for

5 Tips That Will Make This Sober October Easy & Dare We Say *Fun*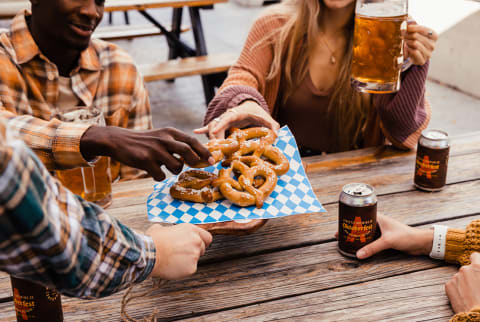 Image by Athletic Brewing Co. / mbg Contributor
Between the golden leaves, shorter days, and pumpkin spice on the coffee menu, it's safe to say that fall has arrived. And yet, we all know that holiday parties will be here faster than we can say mistletoe. So why not give ourselves a moment to slow down and reset our intentions before the mayhem begins? Enter: Sober October.
Sober October made easy *and fun.*
Just like the well-known Dry January, Sober October is about cutting back on alcohol. It's an invitation to reconnect with our friends and family minus the buzz or revive those personal goals often cast aside amid a happy hour buzz or next-day headache. Even with the holidays right around the corner, we still want to enjoy every moment—and partaking in Sober October with Athletic Brewing Company's award-winning nonalcoholic beer is an easy way to press pause on the cocktails without saying farewell to fun.
In fact, piling on the fun is the secret to Sober October. Whether that means recruiting a sober squad to join you or sipping on Athletic Brewing's nonalcoholic beers, there's plenty of fun to be had all month long. When trying dry means being able to enjoy the citrusy hops in Run Wild IPA, suddenly 31 days of moderation feels like a cinch. So with these five tips, prepare for a month that is easy and enjoyable. Yes, really!
1.
Choose a refreshing and flavorful drink alternative.
We all have our go-to drink—and it's not just about taste. There's a ritualistic component of sipping something when we're out on the town or winding down after a long day. This Sober October, you can still satisfy that ritual with NA beers from Athletic Brewing Co. With a wide range of styles (from Mexican-inspired lagers to a limited edition fireside brew), you'll feel the same excitement when you crack open one of these cold ones. Made with high-quality malt and hops, as well as seasonal ingredients, there's a reason Athletic's NA beers have won over five dozen international and domestic brewing awards... So keep your fridge stocked! Whether it's the floral and honey notes in Athletic's Upside Dawn Golden, or the citrusy flavor profile of Free Wave IPA—consider this your new favorite ritual (even when Sober October ends).
2.
Try new social outings.
Sober October is the perfect opportunity to get out there and try new things, and fall is already bustling with social potential. Switch up your routine by planning something different for each weekend of the month:
Weekend 1: Get your friends together and make a festive trip to the corn maze, pumpkin patch, or orchard (don't forget the plaid shirts!).
Weekend 2: Take a road trip and go leaf-peeping. As a bonus, collect some changing leaves and bring them back for next weekend's craft night.
Weekend 3: Plan a movie marathon or craft night inside. Play with pressing your collected leaves into bookmarks or other artistic creations.
Weekend 4: Go thrifting for your Halloween costume! Grab your group and hop between your town's thrift shops to pull together a one-of-a-kind costume.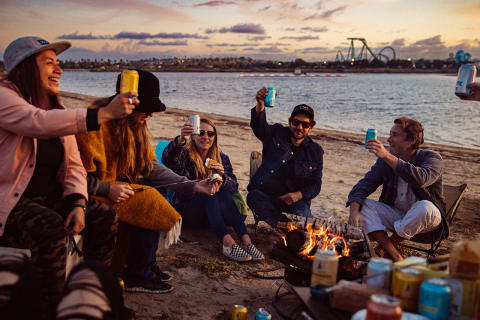 Image by Athletic Brewing Co. / mbg Contributor
At the end of the day, Sober October starts with your personal intention and determination to cut back. But because everything is better together, why not invite your friends to join the mission? It's helpful to have at least one accountabili-buddy to try new things with—and there's no denying the group-text potential here. Plus, you'll want someone to toast when you crack open Athletic's All Out Extra Dark.
Choosing to moderate for the month is about feeling a little brighter but also clearer. In that spirit, this month is the perfect time to reconnect with your intentions—whether it's cooking up more plant-based meals, finally signing up for the cycling studio down the street, or downloading that new mindfulness app. Sober October is all about discovering new ways of having fun, but it also leaves plentiful space to get re-inspired. Don't wait until the holidays to ponder your resolutions; start now!
5.
Reward yourself for each week of progress.
Sober October doesn't have to be an all-or-nothing mindset. Simply step into the month prepared, with a few exciting plans on the calendar, and you'll have a meaningful month. You may even be surprised by just how easy it can be—especially if you're spending it with friends and sipping on Athletic Brewing's NA beers. But don't forget to reward your progress! At the end of each week, treat yourself for sticking with it. Take yourself to a movie, hit up your favorite bakery, or schedule a little self-care at your favorite spa. Sober October isn't about perfection, it's about taking care of you. Cheers to that!
Devon Barrow
Branded Content Editor
Devon Barrow is a Branded Content Editor at mindbodygreen. She received her degree from the University of Colorado. When she's away from her desk, Devon is teaching yoga, writing poetry, meditating, and traveling the world. She's based in Boulder, Colorado.
Devon's first book, Earth Women, is coming soon. To learn more, join the mailing list, and receive updates, head to www.devonbarrowwriting.com.